Cardinals' Michael Wacha talks baseball cards — and signing autographs left-handed if he has to
When you click on links to various merchants on this site, like eBay, and make a purchase, this can result in this site earning a commission.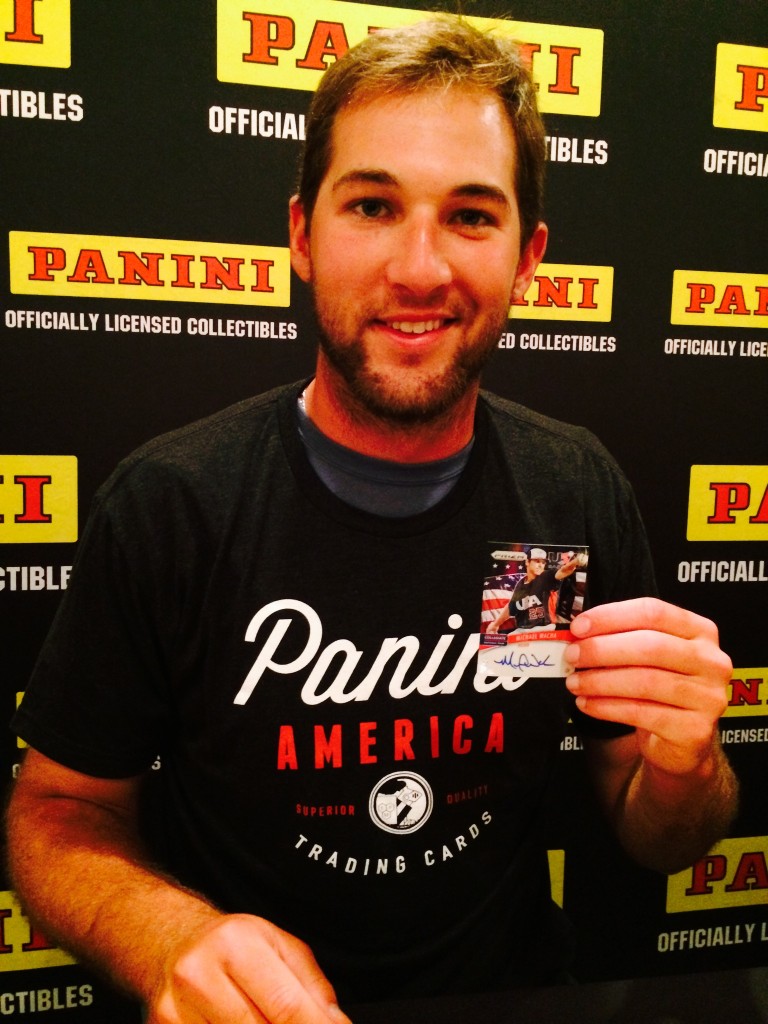 By Chris Olds | Beckett Baseball Editor
A year ago at this time, Michael Wacha was a first-round draft pick in the St. Louis Cardinals organization working his way toward making his big-league dreams a reality as a rookie in his first spring training.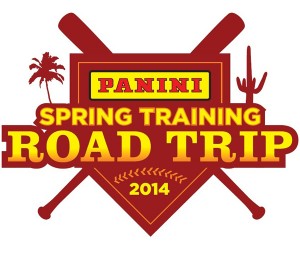 Nothing was a given for the former Texas A&M star and right-hander out of Texarkana back then, but lot has changed in the last 365 days after a whirlwind end of last season that included a string of dominating postseason appearances, some postseason hardware and even a pair of World Series starts.
Now, that means many more baseball fans know his name — and a lot more of them are seeking out his baseball cards and his autograph.
"I think the demand has kind of increased after the past postseason that's for sure, but it's still fun," Wacha told Beckett Media in a call from Stuart, Fla., during the start of Panini America's Spring Training Road Trip. "I remember when I was young always wanting baseball cards and going to some spring training games and trying to get autographs that way. It's something I like to do and it's always been fun for me."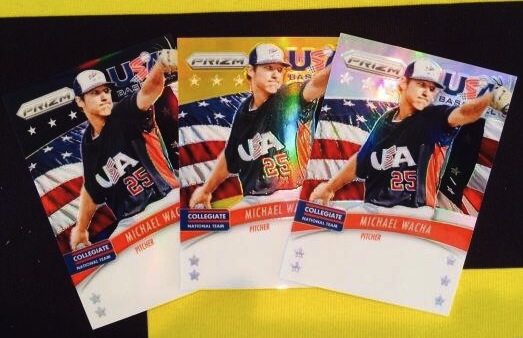 Wacha and Cardinals prospects Oscar Taveras and Kolten Wong were among the players on hand signing for Panini on Tuesday night at the start of its two-week journey to acquire the ink of top newcomers and selected MLB veterans for upcoming products. As part of the sit-down session, players will field questions from collectors and interact with them on the company's social media platforms such as Twitter.
—
RELATED | PANINI ROAD TRIP: Baseball's top prospect Byron Buxton is all business — on the field and off
—
Last fall, Wacha was one of the hottest players on all of cardboard as he shut down Yasiel Puig, another dominant hobby newcomer from last year, and the Los Angeles Dodgers twice in the NLCS en route to winning MVP honors. After that, he started Game 2 and Game 6 of the World Series. (No worries for a rookie, right?) Even after his dominating postseason, his Twitter profile identified him as an "RHP in the St. Louis Cardinals organization." This year, it's slightly updated as it says "RHP for the St. Louis Cardinals. Just chasing the dream."
On Tuesday night, part of that continuing chase included signing the colorful 2014 Panini Prizm cards showing him in both his big-league and his USA Baseball uniforms.
"Oh, it's sweet. I just sat down here to start signing and that was the first thing I said," Wacha said. "These are unbelievable-looking cards and it's pretty sweet being on it, that's for sure."
So, how daunting is it knowing you have to sit down and sign a few thousand cards?
"The hand can get kind of cramped every now and then, so you have to take a couple breaks and make sure the signature doesn't change up too much," Wacha said. "I try to keep it in small increments, I guess, and try not to sign too many at a time."
Any worry about straining things? After all, as a pitcher that hand is pretty important …
"No, no nothing like that," he said, laughing. "If there is, I'll start signing left-handed."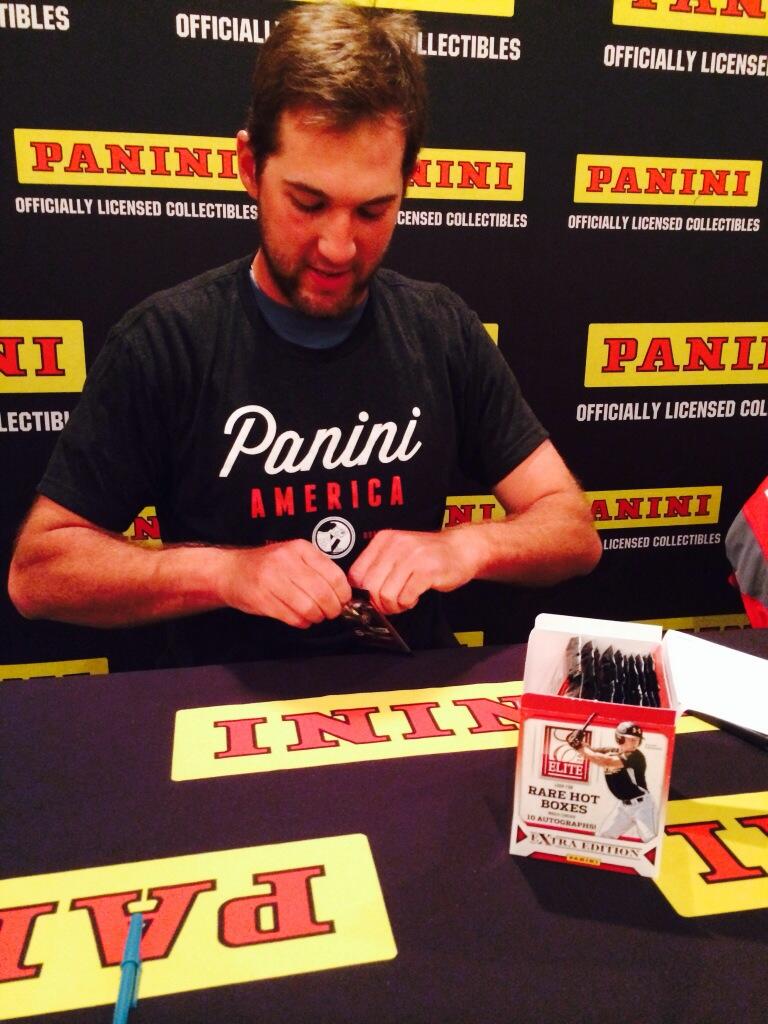 As part of our 10-minute discussion, Wacha took the hottest player on cardboard comment in stride. In fact, he admitted not even collecting his own stuff — for now — though he did open a box of 2014 Elite Extra Edition while taking a break from signing for Panini.
"No, I have not," he said.
Time to hit up Panini during the session to start a collection, then, right?
"Yeah, I'll have to that's for sure," he said, laughing.
Wacha isn't a stranger to baseball cards or signings like these, but he said it was interesting working with a home-state card company.
"I guess I hadn't really thought about it in that way," he said. "It's definitely a cool deal to support the home-state guys and it's a fun deal that's for sure."
Although Wacha made his big-league debut last May and racked up most of his playing time in August and September of last year, he's already got plenty of cardboard for collectors to chase no matter the manufacturer. He appears on 459 different baseball cards already — and 181 of those are certified autographs. Both were stats that surprised him.
"Wow," he said. "I had no idea what that number was."
So, I asked, how many autographs do you think you have signed the last few years?
He took a breath and paused to think.
"I'm not even sure — definitely in the multi-thousands," he said. "I'm not sure, though. It's crazy like that."
Wacha then talked about seeing his first MLB card — an experience he shared with his parents.
"Yeah, It was probably a couple months after I was drafted [in 2012]," he said. "I was playing a little bit of rookie ball and in Double-A. I think the cards started coming out there pretty soon after that. It's pretty weird that's for sure. I had a couple to show my parents and they thought it was cool as well."
Before that, his first cards came as a member of the USA Baseball squad back in 2011. Does having more and more cardboard make it less interesting? Is it still special? Of course, he said, showing that he's not quite the grizzled veteran just yet at age 21.
"Oh, yes. Definitely," he said. "Thank you for reminding me. I guess the USA Baseball — that's the first time I saw myself on a card. In a Cardinals uniform was a few months after I was drafted. It's definitely still special. It's cool seeing all the new cards out there. Fans in the stands always have something new out there that I haven't seen before. That's always cool with me and it's fun."
Wacha said he and his younger brother, Lucas, who is a linebacker for the University of Wyoming Cowboys, both collected together when they were younger.
"Yeah, I definitely did collect. We still have binders at home at my parents house — me and my little brother would collect," he said. "It was all different teams. We had binders just for random cards and binders for teams. We'd have different teams stacked up page by page. It was really cool. We collected a lot of Chicago Cubs baseball cards back then."
A Cardinal collecting the Cubs? Cue up the drama between the division rivals.
So, all rivalries aside, which Cardinals teammate would Wacha want to be paired with on a card?
"If I could?" he asked, pausing to think. "I'd probably say [Adam] Wainwright."
And how about appearing on a card along with a player who isn't a Cardinal? For that imaginary card, Wacha went the Texas route, selecting a Boston Red Sox player from the World Series last fall.
"Not a Cardinal? I'd probably say Will Middlebrooks, who is from the same hometown," Wacha said. "I think it'd be pretty sweet to have a hometown card."
Not Nolan Ryan? That might be too easy …
"Ohhhhhhh, yeah," he said, his voice picking up slightly. "I guess that would have been pretty sweet, too."
So with all of the attention from last fall, was it tougher to deal with fans and added demands for autographs? Yes and no, he said, but he admitted it has made him more thoughtful of the business-side of the ballpark.
"I go out a little bit early during spring training games and sign for fans. I try to get a lot of the younger kids and get them signed," he said. "Because, I mean, I remember going to spring training games as as kid and always wanting to get those guys' autographs. I realize now that there are a lot of autograph seekers now who want to get that ball and put it right back on eBay, so I try and get those kids first. I see myself in those kids like that."
Chris Olds is the editor of Beckett Baseball and Beckett Sports Card Monthly magazines. Have a comment, question or idea? Send an email to him at colds@beckett.com. Follow him on Twitter by clicking here.