Cardboard Commentary: 2011 Panini Americana autos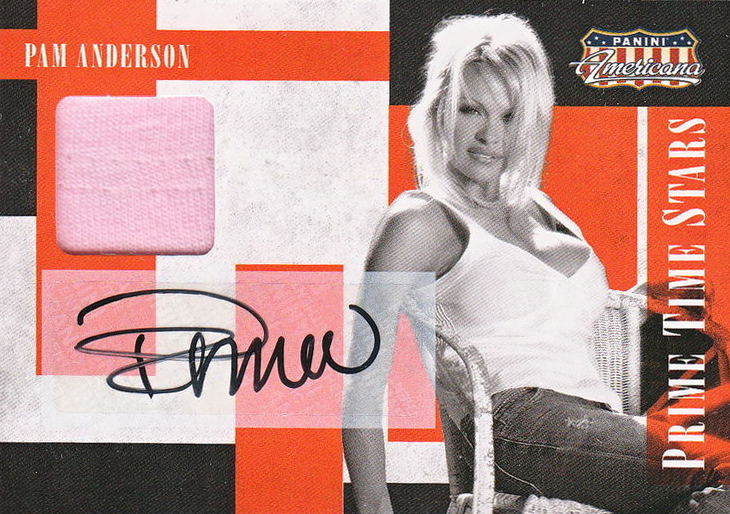 By Chris Olds | Beckett Sports Card Monthly Editor | Commentary
One of the reasons I look forward to non-sport, celebrity-laden sets such as 2011 Panini Americana each time they arrive is the fact that the boxes are just so full of surprises.
While some of this year's pre-hyped additions are nowhere to be found — Michael J. Fox failed to make pack-out, for example, what would have been his first certified autograph card — there are always fun things to be found in sets that have so much variety in them because they simply aren't like anything else.
Sometimes, they're just one of a few cards — or no previous cards — for a signer. Sometimes it's just the latest way to get an autograph that might have been tough in the past like Pamela Anderson here. (She's had a couple previous Panini cards but this brand might be your best bet at landing one at a reasonable price.)
Here's a rundown of cards already pulled from packs that caught my eye — with some one-liners and factoids where worthy.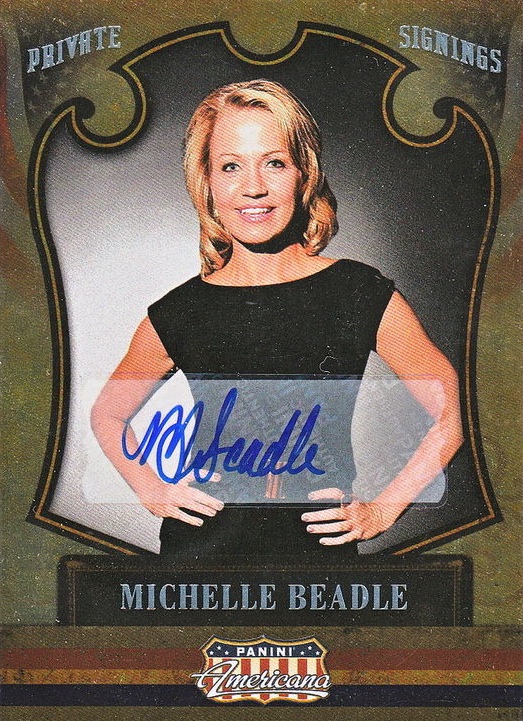 ESPN's Michelle Beadle brings some quirk from time to time on SportsNation and this is her first card. Have you seen her airdrums? And what about a Gunslingers memorabilia card?
—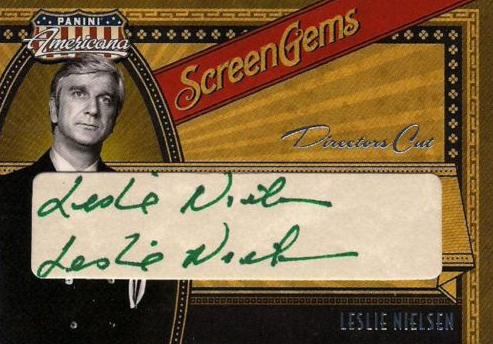 I've always wanted a Leslie Neilsen dual autograph — just not with Nielsen … and Nielsen. I like to think this is one last joke left for us by the funnyman who died late last year.
—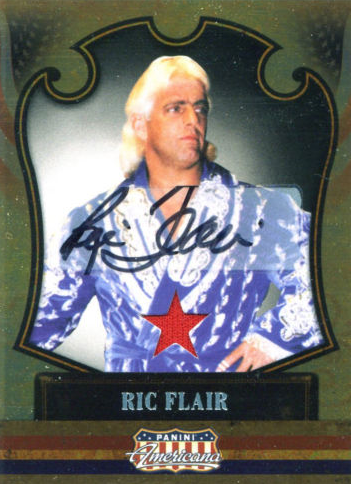 It took a couple years, but "The Nature Boy" Ric Flair finally has an Americana autographed memorabilia card. He was a retail-only short-printed autograph in 2009, which was also the year where then-Donruss acquired a pair of his match-used trunks — complete with "RF" patch on the front. (They've been waiting to make the cut into a set all this time … ) This card won't be plentiful but it should be pricey. Oh, I forgot to mention … woooooooo!
—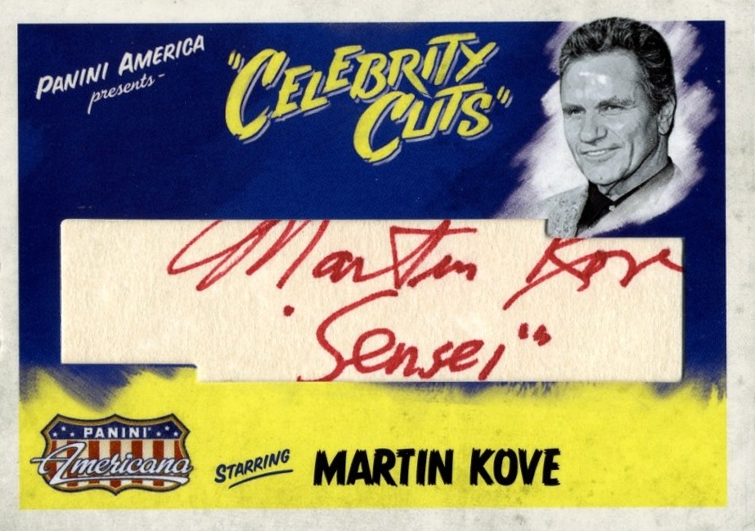 Three words, boys and girls … "Sweep the leg!" … You have a problem with that?
—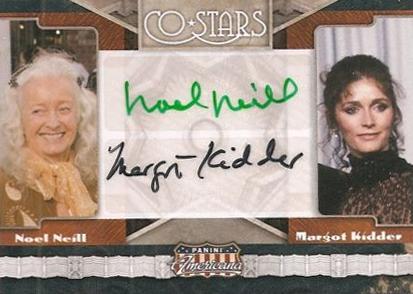 There are a lot of multi-signed cards in this year's Americana that aren't all that plentiful, which could make for tough finds down the line when there's not a ton busted on eBay. One card that caught my eye? This Noel Neill-Margot Kidder card — aka Lois Lane and Lois Lane. I could be wrong, but I don't think this has happened before.

—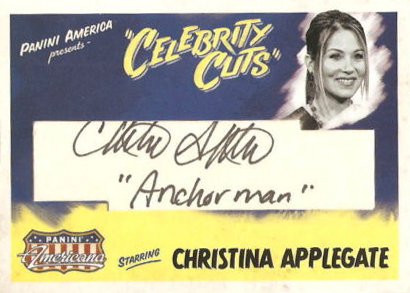 Collecting Confession: I am 72 percent sure I love this card of Veronica Corningstone.
—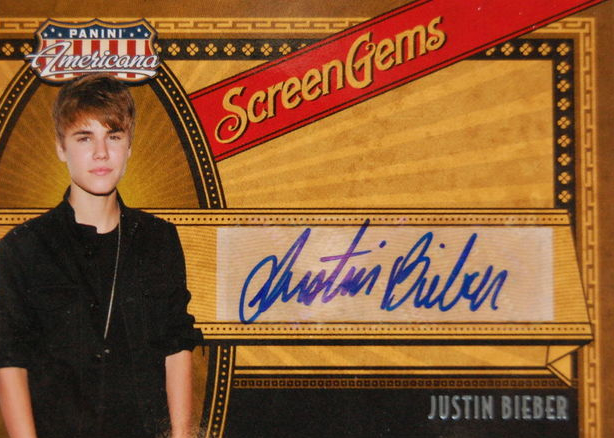 I won't can't quote a Bieber song, so I'm not starting now. But I will say that I haven't seen an autograph with that many legible letters in a long, long time in the sports world.
—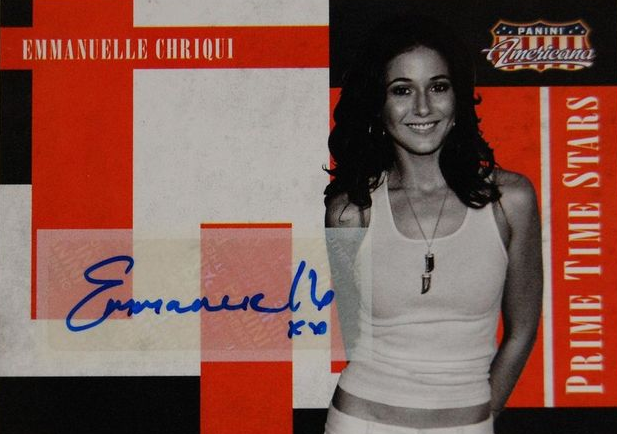 I'd reference that one show that starts with an "E" here but we all know what E really stands for. And that's all I need to say about that. (And if that somehow makes sense, well, I'm sorry. I don't watch Entourage — but had to show off this card … ok?)
—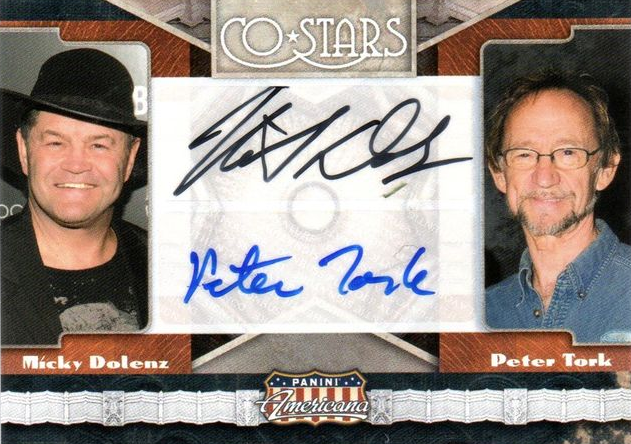 Click here. Now enjoy that stuck in your head the rest of the day. (On a different note, this is probably a card my mom would really appreciate. I don't think I could say that often.)
—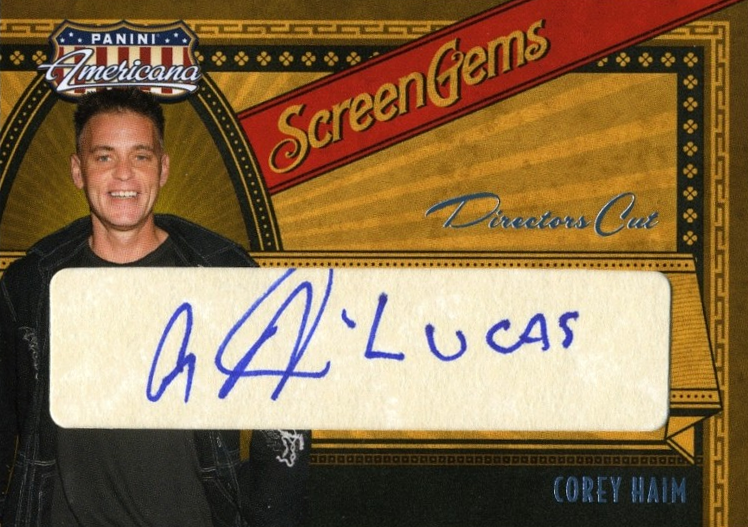 On a more somber note, the two Coreys can be found as autographs in this one, despite Haim's death last year. Same with a limited number of David Carradine autographs as well as others in the set.
—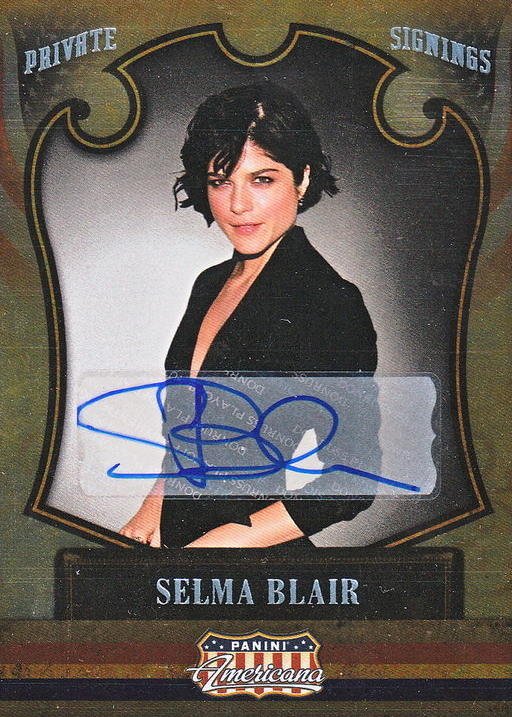 Seriously, Panini has to have a Hellboy fan on its staff somewhere … there are at least four cast members on the checklist, maybe more. (Not that there are any complaints about this one.)
—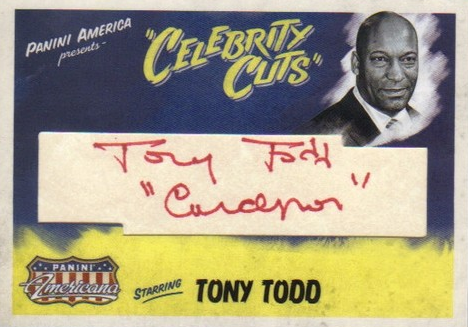 Candyman? Candyman. Candyman? Candyman. Cand … wait, I'm not going there. No way …
Chris Olds is the editor of Beckett Baseball magazine. Have a comment, question or idea? Send an email to him at colds@beckett.com. Follow him on Twitter by clicking here.