Card Prices Rising During NFL Playoffs
By David Lee | Editor, Beckett Football
The NFL postseason always brings lots of hobby reactions from collectors looking to buy up key cards of the hottest performers. After all, legends are forged in the postseason.
It's no surprise that the four remaining teams all have elite-level quarterbacks. Three of them—Aaron Rodgers, Tom Brady and Ben Roethlisberger—already have Super Bowl rings. The fourth, Matt Ryan, may end up being named NFL MVP.
Here are some of the top performers so far and how some of their most popular cards are performing on the secondary market: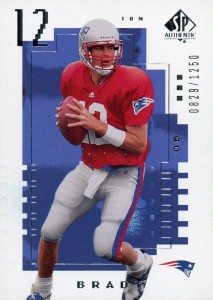 Tom Brady
If you haven't checked the Online Price Guide lately, you might have missed seeing that Tom Brady's 2000 SP Authentic Rookie Card has leaped to $3,000! That's through the roof. An ungraded, modern-era (or any era) football card selling for that much is just crazy. But $3,000 is actually a consistent price with actual sales, which might indicate it could climb even higher. Brady aims to make history with five titles and seven Super Bowl appearances.
The Patriots will play their six-straight AFC Championship Game Sunday, and, amazingly, it will be Brady's 11th conference title game. A few other of his RCs that have recently jumped in price are 2000 Playoff Momentum #180 RC (up to $400), 2000 Leaf Certified #207 RC and 2000 Private Stock #128 RC (both up to $200).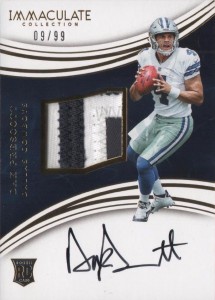 Dak Prescott
What a year for the fourth-round draft pick. Prescott accomplished things this year that just aren't supposed to be possible for a rookie quarterback. He led his team to a No. 1 playoff seed and nearly led them to a come-from-behind win in a thrilling game against the Packers. He had a passer rating of 103.2 and threw for more than 300 yards and three touchdowns in that game. He also scored a critical two-point conversion. Collectors have to be excited about Prescott's future, but also confident in spending big money for his cards.
There have been a lot of key cards release recently, including the 2016 Panini Contenders AU RC #307 that has been commanding $600-$700 the last few days. Some parallel versions have brought in more than $1,000. Most of his top RCs are priced at around $200-$300. The 2016 Immaculate Collection #107 JSY AU RC is priced at $400, but recent online sales have been creeping up to $600.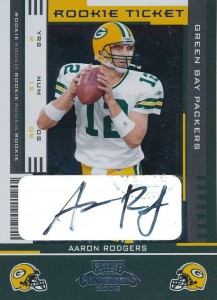 Aaron Rodgers
The hottest player in the NFL is playing the best football of his career. Rodgers has been nearly perfect the past two months. Even without his top receiver Jordy Nelson, he managed to take down the No. 1 seeded Cowboys in a terrific matchup. In his two playoff games, he has 718 yards passing, six touchdowns and one interception.
His hottest cards right now seem to be the 2005 SP Authentic #252 JSY/99 AU RC (with just 99 copies available) and the 2005 Playoff Contenders #101 AU/530* RC. Ungraded copies of the Contenders RC have been selling for right at its high-book value of $1,000 during the last couple weeks. Most of his other top RCs are in the $500-$700 range. The 2005 Sweet Spot #284 AU/199 RC is the lest expensive autographed RC at around $300.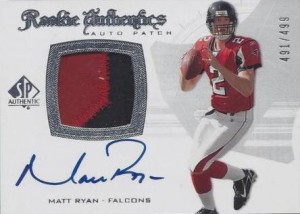 Matt Ryan
"Matty Ice" has the best shot of his career to finally make it to a Super Bowl. He's been phenomenal all year, and in the Divisional Round win over the Seahawks, he threw for 338 yards, three touchdowns and no interceptions. He'll have to beat the hottest team and player in the NFL this weekend to continue his amazing season.
Ryan's 2008 Exquisite Collection #168 JSY AU RC tops is Rookie Card hot list at a $500 high-book value. The 2008 Playoff National Treasures #111 JSY AU RC is listed at just $150, but online sales have easily exceeded that mark recently. It's still a great deal compared to the Exquisite price tag. The 2008 SP Authentic #300 JSY AU/499 RC recently received a bump in value to $120.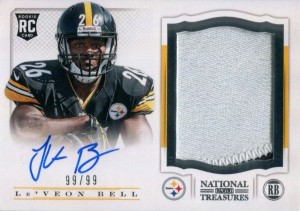 Le'Veon Bell
It's safe to say that Le'Veon Bell is back. He may be the best all-around offensive weapon in football. In his two playoff games, he rushed for 337 yards and scored two touchdowns. His flash-and-dash style is fun to watch, and a fear for opposing defenses to overcome.
Bell's 2013 Panini National Treasures #221 JSY AU RC tops out at $250, and 2013 Panini Contenders #221A AU RC is at $100. Some online Contenders sales have topped that recently. Other Bell RCs are bargains, with several autographs for $40-$50.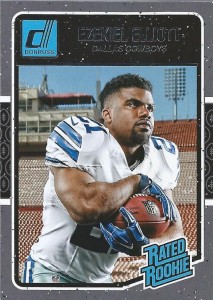 Ezekiel Elliott
The NFL's top running back performed like an elite star in the playoff loss to Green Bay. Elliott rushed for 125 yards at 5.7 yards per carry. Five of his runs went for first downs. Dallas has found the core of its offense for years to come behind the best offensive line in the NFL. Elliott has been a hot hobby commodity since the spring, but now collectors are confident that he's a legit star who should shine for years.
One of his newest Rookie Cards is already at $500—2016 Panini National Treasures Collegiate #205 JSY AU RC. Most of his other top RCs are already at $200-$400. The recently released 2016 Donruss Optic #168 RR RC ($25) is a popular lower-end option.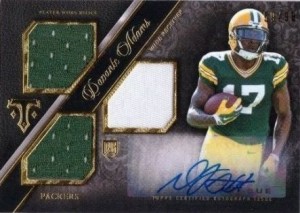 Davante Adams
Adams has totaled 13 catches for 201 yards and one touchdown in two playoff games. He was the team's second receiver during the regular season with just under 1,000 yards, but he's been the leader in the playoffs with Jordy Nelson missing the Divisional game.
Adams has plenty of autographed Rookie Cards for around $20-$40. A 2014 Topps Triple Threads #102 JSY AU RC is just $25. His most popular RC is 2014 Panini National Treasures #301 JSY AU RC for $80.