Card show report: Garfield, N.J. (Feb. 3)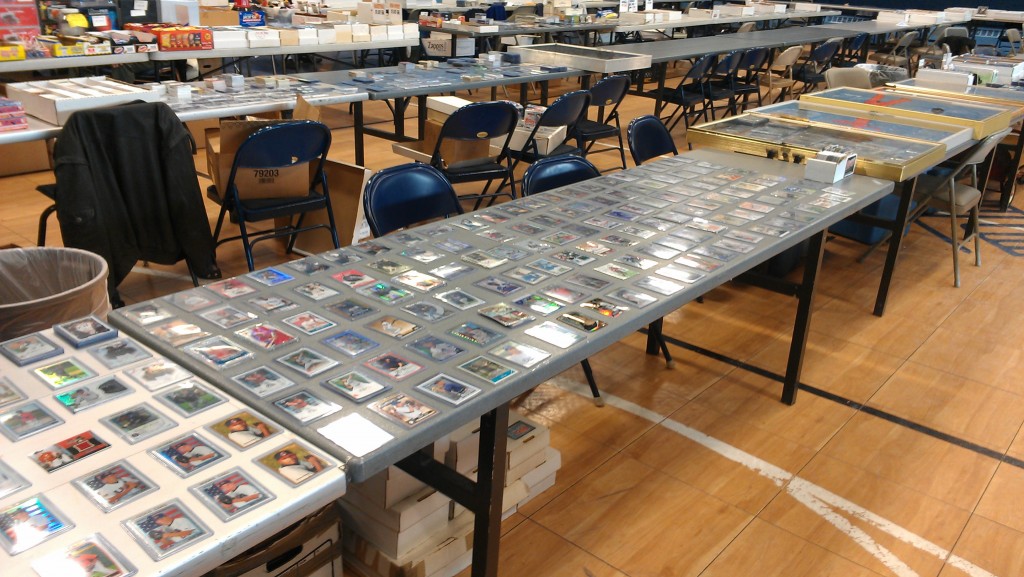 By Susan Lulgjuraj | Beckett Sports Card Monthly Editor
For a card show that runs from 9 a.m. – 3 p.m., getting there two hours before closing is late. In Garfield, N.J., this long-time running show is for the early birds.
They grab their morning coffees, ready for a show with a couple dozen dealers and head out on Sunday morning. The show occurs every two weeks at the Boys and Girls Club of Garfield.
The best thing about the show is the assortment of items. There aren't just cards here, but old magazines and programs, bobbleheads, old board games, and, of course, new and vintage cards.
I headed to the show because I had to pick up two cards from a dealer, All Star Sports Cards.
Really? Who goes to a show over the George Washington Bridge (do you know how much it is just to get back?) just for two cards that weren't even for her?
Yep, I do.
But I wasn't going to leave empty-handed.
I picked up several cards from various dealers around the show including a 2013 Topps The Greats Derek Jeter gold parallel /99 and a 2011 Limited Hard Hats Derek Jeter /90. I grabbed a couple more Jeter base and inserts to fill the collection, and picked some Rangers items for my boyfriend, who is a huge fan, including a 2012 Topps Update Yu Darvish jersey card from the All-Star Game.
In the end, I got out of there spending $47.
I could imagine how much I would have spent if I got there with the rest of the early birds.
I'm lucky that I live in an area that is plentiful with card shows. This is the fifth card show I've hit this year. I may not get to any this weekend because of a big snowstorm, so if you get to hit any, let me know.
In the meantime, check out the pictures from the Garfield show.
Susan Lulgjuraj is an editor of Beckett Sports Card Monthly. You can email her here with questions, comments or ideas. Follow her on Twitter here. Follow Beckett Media on Facebook.