Updated: Shop owner cuts up 36-card NT booklet
When you click on links to various merchants on this site, like eBay, and make a purchase, this can result in this site earning a commission.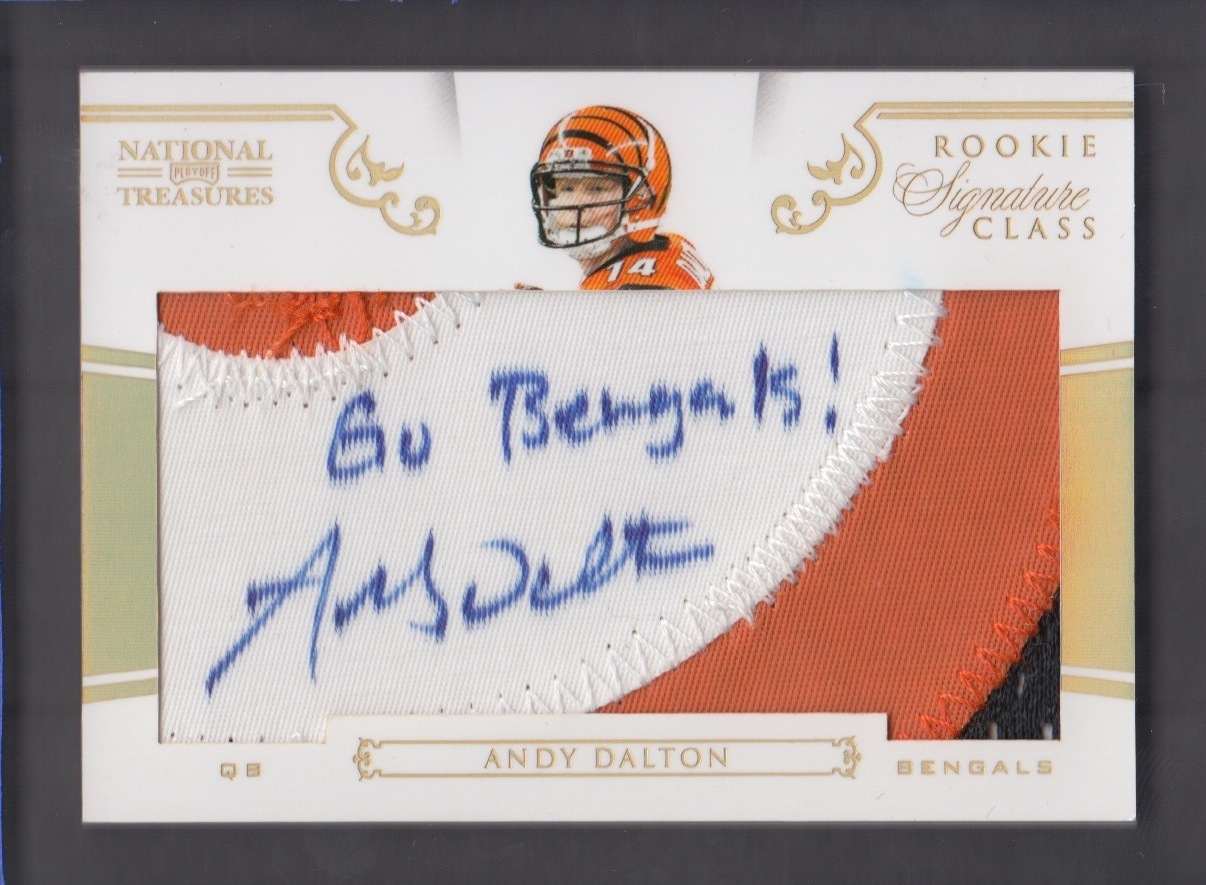 By Susan Lulgjuraj | Contributing Editor
Remember the 36-card booklet from 2011 National Treasures?
Panini America put out the longest booklet card in trading card history with NFL rookies from last season, including quarterback Cam Newton. Of the five copies of the booklet card, Greg Lambert of California Card Shack got his hand on the first card of the series, which was the only one of the group to have inscriptions.
Lambert is now selling the cards on eBay – yep, the cards.
The card shop owner recently had the booklet professionally laser-cut to make 36 separate cards.
—
Loading ...
—
"Now, I have 36 cards that look like cards," said Lambert, whose card shop is based in Northern California. "Instead of just one card, I have 36 collectors of certain players who will have a chance to get one-of-a-kind cards."
Lambert didn't go through with the decision lightly.
He bought the card from a collector who got the card in a case of National Treasures he bought from Lambert's shop. He purchased it $4,000.
Lambert put the whole booklet on eBay twice – once for in a 10-day auction and then in a seven-day auction. No buyers.
"I didn't even get a sniff," Lambert said. "One person offered about four grand and then retracted the offer. That was it."
That's when Lambert decided to separate the cards. He found a shop in California to do the job, but praised Panini for doing a good job in putting together the card with strong plastic, which made it easier to for the company to take apart the cards.
Lambert has received mixed reaction about altering the booklet, but only slightly. He put some of the singles on eBay, but had to take several of them down to fix the listings. The next day, he found about 50 emails in his inbox. All but one wanted to know where the cards went because they had plans to bid.
The one trashed him for cutting up the card.
"I had one guy who said I was an idiot and didn't know what I was doing," Lambert said. "That was the only one. Everyone else has been cool."
Many of the better players from the booklet haven't been listed yet. Players such as Newton, Julio Jones and DeMarco Murray will go up on Sunday night. Lambert expects to make more than his money back on the cards, but even if he doesn't, he still thinks it was worth the risk.
"Worse case scenario, I lose a little money," Lambert said. "I still think I made the right decision."
In case you are wondering, Mark Anderson, Director of Beckett Grading Services said the best this card would get from BGS is "Authentic-Altered."
Update: Most of the cards were sold on eBay, but most of the big names – Cam Newton, DeMArco Murray – were taken off without any bids. However, it seems Lambert made the right decision from a financial standpoint.
Of the 29 cards that sold on eBay, the total amount came out to $4,410 (that's before fees and shipping).
Here's a breakdown of the cards that sold on eBay from highest to lowest price:
Andy Dalton $610.44
Von Miller $394
Titus Young $333
Ryan Mallett $306
Colin Kaepernick $285
Kendall Hunter $255
Blaine Gabbert $192.50
Alex Green $184.50
Bilal Powell $177.50
Mikel Leshoure $172.50
Daniel Thomas $171.50
Kyle Rudolph $168.50
Stevan Ridley $167
Christian Ponder $163.50
Greg Little $162.50
Ryan Williams $157.50
Leonard Hankerson $157.50
Jonathan Baldwin $144.38
Torrey Smith 142.50
Vincent Brown $130
Marcel Dareus $121
Taiwan Jones $103.50
Austin Pettis $100
Shane Vereen $100
Clyde Gates $96
Jerrel Jernigan $88
Delone Carter $82
Jamie Harper $67
Jordan Todman $66
Susan Lulgjuraj is the Beckett Football Editor. You can email Susan here. Follow her on Twitter here.