Card Shop of the Week: Hit N Run Sports Cards (Purcellville, VA)
Eric Basile began collecting around the same time Bo Jackson and Barry Bonds entered the league. For many of us, that is affectionately known as the "Junk Wax Era." We are beginning to see many collectors that began collecting during that time period return to the hobby either out of nostalgia or with their kids. The last few years has provided opportunities on the brick and mortar side of the industry as well. Eric did just that when he opened Hit N Run Sports Cards in early 2019.
I recently caught up with Eric to discuss that process and get the pulse of the hobby in his area of Virginia.
Local Card Shop of the Week is brought to you by Southern Hobby, who has been serving the collecting community for nearly 30 years.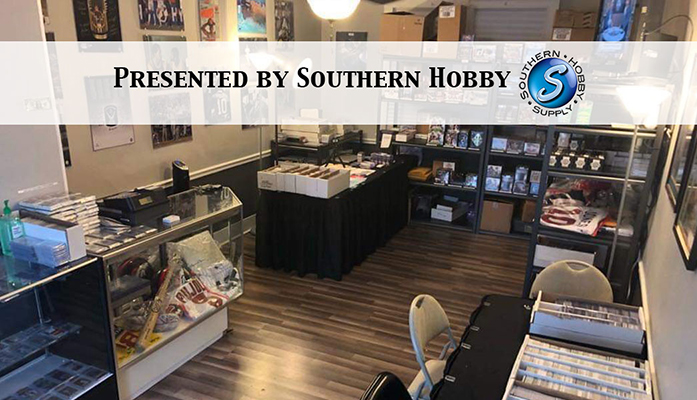 Joey Shiver – Thanks for taking the time to talk with us Eric. You have been collecting since 1987 so you have experienced a lot of card collecting over the years. What led you to a career in the sports card business and ultimately opening your store in 2019?
Eric Basile – Opening a card shop is a dream for any sports card collector. The business has changed tremendously over the past 30 years. Facebook, Twitter, and Instagram have basically put a card show in the palm of your hand 24/7. Getting into the social media side of the industry very early has really played a big part of being able to grow this as a business and ultimately opening a card shop in 2019.
JS – Can you tell us a little about your store? Can you talk about your setup and what type of inventory you carry? Also, what services do you provide?
EB – Our store is a combination of our growing online portion of the business mixed with brick and mortar qualities that a nostalgic card shop possesses. We offer a very large selection of all new release wax products as well as thousands of priced singles for anyone to spend the afternoon searching through. We also offer many $3.00, $1.00, and $0.25 boxes, which seem to be very popular for the young collector. We offer 400 to 500 auctions a week through our weekly Facebook auction group where several members also consign their own items. We also provide many services such as live group case breaks, live pack wars, and live personal box breaks on our Facebook group, as well as BGS grading submissions for members and customers.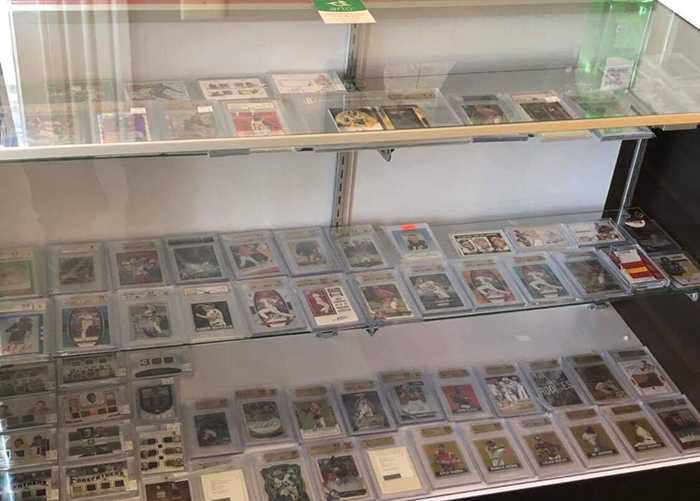 JS – As a new shop, what have been some of the key focuses for you as you have tried to establish your shop as a go-to for local collectors?
EB – As our card business and reputation has grown in the area over many years through local and national shows it has allowed us to make contacts and great relationships with hundreds of local and nationwide card enthusiasts. Many local card collectors were excited for the opening of Hit N Run Sports Cards brick and mortar location.
JS – Purcellville is located about an hour from Washington, but you are also near the West Virginia state line. When it comes to sports card collecting, what would you say the make-up of your customer base at the shop is? When it comes to the home team, what is most prevalent in your area?
EB – Our customer base at the shop comes from the northern Virginia, West Virgina, and Maryland area. With our wide variety and selection of singles and memorabilia of all teams from all sports, we like to think every team as our home team. For those of us who live in the quaint town of Purcellville Virginia, we support the Valley League Purcellville Cannons.
JS – As it relates to particular products, what has performed well in 2019 and what has made those products so popular?
EB – With 2019 products just arriving, they will have a tough act to follow as 2018 products have really made heads turn with young star players like Baker Mayfield, Sam Darnold , Luka Doncic, and Trae Young. I consider 2018 the rebirth of the card collecting hobby, as prices and participation are quickly on the rise.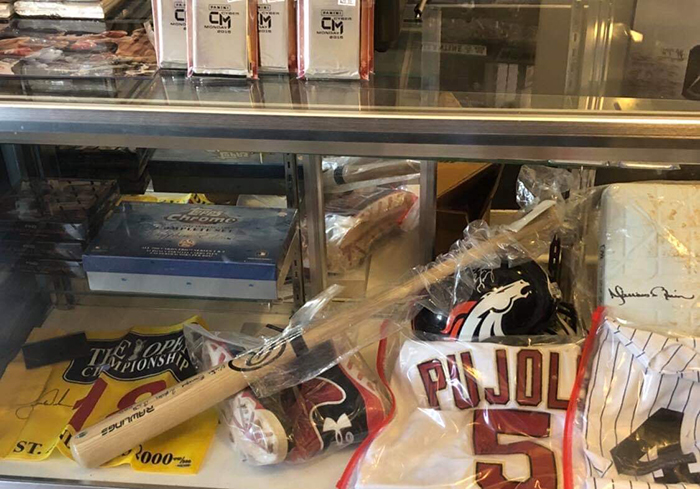 JS – Are there any products that are on the release calendar you are really looking forward to in the next few months?
EB – Well, now that the NFL draft is complete, we really look forward to the 2019 football early release products, which showcase rookies in their new NFL uniforms. One particular product that we do have on the radar is first time release, Panini Legacy. We also have a very strong following with Leaf products, especially Leaf Army All-American football releasing in the next few months, which our customers love to break year after year.
JS – Your FaceBook page and other social media pages stay very up to date with event notifications, opening and closing updates, and product releases and photos. How important has social media become for you as a small business owner?
EB – Social media is an absolute must to survive and advance in this industry. We were fortunate enough to get into the Facebook side of card collecting very early, which was just over six years ago. Our weekly Facebook auction group has run 400-500 auctions a week for the last six years and now has over 5,600 members, and is a staple of Hit N Run Sports Cards. With the addition of our Facebook live video break group and website, we stay extremely busy on the social media side of this awesome business and hope to now expand the brick and mortar side as well.
JS – Can you tell us about your group on Packwars.org?
EB – Packwars.org is a Facebook Live video break group, which was created in 2014. We run a lot of promo pack serial number breaks, pack wars, and single box team breaks, as well as offering personal promo pack and boxes for all of the members. We keep the prices low and have many "10 Man Serial Breaks" so everyone who enters gets mail.
JS – The way we collect has changed a lot since you joined the hobby 32 years ago. What are some of the features of collecting you miss the most from the '80s that collectors would enjoy today?
EB – One feature that has changed most is social media. The ability to have thousands of people view a card minutes after it's pulled is incredible. It's exciting but does take away the '80s and '90s excitement of going to shows to search and find the rare cards all over the country without knowing who has them or where they are located until you arrive and search showcase after showcase.
JS – What are some of the major positives within the hobby and industry right now? What are you hearing from your customers right now in regards to the industry? What do they really love seeing from a product or support standpoint?
EB – The hobby right now is the hottest it's ever been and more and more new collectors are joining daily. This is really awesome to see and more and more collectors are chasing the "Big Hit." The local shows are so much fun again to set up at, as well as attend.
JS – On the contrary, what are some areas you think could be modified to improve the customer experience? What type of feedback do you get from your customers in this area?
EB – One major issue I see and hear from customers is the redemption process. The inability to guarantee a redemption ever gets filled, or the time frame of a redemption, seems disheartening to many collectors, especially when great players such as Saquon Barkley and Baker Mayfield were the biggest rookies and were found as redemption cards in almost all of the early 2018 products. Many of Barkley's redemptions are still in question.
JS – Are there any upcoming events you can tell us about? Will you be having any autograph signings, trade nights, or gaming events?
EB – One event we do look forward to every month is when we set up at the Greencastle PA Card Show. We are planning on events here at the shop in the future, which you can get updates for once they become available on our Facebook page.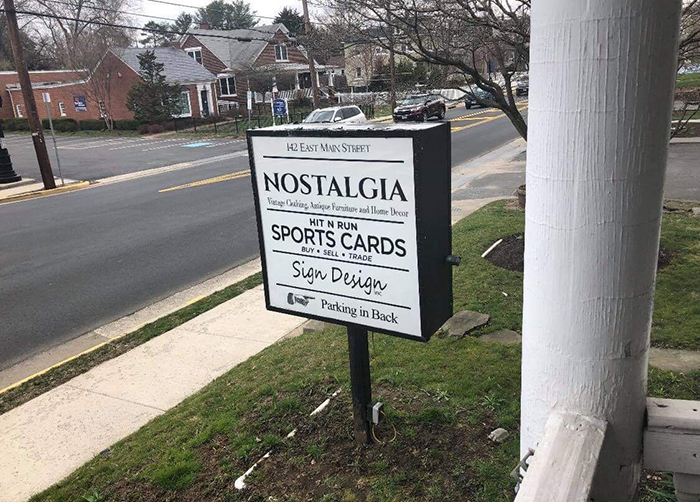 Hit N Run Sports Cards
Eric Basile
(703)554-4548
142 E Main Street
Purcellville, VA 20132
Hours
Monday – 12 PM to 3 PM
Tuesday – Closed
Wednesday – Closed
Thursday – 10 AM to 3 PM
Friday – 12 PM to 2:30 PM
Saturday – 12 PM to 5 PM
Sunday – Closed
Facebook: Hit N Run Sports Cards
Instagram: @hitnrunsportscards