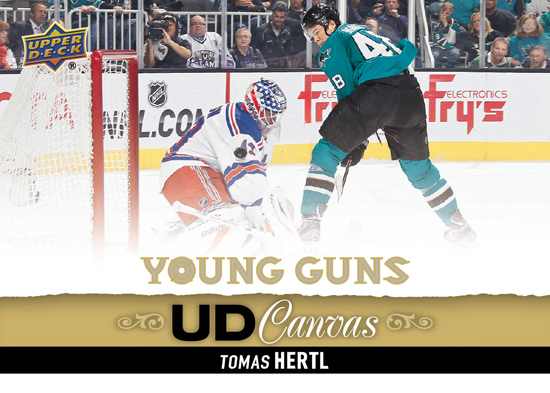 By Susan Lulgjuraj | Beckett Hockey Editor
By now, you have probably seen Tomas Hertl's highlight reel capped off by a crazy between-the-legs goal against the New York Rangers on Tuesday night.
Hertl, a 19-year-old rookie, scored four goals in San Jose's 9-2 win over the Rangers, but the last one got everyone talking.
While Hertl was already on the radar of card companies, his fourth goal certainly made those working on hockey cards take notice. He has seven points (six goals) in three games.
Hertl's first NHL cards will arrive in early November when the first crop of 2013-14 rookies begin appearing on cards.
Upper Deck made a late change to 2013-14 Upper Deck Series 1 set to come out Nov. 5. Hertl was already set to appear on a Young Guns card, but UD changed the picture on his UD Canvas Young Guns card with one from his spectacular fourth goal. His first Upper Deck autograph will appear in Black Diamond, scheduled for a December release.
Panini America will have Hertl Rookie Cards in Select, which comes out Nov. 6. These will be his first autographs and autograph jersey cards from the company. He will also have autographed patch cards in Dominion (Dec. 4).
Just because his Rookie Cards aren't on the market yet doesn't mean collectors cannot get cards of him. Hertl has several Czech trading cards, including an autograph card from 2011-12 Czech OFS.
You can view a checklist here and check out the cards he has on eBay here.
Oh, and if anyone has pulled a San Jose draft pick card out of 2013-14 Artifacts, you might want to hang on to it. Or maybe one of those wild card draft cards …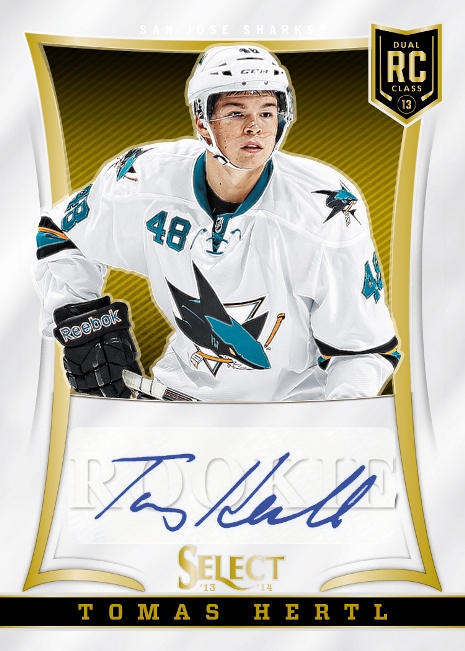 Susan Lulgjuraj is an editor at Beckett Media. You can email her here with questions, comments or ideas. Follow her on Twitter here. Follow Beckett Media on Facebook and Twitter.