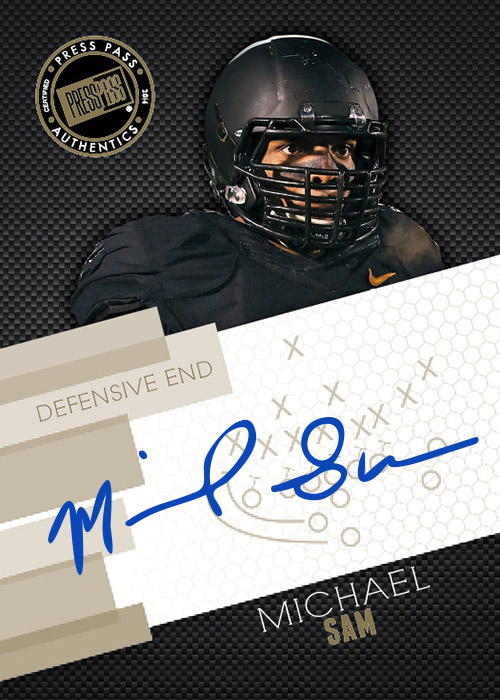 By Susan Lulgjuraj | Beckett Football Editor
Football player Michael Sam grabbed national attention recently when the prospect announced he was gay. Sam, the Co-Defensive Player of the Year in the SEC from Missouri, could be the first active openly gay player in the NFL if he gets signed.
Card companies are now scrambling to include Sam in their products.
Press Pass and Topps have both announced Sam's autograph cards will be including in upcoming products.
Press Pass said Sam's first on-card autographs will be available in conjunction with 2014 Press Pass Football, which comes out March 5.
"Based on the historic nature of Mr. Sam's announcement, we wanted to find a way to include him in 2014 Press Pass Football without impacting our release date," said Nick Matijevich, Vice President of Operations for Press Pass Inc. "This promotion allows us to accomplish this goal, while delivering the first on-card autographs of Michael to fans and collectors. While the current narrative surrounding him is in regards to his noteworthy revelation, we fully expect his talent to shine through during the draft process, leading to more coverage of his dominant contributions on the field going forward."
Collectors who send in a UPC code from their 2014 Press Pass Football box will receive a bonus Sam Press Pass Signings autographed card, while supplies last. Collectors have to send a hobby box UPC code, a hand-printed 3-by-5-inch card with their name and complete address, and email address, in an envelope to:
Press Pass Rookie Football 2014 – Michael Sam
9805 NorthCross Center Ct, Suite H
Huntersville, NC 28078
Only one card per envelope will be delivered.
Topps announced through its football Twitter account (@ToppsFB) that Sam's autograph cards will also appear in 2014 Topps Football.
Susan Lulgjuraj is an editor at Beckett Media. You can email her here with questions, comments or ideas. Follow her on Twitter here. Follow Beckett Media on Facebook and Twitter.