Baseball card collector Tim Kane becomes a player for a day — with Nolan Ryan as his boss
By Josh Trudell | Contributing Editor
CORPUS CHRISTI, Texas | The grin on Tim Kane's face was matched only by the size of the "30" on the back of his jersey.
Kane, winner of the Topps and Minor League Baseball "Make Your Pro Debut" contest, signed his one-­day contract with the Corpus Christi Hooks, the double-­A affiliate of the Houston Astros, on Thursday.
"This is an experience I know I'll never forget, and my son and wife will never forget," Kane, a Maryland police officer, said before signing his deal with team owner and Hall of Famer Nolan Ryan.
Meeting Ryan was the icing on a day that included a complete tour of Whataburger Field, a press conference to announce the signing, warming up and playing catch on the field with the Hooks players, and sitting in the dugout with his son, Peyton, for the first three innings of a game against the Frisco Roughriders.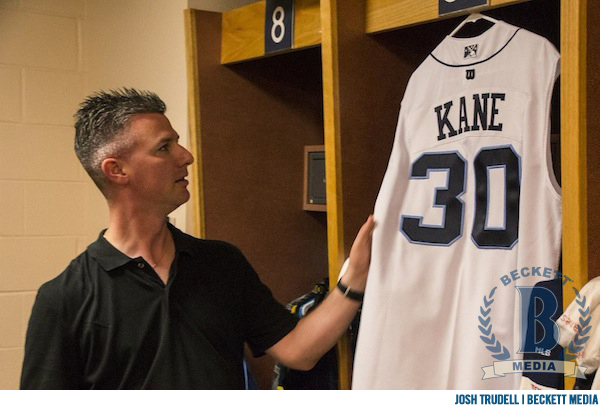 As Tim admired his new jersey in the locker room, Tim's son, Peyton, was presented with boxes of 2012 Topps Pro Debut and 2012 Topps Heritage Minors cards. Tearing into them, he quickly found a card of Nick Tropeano, who was sitting four stalls over from his dad.
Tropeano was happy to sign it for him.
Peyton was the reason Tim initially entered the contest, a joint operation between Topps, MiLB  and the Hooks. His winning essay said, in part, "Baseball has been the bond we have shared since the day he was born."
It's a bond that Tim's wife, Danielle, said has extended into their family for years. Tim took Danielle to her first baseball game when  they were dating, and Peyton became hooked when the family went to a Bowie Baysox game. The opponents, the Erie SeaWolves, took time to talk with Peyton, quizzing him about school and his Little League games. Since then, his  mother said, Peyton has pored over baseball information in every form, from books to apps.
Tim wrote in his winning essay that he and his son had recently started collecting cards. At the field, he said he owned all the Topps set from 1986 to the present, and was working on filling out a set of 1975 Topps.  His favorite card, however, is a 1972 Topps card of Ryan.
As the evening wore on, Tim and Peyton moved from the dugout to Ryan's suite, where they sat with the legend and listened to him talk about his most- and least-favorite stadiums and hitters to face.
When asked for a scouting report on his new player, Ryan chuckled.
"This is what you call a blind sign," he said.
One of the highlights for Tim was being photographed for his own card, which will appear in 2013 Topps Pro Debut.
Having been on possibly more baseball cards than any other player — at least of those in the stadium — Ryan said the card will also be something Kane will enjoy. He knows it was an experience even for him all those years ago.
"I think he'll take a lot of pride in that, and it'll be meaningful to him," Ryan said. "I'm sure his son will take a lot of pride out of it. The first time you actually see yourself on a baseball card, it's  pretty exciting."
Look for much more on Kane's day with the Hooks in the upcoming Families Issue of Beckett Sports Card Monthly.