Card-collecting dad raising thousands for charity — with pancakes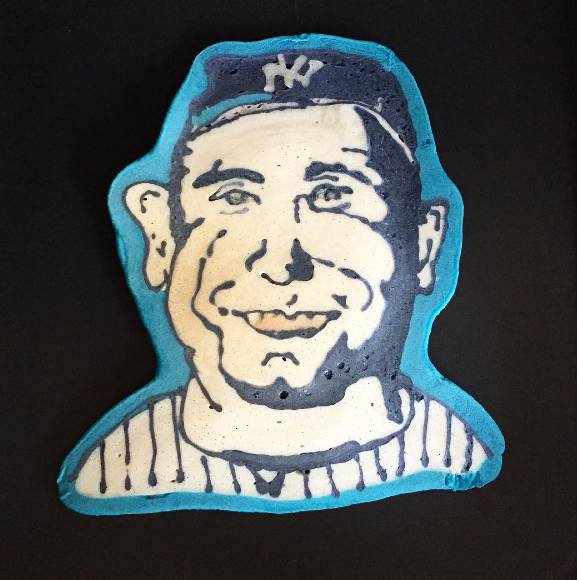 By Ryan Cracknell | Hobby Editor
Everyday, there are collectors out there doing amazing things. For Brady Phelps, it's making pancakes. But these aren't your average pancakes — they're pieces of edible art.
Since September, Phelps has raised more than $36,000 (and counting) making pancakes. All the proceeds of his Pancakes for Clean Water Campaign go to charity: water, a non-profit organization dedicated to clean water projects in developing countries.
With his project, Phelps has done hotcakes of everything from Van Gogh recreations to college logos to the San Diego Chicken. He's even done some that are inspired by one of his hobbies — collecting cards.
Watching Phelps make his pancakes is amazing. You can catch time lapse videos through both his Twitter and Instagram feeds. While these last only a few seconds, it generally takes him anywhere from two to seven minutes to create his masterpieces.
Making pancake art has been a regular thing in the Phelps home for a few years now.
A father of two young children, including a son named Beckett, his skills came out of struggling to make regular pancakes. So instead of trying to master something the easier problem, Phelps went in the opposite direction. He filled a condiment bottle with batter and ended up drawing things for his family's breakfast. And it has grown from there.
"I'd love to see pancake art take off. Even before I started my charity: water campaign, the reason I would post pancakes online was so other parents could see them, and see that anybody can do the basic stuff," said Phelps. "It brought so much joy to my kids to see Elmo, Mickey Mouse, or Cookie Monster in pancake form, I wanted other parents to do it too. It's great bonding with my two kiddos. Parents think 'I couldn't do that,' but you'd be surprised what you can do if you just give it a shot and practice a little."
Phelps has gotten plenty of practice since he started his campaign. He's lost count but estimates it's probably about 150 pancakes. Most of which are for made just to raise money and not usually for breakfast.
"To avoid extreme obesity, the kids only eat pancakes once, maybe twice, on weekends. Pancakes are great, but they're not an everyday food in our household," said Phelps. "It's great when [my kids] see me making them on Saturday morning and ask, 'Daddy can we eat these, or are these for the kids that need clean water?'"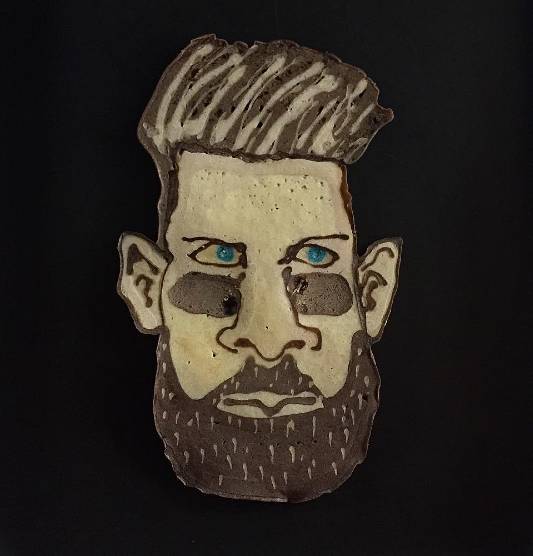 There's no real secret to Phelps' pancakes. They use basic batter. And while creating pictures out of pancakes doesn't sound easy to begin with, there are some skills required. In order to make the final product work, they need to be drawn as a mirror image.
Phelps got involved with the cause through the most basic of methods — word of mouth.
"My friend Ryan Graves introduced me to charity: water. After watching their founder Scott Harrison give a 2013 Inbound Conference speech, I was all-in," he said. "I love the confidence in giving to them because they have private investors that cover all overhead so that 100 percent of all donations go directly to the field to save lives with clean water."
Phelps has been a baseball fan and card collector for much of his life. He has fond memories of biking down to the card shop with his allowance for packs of 1987 Topps in search of Bo Jackson and Jose Canseco. He continues to collect today, focusing on vintage things his allowance didn't have room for at the time.
"Mickey Mantle is my baseball hero, and I collect everything of his I can get my hands on, budget pending — which is why I still don't have a 1951 Bowman or 1952 Topps," said Phelps. "When I was in junior high, my dad got me my first vintage card — a 1956 Topps Yogi Berra. Despite being far less valuable than many of my current cards it still has the thickest screwdown case. That's one of the reasons I did the Yogi Berra pancake."
Phelps' Pancakes for Clean Water campaign continues through the end of the year. If you'd like to have a custom pancake made for you or your business, you can donate $100 or more through his campaign page. All proceeds go directly to clean water initiatives in developing countries through charity: water.