Can't afford Blake Griffin? Look for these up-and-comers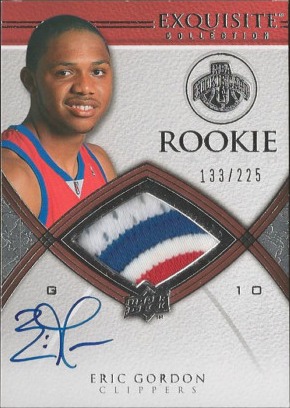 By Susan Lulgjuraj | Contributing Editor
With the way Blake Griffin's cards have skyrocketed this season, collectors are hard-pressed to find reasonably-priced cards of his. Ya know, cards that won't leave you eating tuna out of the can for a week.
Many young NBA players have the potential to be good. They probably won't hit the heights of Griffin, but could become serviceable players with a little star power in the future.
Here's a look at three guys you might want to consider:
Nick Young: The 25-year-old is finally putting together a solid season.  In his previous three years, Young has been a solid contributor, but didn't have star power. This season, his role has changed and he's averaging 17.6 points in 31.6 minutes for the Washington Wizards.
Young's Rookie Cards could be acquired for fairly cheap. If he continues with this type of success, collectors might have to start shelling out a little more for his cards.
Some cards to consider of his are 2007-08 Topps Rookie Photo Shoot Autographs, 2007-08 Exquisite and 2007 Topps Chrome autograph.
Eric Gordon: Gordon would like to thank Blake Griffin for taking all the attention away from him with the Clippers. In his first two seasons, Gordon has been a solid player averaging around 16 points a game. But with the addition of Griffin, Gordon has a found a way to raise the level of his own game. He's averaging 24.1 points and 4.5 assists a game – both career highs.
One of Gordon's best cards is his 2008-09 Exquisite auto/patch numbered to /225. This card can go for a few hundred dollars. If you're looking for something a little cheaper, his 2008-09 Bowman Draft auto could be had for less than $60.
LaMarcus Aldridge: Aldridge is another player having a career year. He bumped his point average to 22.1 and rebounds to 8.9 this season. He's had 24 double-double this season and even had two games where he scored 40 or more points for Portland.
His Exquisite cards from 2006-07 are another sure bet when it comes to quality, but if you're looking for something different check out Aldridge's Panini cards from this season, which have great value.