Canadian Local Card Shop of the Week: Untouchables Sports and Gaming (Mississauga, ON)
Untouchables Sports and Gaming is a popular destination for gamers and card collectors in and around Mississauga, Ontario. Chris Giancoulas began collecting comics as a kid and eventually moved over to sports cards and gaming. He is now helping others get involved in the hobby at Untouchables. I recently spoke with Chris to find out more about Untouchables and what they have planned over the next few months.
Canadian Local Card Shop of the Week is brought to you by Universal Distribution, Canada's premier distributor of CCG's, sports cards and non-sport cards, trading card games, role-playing games, comics, toys, figurines and more.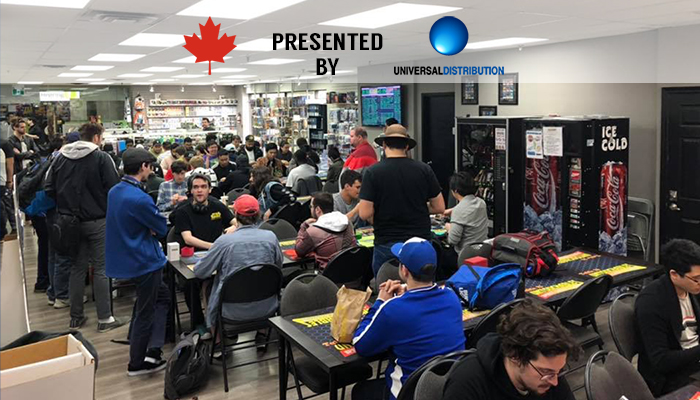 JOEY SHIVER – Thanks for taking the time to talk with us Chris. Can you tell us a little about your collecting background and what led to your decision to join the sports and gaming card industry?
CHRIS GIANCOULAS – I have been an avid collector of comics since a young age. It actually assisted and encouraged me learn to read. Since then, it evolved into sports and gaming. Gaming was fascinating and presented situations of interaction and structure in creating ever-evolving game decks. Sports is, in itself, an incredible game since I played in all levels of school. It creates drive, team play and organization.
JS – Can you tell us a little about your store — your setup and what type of inventory you carry? Also, what services do you provide?
CG – Untouchables Sports Cards and Gaming has been in operation for close to 30 years now. It has evolved in leaps and bounds over those years. Sports cards are front and center and a main cog of Untouchables. Gaming has grown to a point where our play area can sit close to 100 people. We carry a wide range of products in all fields. Upper Deck Hockey, football, baseball, basketball and soccer are all represented here at Untouchables.
We carry MTG Magic: The Gathering, Yu-gi-oh, Pokemon, Vangaurd and DBZ. Untouchables carries a variety of board games such as Catan, Pandemic, etc. Supplies are well stocked from comic book bags and boards to almost every gaming sleeve you can imagine to binders, display cases, and top loaders.
Untouchables provides BGS grading services, product pre-order, and Sit and Learn to Play Deck Construction in most gaming products. [We do] appraisals of all types and we have our case breaks on release of new sports products.
Untouchables' friendly staff is always here to assist new and repeating customers.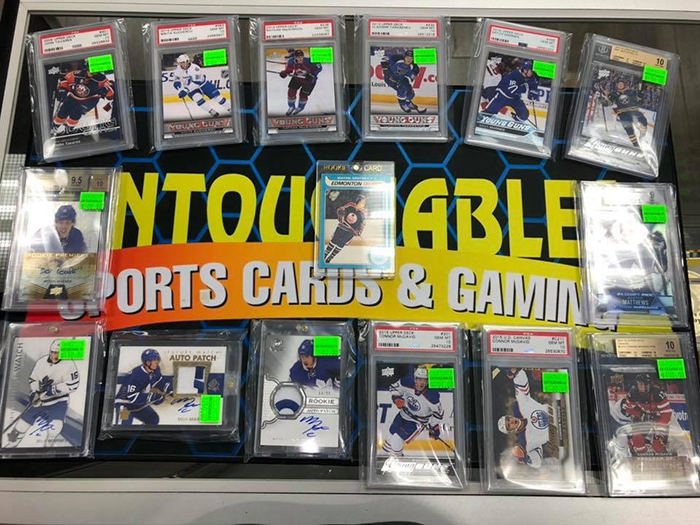 JS – One thing I noticed right away was that you are open until 2AM on Friday Nights. This is out of the ordinary from what we typically see in shop hours. What is Friday night like at the shop?
CG – Friday night is pretty crazy. MTG Friday Night Magic runs the store and events are going on all night until 2AM. It gets even crazier when in-store sports case breaks are on at the same time. It's intense!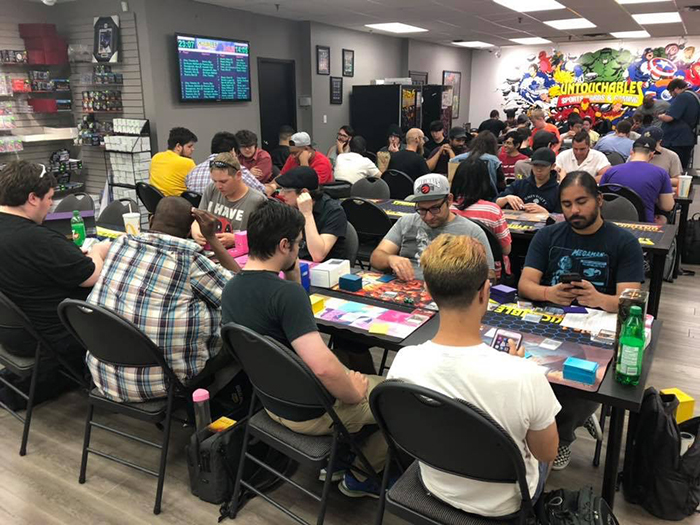 JS – This is a new series we are running to include Sports Card Shops in Canada. For collectors who haven't been, what would you say are the main differences, if any, between your shop and what are found in the US?
CG –We build communities and cater towards hockey but basketball has exploded in recent years. And with the Toronto Raptors as the new NBA Champions it's taken the sport to a new level. CFL is a mainstay here as well.
JS – As it relates to sports cards, and while I understand hockey is prevalent in your store. How much of the other major sports releases are in demand among your customers?
CG – Basketball as I mentioned above, baseball since Toronto has one of the best prospects in Vladimir Guerrero Jr. His card is the hottest card in baseball at the store.
JS – As it relates to particular products, what performed very well in 2018 and what made those products so popular?
CG – Upper Deck Hockey Series 1 and 2, SP Authentic Bowman Baseball, Topps Finest. Rookie classes had a huge impact and the products were well received by consumers.
New Magic: The Gathering sets with higher power levels are also popular.
JS – Are there any products that are on the release calendar you are really looking forward to in the next few months?
CG – Upper Deck Clear Cut Hockey and Topps Chrome Baseball, Commander 2019, and of course UD Hockey Series One.
JS – I see where from your Facebook page that you have a lot of in-store events. Can you tell us about what all you have going on there at the shop?
CG – We have multiple events from Magic: The Gathering to Vanguard, Pokemon, Yu-gi-oh, box breaks, drafts, and pre-release events for all gaming products.
JS – The way we collect has changed a lot over the years. Looking at the hobby in general, what are some of the biggest changes you have seen since you started collecting?
CG – The biggest changes are the quality of the actual product. Limited numbered cards, variations, exclusives, and redemptions. One big thing is that the collector is buying for investment as well as collecting. Higher end product is preforming at a higher level.
JS – What are some of the major positives within the hobby and industry right now? What are you hearing from your customers right now in regards to the industry? What do they really love seeing from a product or support standpoint?
CG –Mostly positive feedback on product lines and sets but quality control is an issue such as high-end value cards damaged or scratched. In general, the consumer wants to see the limited numbered autographed cards. I call them the crazy cards — one-of-ones, patch, jersey cards, etc.
JS – In closing, can you tell us about any sales or upcoming events you have scheduled for the next couple of months?
CG – We will have UD case breaks for Ultimate Hockey and Clear Cut Hockey for August. Gaming wise, MTG 2020 Core set is coming in on July 19. Yu-gi-oh: Rising Rampage on July 26, and Pokemon: Unified Minds July 20 and 27, 2019.
Untouchables Sports and Gaming
Chris Giancoulas
(905)275-0708
377 Burnhamthorpe Rd E
Mississauga, ON L5A 3Y1
Hours
Sunday: 11AM-5PM
Monday-Thursday: 10AM-9PM
Friday: 10AM-2AM
Saturday: 10AM-6PM
Facebook: Untouchables Sports and Gaming