Canadian Local Card Shop of the Week: Player's Choice Sports Cards (Kelowna, BC)
Jason Wobshall has been collecting most of his life. His mom started buying him cards as a kid and he soon realized that there was money in card collecting when he saw his first Beckett with Sergei Fedorov on the cover.
After loading up on cards as a kid, he learned that in order to keep buying cards, he was going to have to start selling some. So a collection that started in 1990 turned into Player's Choice Sports Cards in 2005. I recently caught up with Jason as he was on his way to the Toronto Sports Card Expo to discuss his shop and the hobby in Kelowna, British Columbia.
Canadian Local Card Shop of the Week is brought to you by Universal Distribution, Canada's premier distributor of CCG's, sports cards and non-sport cards, trading card games, role-playing games, comics, toys, figurines and more.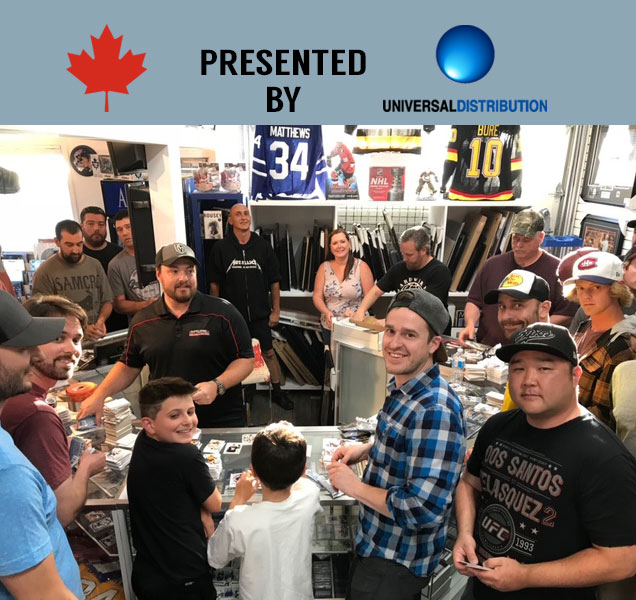 JOEY SHIVER – Thanks for taking the time to talk with me, Jason. You began collecting back in 1990. Can you tell our readers what led to your decision to shift from collector to card shop owner in 2005?
JASON WOBSHALL – I was doing the online and eBay life for a while as I was working on my marketing degree in school. The location where the shop is now located opened up, so Dean [Draginda] and I decided to try and make a go of shop ownership. It has gone really well ever since.
JS – Can you tell us a little about your store? Can you talk about your setup and what type of inventory you carry? Also, what services do you provide?
JW – While mostly hockey, we do carry everything. We just purchased a 1950s baseball card collection and are taking it to the Expo. I have a nice Willie Mays collection I am also taking. We just renovated the store last January and we have wax, jerseys, pictures and about 6 million singles for customers to browse. We have a nice inventory of sports cards. We also sell a ton on eBay with anywhere from 3,000-5,000 listings up at any point in time, unless we are traveling for shows.
JS – For collectors who haven't been, what would you say are the main differences, if any, between your shop and what are found in the US?
JW – You know how you walk into a card shop in the states and you see baseball or football jerseys on the wall and those same sports singles in the showcase? We are very much the same, except all of that is hockey. We are decorated with hockey jerseys and hockey photos. When we do have American customers come in, they love the shop. We have more hockey product than some states, in some cases. We can sell 10,000 to 30,000 singles on eBay in a month and 80 percent to 90 percent of that is hockey.
JS – You are located in British Columbia so I would imagine you have a few Canucks hanging around the shop. I also see that Kelowna is the home of the Kelowna Rockets WHL team. Can you talk a little about your local collectors and what teams and players they support most?
JW – We have 92-plus NHL players that live here in Kelowna. You can see hockey players like Carey Price all over the place. We have brought some into the shop for autograph sessions and we have also participated in a lot of charity events with the players. It is a lot easier to get the older players in than the current players right now but we try to get everybody in.
We have Canucks, Oilers, Maple Leafs, and Canadians here. All of the Canadian teams are popular here, but we have a huge Montreal base. We've brought Lafleur and others in and the Montreal fan base is amazing. Of course, with the Canucks, we have had a very good couple of years with the recent rookies like Petterson. A few of the top guys the last couple of years have been Canucks.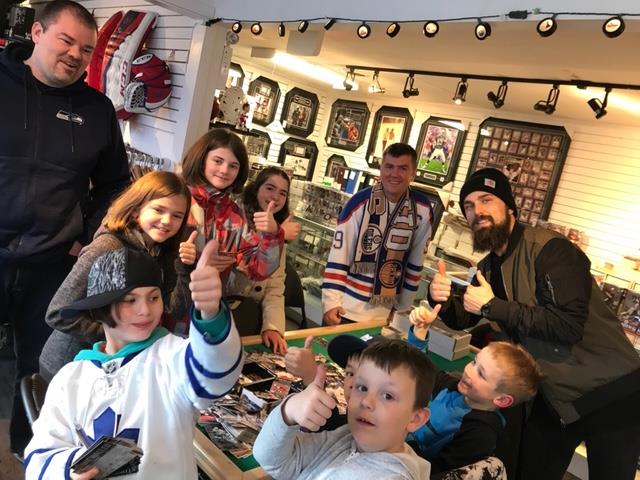 JS – How important has social media been to the success of your shop?
JW – Facebook has been one of our biggest tools in gaining new customers and followers. And we really see the positives of collector interaction on there. When you put up new products or big hits on Instagram and Facebook, it really improves your reach. It's not always easy during busy times but it is a great tool. We use it to promote and grow our in-store events as well.
JS – Hockey appears to be a huge seller in your store and your Facebook page calls your store "Hockey-Pool Central." Can you tell us a little about that?
JW – Hockey Pool Central is a pool we do every year with packs of cards. Customers get to use players that they pull out of packs to win prizes throughout the year.
JS – Your Facebook page advertises events such as "Break Night" at the shop. Can you tell us about some of the events you hold in-store?
JW – We do a break night or event night once a month. For the first two years, we only averaged 10-20 people for those but now we have 50-60 people at an event night. We now do a family event in the afternoon for kids and an adult event at night to try and spread it out for everyone. It is fun seeing everyone's faces when they are opening packs in Pack Wars, trading and just enjoying the hobby.
JS – I also see that you travel to various trade shows all over North America. Can you tell us about some of your favorite shows over the years?
JW – We do participate in show season. We go to the Calgary, Edmonton, and Toronto shows every year, plus the Upper Deck Diamond Dealer Conference. We have also traveled to the Industry Summit in the past in Las Vegas and Hawaii. We would like to get to the Topps Conference at some point but we make sure we get to Upper Deck each year.
JS – What are some of the major positives within the hobby and industry right now? What are you hearing from your customers right now in regards to the industry? What do they really love seeing from a product or support standpoint?
JW – Almost all of the hobby is riding a positive wave right now. So many new, young, great players are doing well. The league is really close from a skills perspective and it causes more interest in the hobby. Upper Deck is trying really hard to be in touch with collectors and hobby partners. Upper Deck Series 1 and SP Authentic are always monsters for us but several other products like Artifacts, Trilogy, SPX, and SPGU are doing well also. Customers are really excited about the new products that are coming out later this year.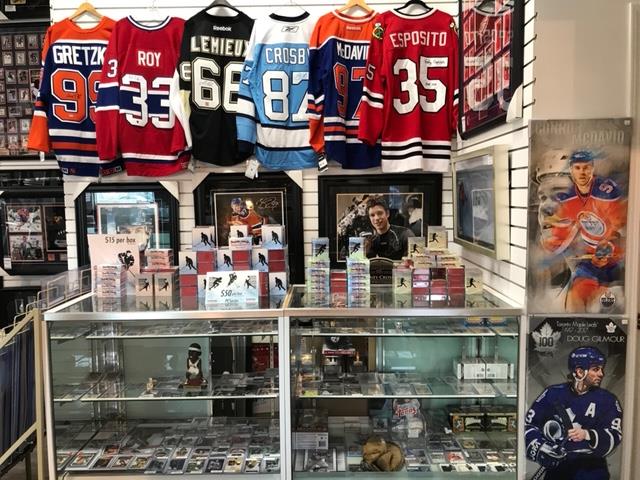 JS – In closing, can you tell us about any sales or upcoming events you have scheduled for the next couple of months?
JW – We have three massive events coming up. We have been running a contest over the last four months or so with "Golden Tickets." We are going to be selecting 20 collectors from the shop to go with us to the NHL Draft in Vancouver. They will get to watch the draft, meet players, have dinner and will receive a nice Upper Deck swag pack. That is an awesome event and we are really looking forward to it.
We have another big event on June 28, 2019, which is an NHL Charity Baseball Game. There will be 18 NHL Players there and they will be signing for charity. We have Carey Price, Shea Weber, Brendan Gallagher, and several others that will be there.
The third event is the "Memorial Cup," which is in Kelowna in May, 2020. We are working with a women's charity for that event that gets women and girls to play hockey by promoting the sport. So we will have a hockey tournament based around the Memorial Cup next May. We are trying to support that effort due to funds being pulled from them from Canadian Hockey. This group based out of Kelowna used to play men's hockey and they are now trying to take the leadership role of that fundraising effort.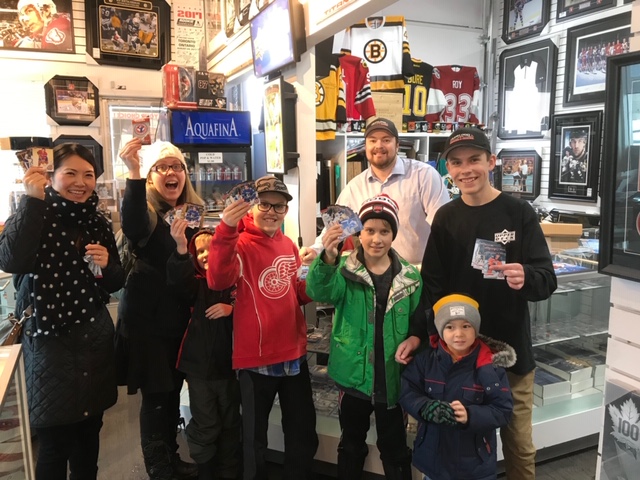 Player's Choice Sports Cards
Jason Wobshall and Dean Draginda
(250)862-2737
470 Cawston Avenue
Kelowna, BC V1Y 6Y9
Hours
Monday-Saturday: 11AM-6PM
Sunday: Closed
Email: playerschoicesports@telus.net
Facebook: Players Choice Sports
Instagram: @playerschoicesports
eBay: TOSHOW11