Canadian Local Card Shop of the Week: GameZetera (Ottawa, ON)
Ken Trowsse began collecting hockey cards during the early '90s and grew up in a time when so many nostalgic memories were created. We had Nintendo, sports cards, and wrestling as kids. Those things will always bring back positive thoughts. Ken took it a step further when he and Pierre Tessier opened a shop that would sell all of those items to collectors. I recently caught up with Ken to discuss his shop, GameZetera, and find out what it was like to be surrounded by so much retro fun on a daily basis.
Canadian Local Card Shop of the Week is brought to you by Universal Distribution, Canada's premier distributor of CCG's, sports cards and non-sport cards, trading card games, role-playing games, comics, toys, figurines and more.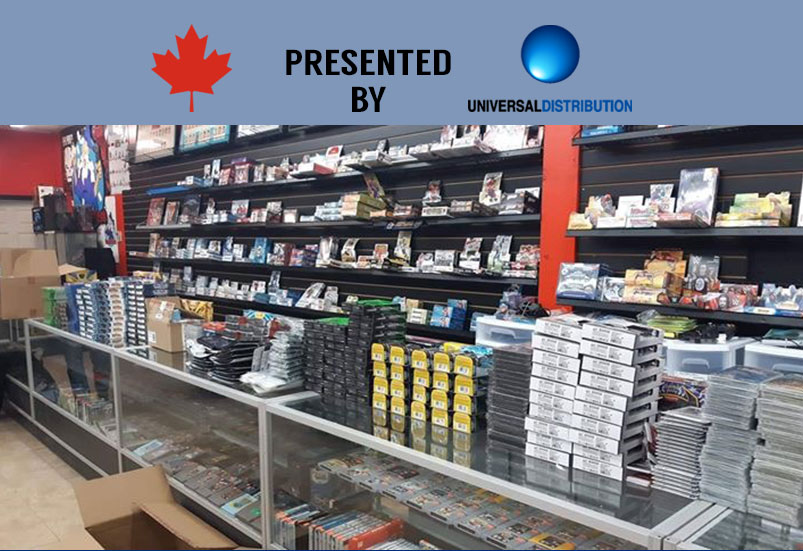 JS – Thanks for taking the time to talk with us Ken. Can you tell us a little about your collecting background and what led to your decision to become a card shop owner in 2017?
KT – I've been collecting cards since the early '90s when my Mom started bringing home packs of Upper Deck Hockey from our local convenience store. My love for the hobby was always in the back of my mind so when I opened up my other store, I decided to make sports cards part of it.
JS – Your store is a little different than a lot of the shops we interview in that you offer a pretty large selection of video gaming items as well. Can you tell us a little about your store, your setup and what type of inventory you carry? Also, what services do you provide?
KT – GameZetera carries a little bit of everything from video games (retro and current), board games, Pop Funko, and of course, gaming and sports cards. Retail can be tough these days so making sure to have many avenues of revenue was important to me.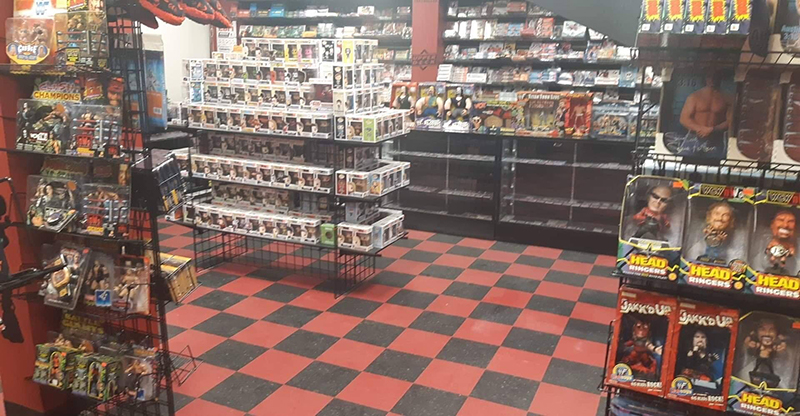 JS – What similarities (and differences) have you found between the gaming and sports card industries? I am personally a cross over collector of both. Do you see that often?
KT – I personally find the sports card part of the business to be more like a brotherhood. Certain customers like to come in when the employee they mesh best with is working. The gaming customers generally like to browse more and take their time as they make their decisions on what to play. We do see cross over collectors, but they generally only work on one collection at a time.
JS – This is a new series we are running to include sports card shops in Canada. For collectors who haven't been, what would you say are the main differences, if any, between your shop and what are found in the US?
KT – I think the main difference we have up here is the amount of hockey products we have. Being in Canada, it's a must to carry every hockey product released.
JS – The current culture we live in has really embraced "retro" items such as sports cards and video games. People are looking for Nintendo, Sega, and even junk wax sports Ccaards (and I use that as a term of endearment) as a way to reconnect with their childhood. How popular are those items with your customers?
KT – People are always looking for ways to reconnect to their youth. I think it has a lot to do with reminding us of simpler times. Whether it was playing that brand new NES you opened up on Christmas Day, 1986 or pulling that Martin Brodeur rookie card from 1990-91 Score, it made us feel great. And because of that, people are always looking to feel that again!
JS – As it relates to sports cards, and while I understand hockey is prevalent in your store. How much of the other major sports releases are in demand among your customers?
KT – Nothing compares to hockey as you stated above. While we stock all big releases from all the major sports, a huge part of our non-hockey sales come from Marvel and WWE releases.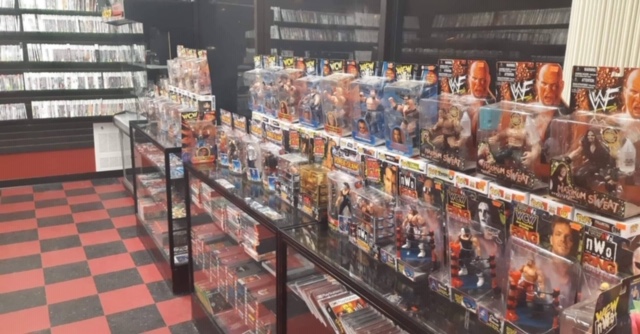 JS – As it relates to particular products, what performed very well in 2018 and what made those products so popular?
KT – I'd have to say Marvel products. The hype and following that the movies generated was unreal. Not to mention the revamped Fleer Ultra Spider-Man and X-Men releases where just another way to reconnect with that '90s vibe all over again.
JS – Are there any products that are on the release calendar you are really looking forward to in the next few months?
KT – I'd have to go with Upper Deck Clear Cut. These one pack/one card products are becoming increasingly more popular and with a price point that's obtainable to collectors on all levels, should make it a very successful product.
JS – I see where you had The Honky Tonk Man in the shop in December, 2018. Can you tell us about that event? Have you had any others you want to mention?
KT – Honky Tonk Man was a blast! As I mentioned above with the WWE cards, we have a cult following of hardcore wrestling fans here in Ottawa. We've had many other successful autograph sessions this past year that featured WWE Legend Mick Foley, "Hacksaw" Jim Duggan, and Ken Shamrock.
JS – The way we collect has changed a lot over the years. Looking at the hobby in general, what are some of the biggest changes you have seen since you started collecting?
KT – For me it has to be the "sink or swim" mentality that a lot of the new collectors have. When I was opening packs, we hoped to pull our favorite players from our favorite teams or, if we were lucky, the year's hottest rookie. Nowadays, many collectors are after the massive "home runs" and "bunt singles" aren't exciting anymore.
JS – What are some of the major positives within the hobby and industry right now? What are you hearing from your customers right now in regards to the industry? What do they really love seeing from a product or support standpoint?
KT – I find the major positives surrounding the hobby right now are how involved the major companies are. There always seems to be some promo going on to attract customers and give back to the community. Some that come to mind are Upper Deck's National Hockey Card Day, Panini's Father's Day promotions, and the Topps of the Class promo from Topps. Not to forget the industry summits that these guys put on that help us become so much better at what we do for our customers back home.
JS – On the contrary, what are some areas you think could be modified to improve the customer experience? What type of feedback do you get from your customers in this area?
KT – The fallbacks are generally the same within the collecting community both here and abroad. Redemptions and the time they take to be fulfilled are an easy #1. However, I know that some of the companies are trying hard to remove as many as they can.
JS – In closing, can you tell us about any sales or upcoming events you have scheduled for the next couple of months?
KT – We tend to always have a multitude of specials running throughout the stores at one time depending on which location you visit. GameZetera Orleans has a pack wheel that customers spin for free packs for every $100 they spend on products. We also hand out raffle tickets for every $20 spent that gets customers entered into our monthly draw.
GameZetera Orleans
(613) 834-7755
6505 Jeanne D'arc North
Ottawa, Ontario K1C 7H8
Hours
Sunday: 12PM-5PM
Monday – Wednesday: 11AM-6PM
Thursday – Saturday: 11AM-9PM
Facebook: GameZetera Orleans