Canadian Local Card Shop of the Week: Doug Laurie Sports & Auctions (Barrie, ON)
Wayne Frazer began collecting cards in the mid 1970s when he was just a kid. He has spent most of his life in and around the hobby. He has written trading card backs for Breygent, In The Game, and President's Choice. He even has aspirations of creating his own trading card set one day. But in 2019, he is the owner of Doug Laurie Sports & Auctions and he has plenty going on around his store. I recently spoke with Wayne to discuss his shop and get his thoughts on the state of the hobby.
Canadian Local Card Shop of the Week is brought to you by Universal Distribution, Canada's premier distributor of CCG's, sports cards and non-sport cards, trading card games, role-playing games, comics, toys, figurines and more.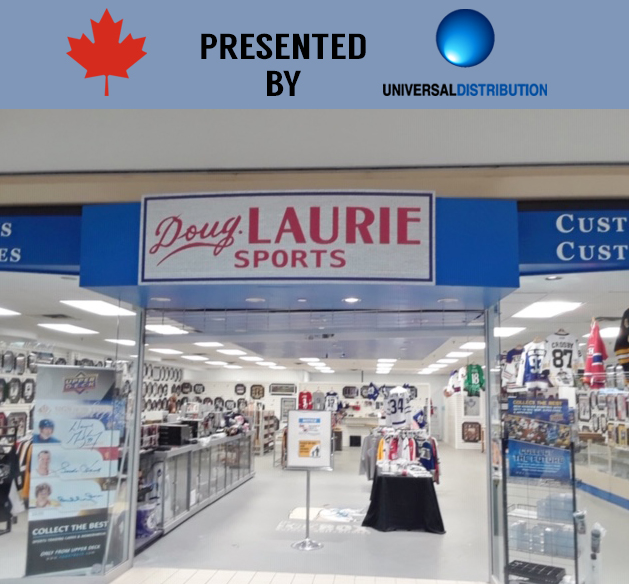 JOEY SHIVER – Thanks for taking the time to talk with us Wayne. Can you tell us a little about your collecting background and what led to your decision to open your shop in 2018? Also, can you touch on the significance in the name of your shop?
WAYNE FRAZER – I have been collecting off and on for more than 40 years. I'm from the St. Louis area originally so I started off collecting Cardinals baseball and football stuff. I owned a couple stores for short periods during the '90s and then when I moved to Canada in 2005, I got back into the business. I owned a store for a while, then ran one. When the opportunity came to own again, I jumped at it.
JS –Can you tell us a little about your store; your setup and what type of inventory you carry? Also, what services do you provide?
WF – I do a little bit of everything. I have a significant pack wall and selection of singles, but I also stock a ton of autographs, supplies, and game-used items. I also have non-sports cards and entertainment autographs, although we don't do gaming (two other stores in town). Custom framing is a big part of my business, and I have more than 200 framed pieces in stock. I also do insurance appraisals, eBay selling, and occasionally am involved in autograph signings.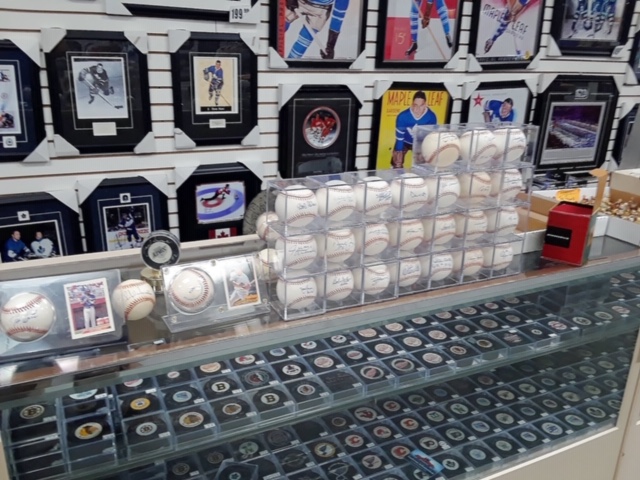 JS – This is a new series we are running to include sports card shops in Canada. For collectors who haven't been, what would you say are the main differences, if any, between your shop and what are found in the US?
WF – The main difference is the almost exclusive focus on hockey. While I do have a few collectors for the other major sports, at least 90 percent of my business is hockey. Otherwise, I think it's pretty much the same.
JS – Who would you say is the "Home Team" among your collector base? How are some of the most sought after players?
WF – It's definitely the Maple Leafs here. The rapid rise of the Leafs, and the development of Auston Matthews, Mitch Marner and the rest of the team created a ton of excitement here. We also have a fair number of Canadiens fans and then Pittsburgh, Boston and Washington would round out the top five.
Even with the Raptors winning the NBA title, there is very little demand for basketball here. I have seen a jump in interest in the Blue Jays with Vladimir Guerrero Jr., Lourdes Gurriel Jr., and Cavan Biggio.
JS – As it relates to sports cards, and while I understand hockey is prevalent in your store, do you carry any of the other major sports releases? How much are they in demand among your customers?
WF – I don't go too deeply into the other sports, but I do stock at least a few different products for baseball, basketball, and football. My regulars will occasionally break a box for something different. People traveling north from Toronto on their way to their cottages stop in and like to see a little variety. I actually sell more non-sports than I do the other sports.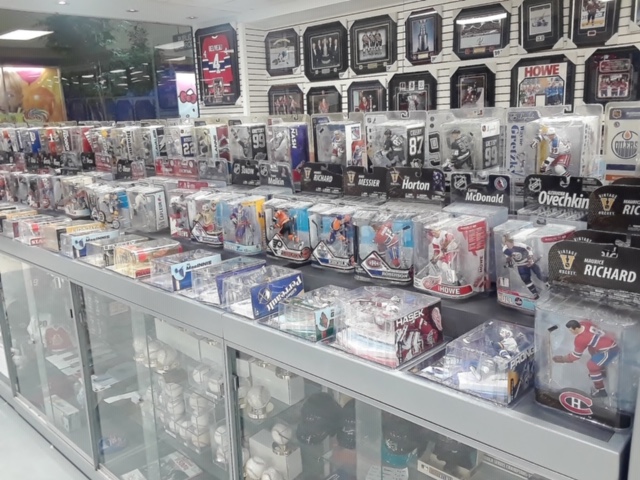 JS – As it relates to particular products, what performed very well in 2018 or the first half of 2019? What made those products so popular?
WF – Artifacts did very well for us, but it always does. I think it's one of the surest things on the shelf every season, and my customers feel like even if the box isn't that strong, there are always one or two cards they can hang their hats on. I also did well with Synergy, but it was a couple very enthusiastic guys that drove that. Of course Series 1 and 2 are always strong. I have to also mention UD's Maple Leaf Centennial. That product sold well out of the gate, but then tailed off until the box price dropped. Now it's my best-selling "older" product and we have had some amazing hits come out lately.
JS – Are there any products that are on the release calendar you are really looking forward to in the next few months?
WF – I think Upper Deck's Clear Cut Hockey will be a big seller. The one-card-per-pack format is not my favourite, but guys who swing for the fences love it. Of course, when UD's Series 1 Hockey rolls around that's always a big week for me, especially when coupled with the Sportcard Expo. I'm also really anxious to see how Cryptozoic does with Outlander CZX. It looks beautiful and I'm taking a chance on it.
JS – Your Facebook page advertises local card shows that you sponsor. Can you tell us about those shows? How prevalent are shows in your area in 2019?
WF – I'm a big fan of card shows. I promoted my first show more than 25 years ago and have been a part of the SportCard Expo for more than 15 years now. I even used to write some of the Expo magazine articles and started and ran the Twitter feed and Facebook page for former owner, Al Sinclair. When I opened Doug Laurie Sports last year, one of the keys in taking the space in my mall was to be able to host shows. I bring in eight to ten vendors with cards, toys, comics, and even some coins and autographs. We have a good time with it and it brings a solid stream of people in for the weekend. I can even sometimes build in an autograph guest. Recently we've had Red Kelly, Dick Duff, Bobby Baun, and several others. Also, in the past, I have worked with Gordie Howe, Jean Beliveau, Johnny Bower, and tons of other players.
I have tables in the store and people are always welcome to come in with their doubles and trade with one another or with me.
JS – What are some of the major positives within the hobby and industry right now? What are you hearing from your customers right now in regards to the industry? What do they really love seeing from a product or support standpoint?
WF – The quality and design of trading cards has never been better than it is now. People returning to the hobby are stunned by how nice even base cards are. The manufacturers are also doing a good job of getting information out to collectors and supporting them outside of just making sure the cards are available. Keeping people engaged between trips to the shop is important.
JS – On the contrary, what are some areas you think could be modified to improve the customer experience? What type of feedback do you get from your customers in this area?
WF – My box breakers are looking for value. It makes it tough when someone spends $150 on a box and comes away with nothing of consequence. I'm honest with my collectors about what I have seen from a product, both in store and from research online and if I think it's weak, I say so. Upper Deck's addition of bounty cards and technology hits has helped with this, as those cards are also tradable from new releases.
JS – In closing, can you tell us about any sales or upcoming events you have scheduled for the next couple of months?
WF – I'll continue to do our mall shows and bring in autograph guests. I hope that I'll also be able to do a couple Tim Hortons trading cards nights this year. They were huge for me a few years back, but the restaurants starting to do their own trade nights.
Doug Laurie Sports & Auctions
Wayne Frazer
(705) 503-2800
Kozlov Centre
400 Bayfield Street, Unit 35
Barrie, Ontario L4M 5A1
Hours
Tuesday-Thursday: 9:30AM-6PM
Friday: 9:30AM-7PM
Saturday: 9:30AM-6PM
Sunday-Monday: Closed
Facebook: Doug Laurie Sports & Auction
Website: DougLaurieSports.com