Canadian Local Card Shop of the Week: Clouts'n'Chara Sports Cards
Dan Pollard and Geoff Connolly are longtime collectors in the trading card world. But in 2010, they decided to combine their love for the hobby with a desire to make a dream come true, and opened a hobby shop in Kitchener, Ontario. Nine years later, they are involved in many areas of the business with their shop. I recently caught up with Dan to discuss their shop and the local market for trading cards.
Canadian Local Card Shop of the Week is brought to you by Universal Distribution, Canada's premier distributor of CCG's, sports cards and non-sport cards, trading card games, role-playing games, comics, toys, figurines and more.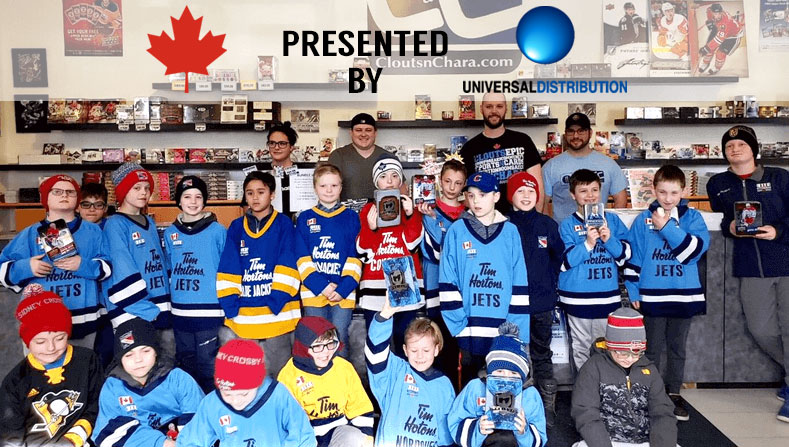 JS – Thanks for taking the time to talk with us Dan. You have been in the hobby most of your life as you began collecting around 8 years old. Can you tell us what led to your decision to become a card shop owner in 2010?
DP – Geoff and I have always had a passion for hockey cards and it was a dream of ours to open up a card shop. When the timing was right we decided to invest into a great store and make our dreams become a reality.
JS – Can you tell us a little about your store? Can you talk about your setup and what type of inventory you carry? Also, what services do you provide?
DP – Our store model is to be very modern looking. One thing we were very picky about is that the store itself would give a higher-end feel to it. I was never a major fan of clutter and not having space to move around so when we were building ours, we wanted it to be more open space. In terms of inventory, we carry most likely one of the largest stocks of Hockey inventory in the world. We 100% carry and order in all the major sports products, MTG, Pokemon, UD Entertainment products, and much more.
For our services, we do our best to offer a wide variety so we most definitely do purchase singles/lots, we sell tons of singles (we have approx 4,000 singles for our customers to go through), and we host monthly trade nights (most are held on the last Saturday of every month). In terms of grading, being in Canada, we are a Pristine Dealer Drop-Off Store for MNT Grading. They have been amazing to work with. As for breaking, we are the largest hockey group breakers in the world and take massive pride in that.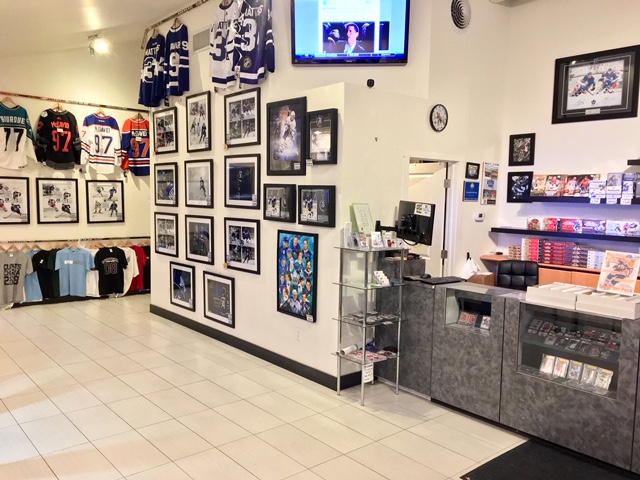 JS – I'm also curious about the name of your store. Can you tell us about that?
DP – Essentially the name comes from our collection of two of our favourite players that myself and Geoff used to collect, which were Dan Cloutier and Zdeno Chara. We wanted something that is catchy and easy to remember, so CnC (Cloutsnchara) is the way we went. It represents our collections and passion for the hobby.
JS – This is a new series we are running to include Card Shops in Canada. For collectors who haven't been, what would you say are the main differences, if any, between your shop and what are found in the US?
DP – A lot more hockey! There are a ton of great shops in the US, and for the most part there is not a major difference in how they are run. We strive to have an open area clean store with a lot of product to give our customers some good thinking of what to choose.
JS – You are located just outside of Toronto so I would imagine you have your fair share of Maple Leafs and Blue Jays fans. Can you talk a little about your local collectors and what teams and players they support most?
DP – Being from Toronto, it is very heavily the Maple Leafs and of course (Auston) Matthews and (Mitch) Marner, with a little bit of (Williams) Nylander. With the Leafs finally having a decent team, it has helped bring lots of collectors back to collecting their favorite team locally, which we noticed was missing the last ten years due to the player options.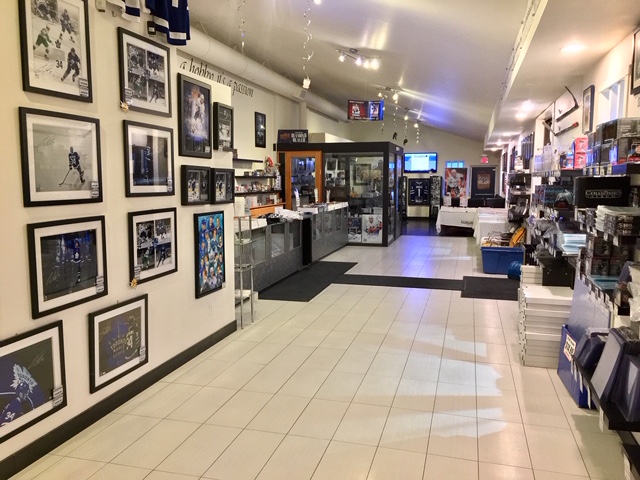 JS – Hockey appears to be a huge seller in your store. How much of the other major sports releases are in demand among your customers?
DP – As stated previously, we do order and put up on our website pretty much everything to make sure all our customer needs are taken care of. In terms of demand, it is nowhere near the level of hockey but that is Canada as a whole, generally would be hockey by far, then baseball when in season, football, soccer, and finally basketball.
JS – As it relates to particular products, what performed well in 2018 and what made those products so popular?
DP – There are too many to list that performed well, honestly. I do believe Upper Deck did an outstanding job on most of their products and they have heavily cut down on redemptions, which should get noted as I believe their last eight or nine products (minus Artifacts) have been redemption free, which helps move the product. You have your obvious animals which are Series 1 and SP Authentic but they did a great job on SPX, Ultimate, and many others.
JS – Are there any products that are on the release calendar that you are really looking forward to in the next few months?
DP – I believe this year's SP Authentic and the brand new Engrained will be amazing. I think for Upper Deck to make a product that is primarily sticks will be something collectors will dive right into.
JS – One feature that caught my eye on your Facebook page is the "Collector of the Month." Can you tell us about this promotion at your store?
DP – We love to showcase the collectors of this hobby and they should be proud of their collections. We encourage all collectors, whether it be player, team or set, to showcase it to the world; so all they have to do is send us a little bit of information about themselves, who they collect and why, and then we display it for them.
JS – I also noticed that you have a channel on Breakers TV. How much time have you focused on breaking and how has it enhanced your business? How can collectors be a part of your breaks?
DP – We go on Breakers.TV seven days a week for about three to five hours each time. It has greatly enhanced our business, which has given us the chance to meet new collectors and members. Members can join our breaks by signing up on our website and simply checking out the active breaks we have going on, which are generally 4-6 different breaks a night. Of course, if they ever have any questions, they can read our FAQ on breaks or simply go into our breakers channel and we can assist them with any questions.
JS – The way we collect has changed a lot over the years. Looking at the hobby in general, what are some of the biggest changes you have seen since you started collecting?
DP – From our standpoint, it has been the age of collectors. There are still a lot of younger collectors and they will be the future of this hobby, but the average age has definitely gone up due to the high dollar value of resale on some cards. The rarity of items and the desire to have the "best" copy of the item has been driving the industry to new highs.
JS – What are some of the major positives within the hobby and industry right now? What are you hearing from your customers right now in regards to the industry? What do they really love seeing from a product or support standpoint?
DP – I would say specifically from Upper Deck would be the elimination of most of the redemptions, as stated above. They have done a great job making most of their new products redemption free. I know our customers have stated the redemption team has been doing great and for the most part treat each customer as someone who has spent their hard earned money on their products. As for what they love seeing, I would say innovation and something new like Engrained and Splendor.
JS – In closing, can you tell us about any sales or upcoming events you have scheduled for the next couple of months?
DP – We have weekly sales on our online store and in-store which is called "Box of The Week." We will also be at the Sports Card Expo in May at the International Centre. You can sign up to our monthly newsletter where we send information about upcoming sales, products and more (scroll down to the bottom of the home page).
Clouts'n'Chara Sports Cards
Dan Pollard / Geoff Connolly
(519) 954-8278
645 Victoria Street North
Unit #2
Kitchener, Ontario N2H 5G3
Hours
Sunday – 12PM-5PM
Monday – Friday – 10AM-8PM
Saturday – 10AM-6PM
CloutsNChara.com
Email: cloutsnchara@gmail.com
Twitter: @Cloutsnchara
Facebook: Clouts'n'Chara Sports Cards