Canadian Hobby Shop of the Week: Dolly's Sports Cards (Toronto, ON)
Dolly's Sports Cards has been serving the Greater Toronto Area for over 30 years. The partnership of William Chong and Rey Revereza has been a mainstay for card collectors in their area. I recently caught up with Rey to discuss the shop in Toronto and get his thoughts on the current state of the hobby.
Canadian Hobby Shop of the Week is brought to you by Universal Distribution, Canada's premier distributor of CCG's, sports cards and non-sports cards, trading card games, role-playing games, comics, toys, figurines and more.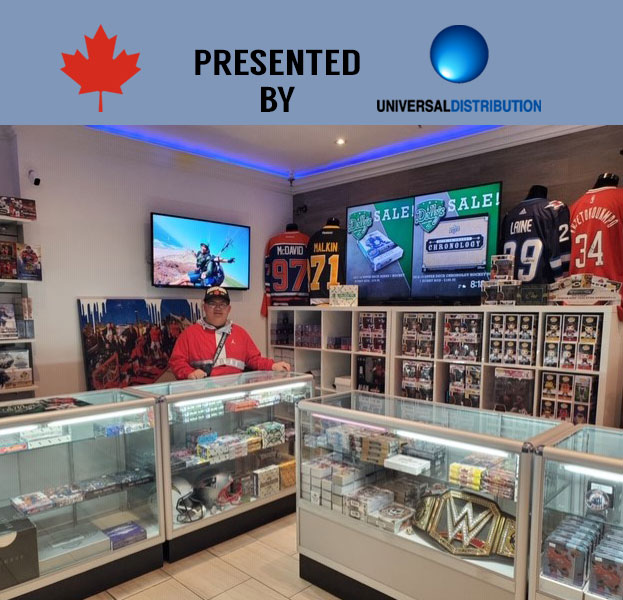 JOEY SHIVER – Thanks for taking the time to talk with us, Rey. Can you tell us a little about your collecting background and what led to your decision to open your shop?
REY REVEREZA – I was always an avid sports fanatic growing up in the late '80s and early '90s, being around the Toronto Blue Jays winning back to back World Series titles and the Chicago Bulls historic three-peat. Being from Manitoba, my favorite players were Ed Belfour, who was a local Manitoban, and my favorite player of all-time growing up was Teemu Selanne.
I was introduced to sports cards around that time and got my first box of 1990-91 Upper Deck Hockey for Christmas. I pulled my first Ed Belfour Rookie Card and haven't left the hobby since. As a young kid, I was always hanging out at the local card shops and seeing all the hobbyists trade cards, hang out, make new friends, and talk sports. It was always a dream of mine to have something like that of my own one day, and with the help of my partner, here we are today.
JS –Can you tell us a little about your store; your setup and what type of inventory you carry?
RR – The store is called Dolly's Sports Cards and we work in conjunction with Dolly's Toys & Games, which has been operating for about 30-plus years in the Greater Toronto Area. We are located in the heart of downtown in the New Chinatown Centre at 222 Spadina Avenue. In our store, we have all types of sports card supplies to keep your collections safe, several displays showcasing our card singles, and autographed memorabilia.
We pride ourselves in carrying the widest variety and largest selection of products for all major sports in the entire Greater Toronto Area. Anything from entry-level product for our younger and new collectors to high-end products for our more avid collectors. We cater to every type of collector and every budget.
I have three young kids, so our goal is to create a family-friendly environment with a focus on young and new collectors. There are so many technological changes since I started collecting so we try to focus on implementing technology to modern day collecting. Using online resources, having video game consoles, televisions and carrying different items like Funko POP! make the experience all the more enjoyable.
It's always a bright positive family orientated atmosphere, with my own wife and children helping out at the shop on the weekends and our local sports hobbyists and enthusiasts who come hang out, talk sports, and collect cards.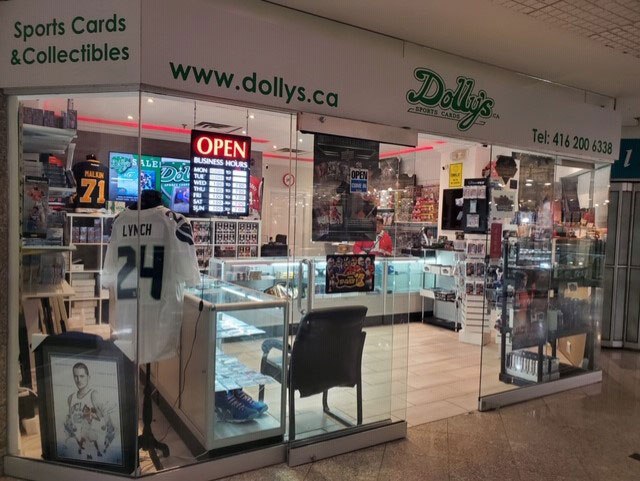 JS – I understand that your store participates in breaking as well. Can you tell us how that came about and how successful it has been for your brand?
RR – With the sports card hobby always getting bigger and growing rapidly, we felt that breaking would be an integral part in giving people who can't (or don't really want to) spend money on a full hobby box or case the opportunity to still obtain that huge card they seek for their personal collection at a fraction of the cost. Being able to have access to a wide variety of products and being able to afford them at any budget, is a combination that we feel is very important. Breaking gives people that other option and flexibility to obtain certain cards.
We run live breaks while the store is open and we get a local crowd chiming in and watching wax being ripped live. We are accessible for personal and group breaks online on all major platforms like Facebook, Twitch, YouTube, and Twitter for people who want to open some wax and aren't able to get to a shop.
Most recently, we have been providing free box and case breaks to children 16-years old and younger at not only smaller local shows, but also at the Canada Sports Card & Memorabilia Expo, which is the biggest show in Canada. We did a free case break for kids on the eBay main stage to help promote the store, but more importantly to promote the hobby and to introduce families to the world of collecting.
JS – You are located in downtown Toronto, the home of the Blue Jays, Raptors, and Maple Leafs. But I've discovered during these interviews that there are all sports fans in different areas of the world. When it comes to the "Home Team," who would you say your collectors focus on in various sports?
RR – Other than being loyal to your home team or specific team, we notice these days that collecting the latest trending players in every sport gets the most focus. The more people are getting into collecting, the more trending players in their specific sports like Zion Williamson, Connor McDavid, Auston Matthews, Lamar Jackson, Patrick Mahomes, Vladimir Guererro Jr., and Mike Trout are being sought after regardless of the "Home Team." Sports fans can appreciate any athlete, regardless of which team they play for because of the "larger than life" figures they have become.
I am a die-hard Tom Brady fan and I've never been to Boston or attended any Patriots games, but that's the beauty of collecting and this hobby. It's not only about your local or favorite team anymore, but also the player that is most appealing to you as an individual. Being in Toronto, the Raptors winning the NBA Championship last season also brought a huge spark to the basketball card community. The local teams are a huge part to collecting on who people focus on but following all trends is also a major factor on which collectors focus on as well.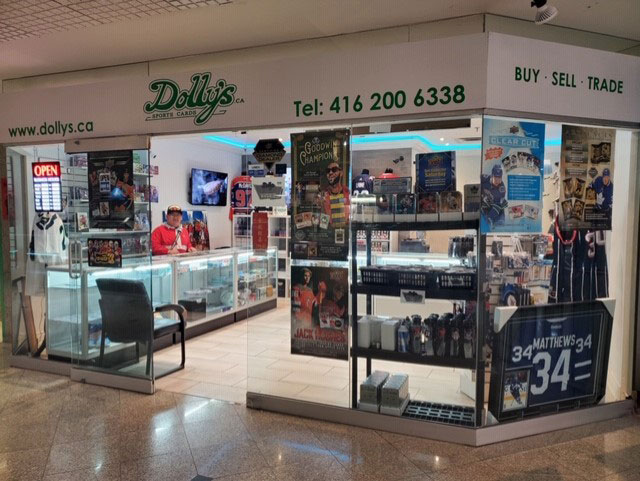 JS – Your Facebook page advertises product releases, big hits, and a trade night? Can you tell us about some of the events you have in-store? And what are some of the top hits you have had pulled at Dolly's?
RR – We carry all the major products that are available on the release dates. We host a local trade night once a month at our shop and we have in-store specials, sales, raffles, giveaways, and provide food and snacks for all guests. We have events on certain weekends where we have in-store sales and host free video game tournaments such as NHL, Madden, or NBA2k for children 16 years and younger. The participants who enter are eligible to win in-store credit for our store and lots of free packs.
We host these events to help grow the hobby and encourage kids to collect as they are the future of the hobby. Our goal is to create a positive atmosphere and a place to make new friends to trade with and talk sports.
We have had lots of major hits come from our store. Lamar Jackson RPA's from Panini Flawless Football, Patrick Mahomes Rookie Ticket Auto from Panini Contenders Football, Connor McDavid and Auston Matthews Cup RPA's, many different Adley Rutschman Refractors from Bowman Draft Baseball, Wander Franco Refractors from Bowman Baseball, Vladimir Guererro Jr. Superfractor Auto 1/1, jersey-numbered Luka Doncic Jersey auto Rookie Card from Panini Dominion Basketball, to our most recent Zion Williamson holos and prizms from Panini Prizm Basketball and Donruss Optic Basketball, Zion Williamson Kaboom from Panini Crown Royale Basketball, Zion Williamson Glass Rookie Card from Panini Absolute Basketball, and also a Zion Williamson Cracked Ice from Panini Contenders Basketball.
There have been so many massive hits pulled in-store, I would be here all day talking about all the heat that comes out of our shop.
JS – Speaking of Facebook, how important is social media when it comes to running a small business?
RR – Social media is a very important part of promoting and running a small business or any business. Everywhere you go, people are on their smartphones, computers, or tablets. Everyone is about being online, being on social media platforms, and the accessibility factor of being able to see and access certain information and products in the comfort of your own home on a device in your own hands. So when you are able to access a large crowd using social media, and being able to be contacted and accessed through social media platforms with a simple message or photo. I believe that is a very integral part of advertising, promoting, and providing the much needed information about your business and what products and services you provide.
JS – What is one thing you think is really going well in the sports card hobby right now? On the contrary, what is one thing you would change, whether from an industry or local perspective?
RR – There is new generational talent coming into each major sports league and this makes the progress of the hobby and collecting sports cards highly regarded and fun again. Older collectors who took a hiatus from sports cards are getting back into it as well. The fact that there is also a wide variety of products is always a positive thing. More options mean more fun for collectors.
One thing I would change that I'm noticing a lot of is manufacturers selling directly to consumers, which is cutting out hobby shops. You see companies selling hobby product directly to consumers at market prices, which I believe is very scary for our industry and for hobby shops in general. It's enviable that companies will want to cash in on the growth of e-commerce but they can support breakers or work closer with local hobby shops to develop their e-commerce capabilities.
JS – In closing, can you tell us about any sales or upcoming in-store events you have scheduled for the next couple of months?
RR – With the rapid increase in popularity for our trade nights and our in-store breaks, we are going to start doing the events more often than once a month. And, we are planning to have release day events for certain and specific product releases, which will include giveaways or in-store athlete meet and greets. We are always prepping ourselves for the next Sports Card and Memorabilia Expo, as we always have something hidden up our sleeves, which we will announce as the event approaches and will be a pleasant surprise to all who attend. Please check us out on all social media platforms like Facebook, Instagram, and Twitter just to name a few. We want to thank all of our loyal customers throughout the years, our distributors, and those who have supported us locally and worldwide online.
Dolly's Sports Cards
(416) 200-6338
222 Spadina Ave Unit #229
Toronto ON M5T 1E2
Hours
Wednesday-Sunday: 1 PM-7 PM
Monday-Tuesday: Closed
Facebook – Dolly's Sports Cards
Instagram – @dollyssportscards
Twitter – @DSportsCards