Canadian Card Shop of the Week – Rocket's Sports Cards in Ontario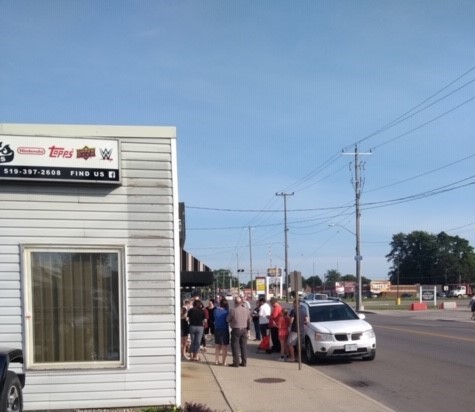 Mike Lucio grew up collecting sports cards. And like some other collectors, he decided to make it a career and opened Rocket's Sports Cards in Ontario. His card shop is a little unique as he added his own twist to it; but I will let him tell you about it in this weeks "Local Card Shop of the Week."
Canadian Local Card Shop of the Week is brought to you by Universal Distribution, Canada's premier distributor of CCG's, sports cards and non-sports cards, trading card games, role-playing games, comics, toys, figurines and more.
BM – Thanks for taking the time to talk with us Mike. Can you tell us a little about your collecting background and what led to your decision to open your shop?
Mike – Like most shop owners in the hobby, I grew up as a collector. Some of us really enjoy the buying/selling aspect of it, and things evolve until one day, you have a shop. I'd be shocked to learn of shop owners that truly don't love this hobby and purely opened a shop from just a business standpoint. I'm sure they do exist, but they'd be like a magical unicorn.
BM –Can you tell us a little about your store; your setup and what type of inventory you carry? Also, what services do you provide?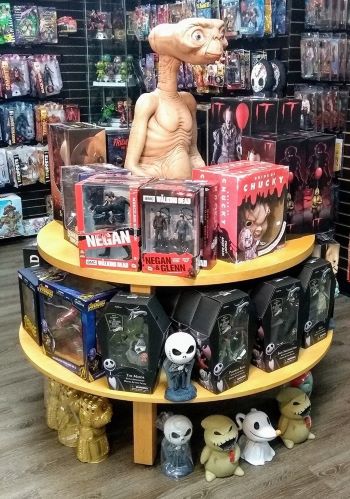 Mike – We recently moved into a new location that allowed us to spread our wings a bit. When we opened 9 years ago, we strictly sold sports cards and sports-related collectibles. Shortly into our journey we expanded into toys and video games, mostly retro. Now we offer unique events in store, from parties with live music and soon moving onto celebrity signings and appearances.
BM – While you carry the name "Sports Cards" in your store title, you are also the Premier Toy Store in the area. Can you tell us about that aspect of your store?
Mike – Shortly after opening, I made the decision to invest into retro toys and collectibles. We started off with GI Joes, TMNT, WWE/WWF action figures. To this day, it still shocks some people when they walk in. We often hear "I thought you just did sports cards" a lot. The biggest compliment we receive is "it's like being in a toy time machine, going back to when I was a kid." We take pride that we can evoke such a positive and joyful experience for our customers.
BM – You recently held a "Launch Party" to celebrate the NEW Rocket's Sports Cards. Can you tell us a little about that event?
Mike – We invited everyone that helped us get to where we are now, we wanted to show them that we appreciate everything they've done for us. A lot of work went into our new location to be ready for our deadline. We wanted to throw a party to celebrate with everyone. We were able to get local media and even the mayor to make an appearance. The event featured live music as well as plenty of food and drinks.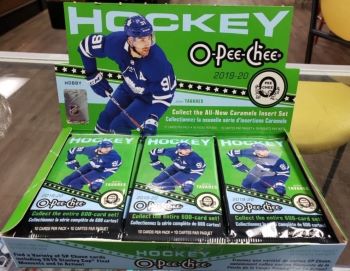 BM – This is a new series we are running to include Collectable Shops in Canada. For collectors who haven't been, what would you say are the main differences, if any, between your shop and what may be found in the US?
Mike – I'd say the only difference from a shop in Canada and the use, would be the percentage of products carried by sport. Hockey dominates the landscape in Canada, with baseball being a distant 2nd place. Football and Basketball have a very small footprint for us here, often being surpassed by WWE, to be honest.
BM – You are advertised as the only Sports Card Shop in Chatham, Ontario. You aren't too far from Detroit but also have Cleveland OH on the other side of Lake Erie and Toronto to the Northeast. When it comes to the "Home Team", who would you say your collectors focus on?
Mike – I'd say we're very lucky to have numerous popular teams. Detroit, Toronto and Montreal seem to have the most fans for baseball and hockey respectfully in our area.
BM – Your shop Facebook page stays very up to date with new products, big hits, and general news. How important is social media when it comes to running a small business?
Mike – We try to add new content to our Facebook page on a daily basis. It's such a competitive marketplace, especially online. If you're not getting eyes on your page on a daily basis, they will look elsewhere. People want content, and if you're not utilizing social media the best you can, you may get left behind.
BM – Two-part Question – What is one thing you think is really going well in the hobby right now? On the contrary, what is one thing you would change, whether from an industry or local perspective?
Mike – I think card companies have finally realized that collectors want bang for their buck. We've seen them step up their game in the last couple years and we hope it continues. Personally, when collectors and potential collectors started watching box and case breaks online, they started doing the math and maybe the value wasn't there a few years ago. For such a large audience to see such poor value coming out of case after case of product, it made the manufacturers accountable and from what I've seen, they've fixed it. The last 2 years, it's been great, the value has been there.
Unfortunately, it seems that, in order to reach that value, production has been cut on most products. Thus, making it harder and harder for shops to get products due to allocations. I think, well I hope, the manufacturers hear us, and we can find some middle ground on this issue.
BM – In closing, can you tell us about any sales or upcoming in-store events you have scheduled for the next couple of months?
We always try and have groundbreaking and unique events in store. Most of our events are free to attend, some are ticketed. Some of our great free events every year include National Hockey Card Day, National Baseball Card Day and Singles Day, whereas we host themed events such as "Fright Night," a Halloween inspired after hours ticketed event. We look to push the envelope on events in the future, with celebrity appearances and parties.
Rocket's Sports Cards
(519)397-2608
335 Queen Street
Chatham, Ontario
Mike Lucio
Hours
Sunday – Closed
Monday – Friday – 11AM:6:30PM
Saturday – 11AM:5PM
Facebook – Rocket's Sports Cards