Canada Post Issues Collectibles of Legendary Defensemen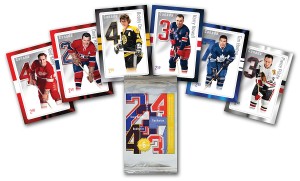 By Stephen Laroche | Beckett Hockey Editor
Collecting stamps and hockey cards may seem like vastly different hobbies on some levels, but the two will occasionally intersect and create a small buzz in both markets.
This season, Canada Post has released a new series of stamps featuring a legendary defenseman from each of the Original Six clubs – Doug Harvey, Tim Horton, Harry Howell, Red Kelly, Pierre Pilote and Bobby Orr. All of these players skated during the six-team era and their accomplishments on the ice eventually took them to the Hockey Hall of Fame.
Issued on October 3, these souvenir sheets are almost the same size as conventional trading cards and prominently feature an oversized version of each stamp on the front. Due to the presence of NHL logos, it is possible that they avoided dubbing them cards for legal and licensing reasons, but hobbyists are likely to accept them in their collections.
How can you obtain these new collectibles? Find out after the jump.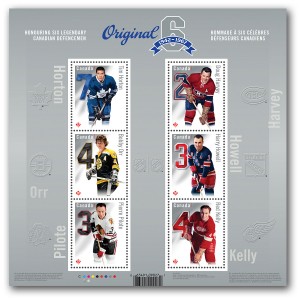 Packs containing the six-card set are available at Canada Post locations or via their online shop and will cost $15.00. Since each large stamp has a face value of $2.50, collectors will not be making any added expense to have them in this format as opposed to buying the stamps individually.
To further appeal to collectors, autographed versions are seeded once in every 50 packs. All four living subjects (Orr, Kelly, Howell and Pilote) took the time to sign and they will command some secondary market attention due to their similarity to trading cards. If collectors are looking for the standard-sized stamps instead, booklets or panes with all six can be purchased for $5.10 and first day covers were also produced.
There are also special signed framed pieces that are available for purchase. A reproduction of each stamp is paired with a signed photo and Pilote, Kelly and Howell are limited to 600 copies each and retail for $179.95. Since Horton and Harvey are deceased, their stamp art is framed with signed photos of Borje Salming and Larry Robinson for the same price, but there are 1,000 of each available. Orr, naturally, is more expensive at $249.95, but there were 1,967 framed pieces produced.
In recent years, there have been several different hockey-related stamps and collectibles from Canada Post commemorating various milestones, events and teams. This is hardly the crown corporation's first foray into the pseudo-trading card market as Pacific Trading Cards put together a slightly-oversized series of cards for them a decade ago in conjunction with their collection of NHL All-Star stamps. There is also a special commemorative stamp coming for the Zamboni this season.
Stephen Laroche is the editor of Beckett Hockey and Beckett Basketball magazines. Have a comment, question or idea? Send an e-mail to him at SLaroche@beckett.com. Follow him on Twitter @Stephen_Laroche.