Canada Post announces Great Canadian Forwards hockey stamps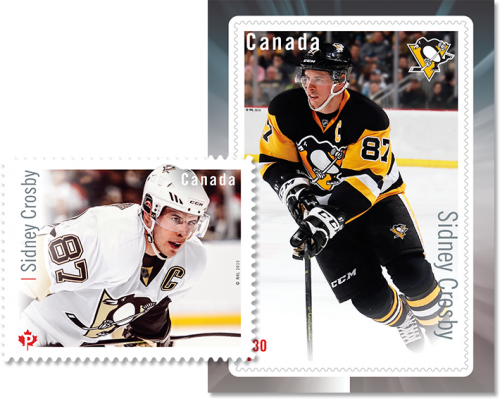 By Stephen Laroche | Beckett Hockey Editor
Hockey players on postage stamps are back again as Canada Post has just released a new collection called NHL Great Canadian Forwards that features some of the greatest players from the past 50 years.
Collectors will be interested to see that they are offered in packs of six trading card-sized stamps and they will get a complete set inside. The checklist is strong with legends such as Phil Esposito, Guy Lafleur, Darryl Sittler, Mark Messier, and Steve Yzerman along with active star Sidney Crosby. All six players were in attendance at the Hockey Hall of Fame in Toronto today for the unveiling of their stamps.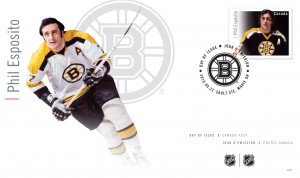 "This talented group of star forwards has contributed to our national story beyond the goals they've scored and the trophies they've won," said Canada Post President and CEO Deepak Chopra via a press release. "They are heroes for what they stand for. They are men of honour and character and represent the best of who we are as Canadians."
"This year's collection represents a special group of players; each one a marquee player whose impact was felt by those on the ice, behind the bench, in the stands, and at home," added NHL Deputy Commissioner Bill Daly in the same release from Canada Post. "The NHL is proud to congratulate this year's elite class of honourees."
Each player signed stamps for this release and they are inserted into packs at reasonable 1:40 odds. It is unlikely, however, that the autographs were signed in equal quantities. There are also conventional stamps, designed by Avi Dunkelman and Joe Gault, that are available in booklet form.
NHL Great Canadian Forwards is the fourth in a five-year series that began back in 2013 with a collection of stamps dedicated to the jerseys from each NHL team based in Canada. It was followed by 2014's Original Six Defensemen stamps and last year's NHL Great Canadian Goalies. The new collection also has a gummed mini-pane with all six stamps, signed and numbered prints, and first day covers that were issued at each player's birthplace.
The best place to find packs will be at Canada Post locations, but they can also be ordered via its official website.