Canada Post and NHL partner up for Great Canadian Goalies stamps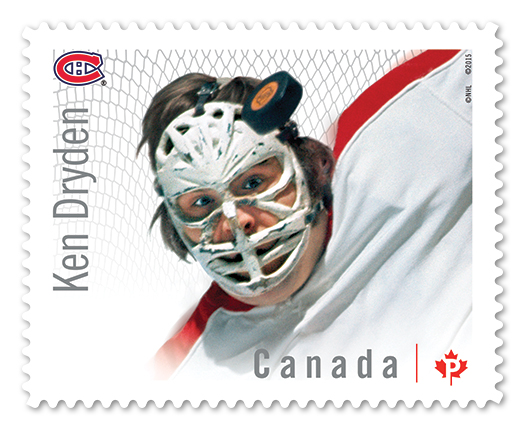 By Stephen Laroche | Beckett Hockey Editor
Canada Post and the NHL have joined forces to pay tribute to some of the most memorable netminders in hockey history and fans throughout the country are now able to send letters and packages with NHL Great Canadian Goalies stamps.
Earlier this afternoon, the lineup for this set of stamps was revealed at the Hockey Hall of Fame. Enshrined members Johnny Bower, Ken Dryden, Tony Esposito, Bernie Parent, and Gump Worsley and future member Martin Brodeur all received recognition for their achievements and will make up the six-stamp collection.
"These six goalies will forever remain relevant and real in a country that embraces its stars," said Canada Post President and CEO Deepak Chopra in a press release. "They wore their hearts on their sleeves while they played, and captured ours in the process. Their on-ice brilliance left an indelible impression on a nation. They are an important part of our country's rich history, and we are proud to immortalize these players on our stamps."
"Many people dream of playing in the NHL, but only a distinguished number of players achieve it; and an even smaller, esteemed group leave a timeless impression," added NHL Deputy Commissioner Bill Daly. "Having some of the greatest NHL goalies immortalized on these stamps is remarkable; a true testament to their impact on hockey fans around the world. We're proud to share this momentous occasion with the players, their loved ones, and the fans."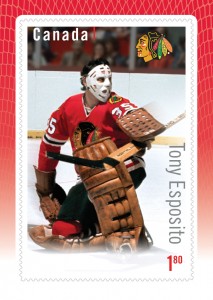 Bower, Dryden, Esposito, and Parent all attended the unveiling. The stamps are available now in a mixed booklet of six and each one measures 40 x 32 millimetres. Canada Post noted that the booklet's cover photo was taken by Brodeur's father, Denis, who was a noted hockey photographer. There is also an option that may appeal to card collectors that has the traditional trading card dimensions and are issued in packs of six. As a special incentive, one in 40 packs contains an autographed souvenir sheet.
There are also additional items released as part of this Canada Post program which include a gummed mini-pane of all six stamps which has embossed foil team logos and an image of Jacques Plante's iconic mask that he donned for the first time back in 1959-60. Each player also has a special first day cover for their stamps and each one is cancelled at their respective birthplace. Once again, there are numbered framed prints for each player, but only Bower, Esposito, Parent, and Brodeur will have an additional signed addition. Dryden's absence from that aspect of the program should not be surprising since he is a notoriously difficult signer.
For nearly 25 years, Canada Post has regularly produced stamps celebrating NHL players and teams in addition to the game's greatest moments. Now in its third straight year, the partnership began with a series of Canadian team jersey stamps in 2013 that was followed up last year with a tribute to hockey's greatest defensemen. The program will culminate in 2017 with the NHL's 100th anniversary. For collectors outside of Canada, visit www.canadapost.ca/NHL to look into ordering opportunities.
Stephen Laroche is the editor of Beckett Hockey, Beckett Basketball, and Beckett Sports Card Monthly magazines. Have a comment, question or idea? Send an e-mail to him at slaroche@beckett.com or follow him on Twitter @Stephen_Laroche.