Can We Talk About Santa's Signature?
Some people have the same signature for most of their life. Sometimes, people change up their autograph. If anyone knows this, it's card collectors who often see things go downhill for an athlete after the first couple stacks are signed. But (save for a couple of extreme examples), they're still the real deal.
I'm no autograph authenticator. There are pros for that sort of thing. That said, I've got some serious questions about someone who has appeared on a handful of autographs over the years.
He's one of the most beloved figures on the planet with enough pull with the little ones to end a tantrum with a mere mention of his name. Not only that, his pending presence manages to get most kids to bed on time and without stern stomping at least one night of the year.
I'm talking about Santa Claus.
Jolly St. Nick has more than a dozen autograph cards. They date as far back as 1991 Pro Line Portraits and as recent as 2018 Topps Walmart Holiday Snowflake.  Apparently, he's been extremely busy this year as demonstrated by the sticker used to hold his latest signed card.
Some of these are common while others, particularly many of the recent ones, are scarce surprise additions.
If you line them up — well, it pretty obvious.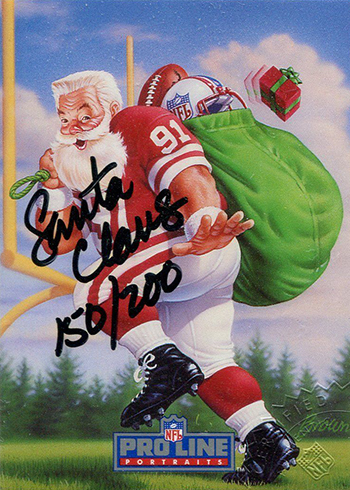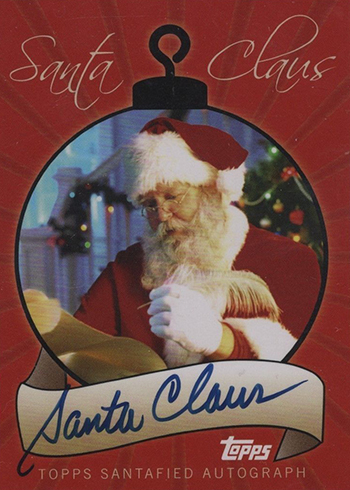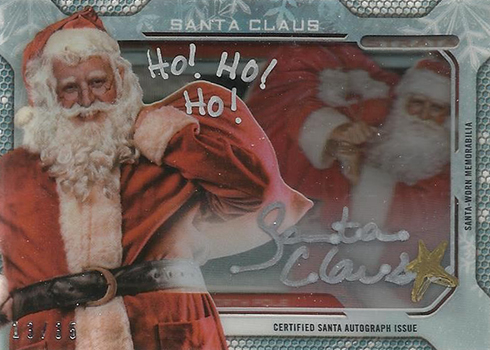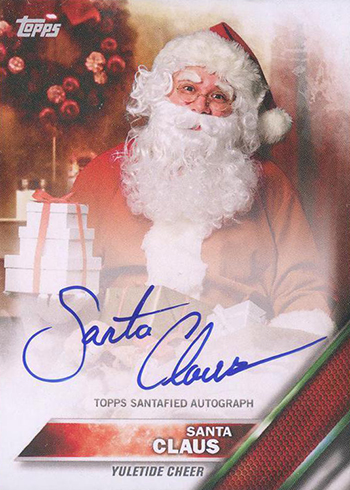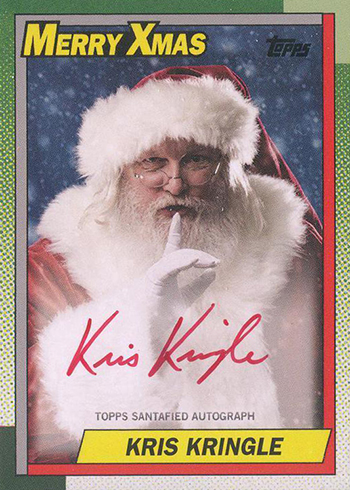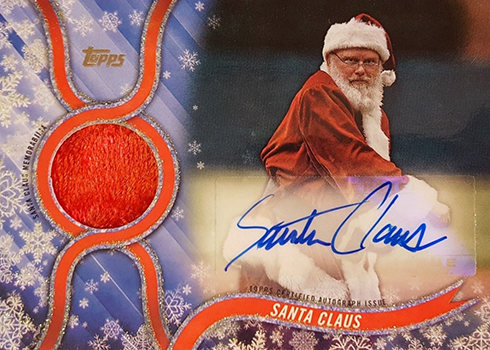 Credit where credit's due, the penmanship on every card is pretty good. But to these eyes, not one of those signatures look the same.
It's not some kind of change over the years. Just look at the 'S' that kicks them off. It's different every time. Some are fluid and loopy. Others are kind of stiff. And there's the one that looks like a 'K.'
In the immortal words of Cindy Lou Who when she was no more than two, "Santa Claus, why?"
Has Santa been getting help from the elves for things other than toys? Tonight, I plan to stay up really late with a bowl of cookies at my side (because a plate isn't going to be enough) and a loop of A Muppet Family Christmas on the TV. Should I cross paths with Santa Claus, I'm going to find out what's going on with that autograph of his.