Can Johnny Manziel Cards Rebound in the Great White North? – Beckett Pricing Insider
Johnny Manziel is back. Kind of. While it isn't the NFL, the Heisman winner made his first pro start since 2015 for the Montreal Alouettes. He played against the Hamilton Tiger-Cats, the team that originally signed Manziel to a CFL contract.
Manziel's comeback got off to a rough start, throwing four interceptions in a game that was downright ugly.
Manziel was drafted by the Cleveland Browns in the first round of the 2014 NFL Draft. In 15 NFL games, he threw for 1675 yards, seven touchdowns and seven interceptions. But his short stint in the NFL was plagued with problems beyond what was seen on television. He wasn't known for studying his playbook and loved to party. That behavior likely contributed to the Browns cutting him and no other teams wanting to risk signing him.
In the collecting world, Manziel arrived with plenty of hype. Initially, he was the most valuable autograph to get in 2014. Of his more than 3,000, more than a third of them are autographs.
Many of those cards sold for over $100 when he was a rookie. Now, they can be found for a fraction of that. For example, his 2014 Panini Contenders Rookie Ticket Autograph was selling for around $150 when the product was first released. Someone can buy it now for under $30.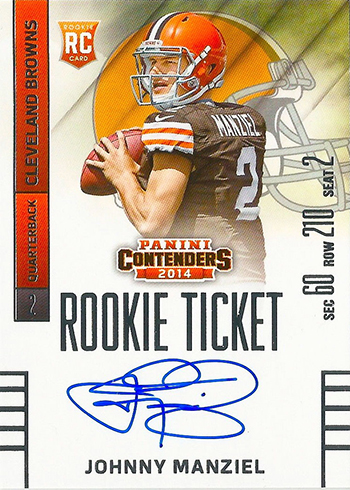 Manziel cards gaining any sort of momentum is going to be a challenge. First, he will have to improve his play. One game can be blamed on being rusty after not playing for almost three years. But now that excuse is gone. If Manziel can prove himself in the CFL and stay out of trouble, he might one day earn his way back to the NFL.
But that's far from a guarantee.