By the Numbers: Max Muncy – Beckett Pricing Insider
Max Muncy recently became the fastest player in Dodgers history to hit 20 home runs, doing so in only 183 at bats.
Never heard of Muncy? That's OK. Prior to a 2018 Topps Now card where he was paired with Joc Pederson, he hadn't had any cards since 2015. Let's take a closer look in the Online Price Guide to see what new Muncy collectors can find on the secondary market.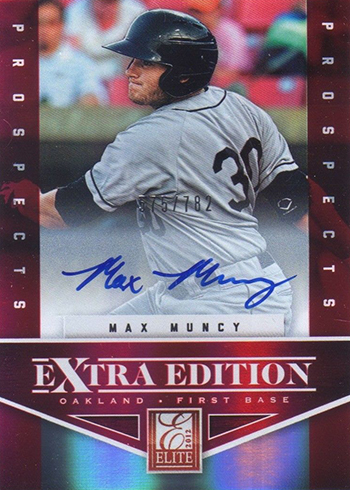 Total Cards: 58
For a still-active player drafted in 2012, Muncy has surprisingly few cards. His first cards appeared in 2012 Elite Extra Edition when he was a prospect in the Oakland A's organization. He's also had cards in 2013 Panini Prizm Perennial Draft Picks, a handful of minor league issues, and in 2015 Topps Update. Currently, the total value of all the Max Muncy cards priced in the Online Price Guide is $854.
Total RCs: 1
Muncy has just one Rookie Card, hailing from the 2015 Topps Update. He is paired with Tyler Ladendorf on the card, which until recently, was priced at the common level of just $1. Based on recent secondary market activity, the card is now valued at $5.
We've seen other Topps Update Rookie Cards take off in recent years. Is Max Muncy's next?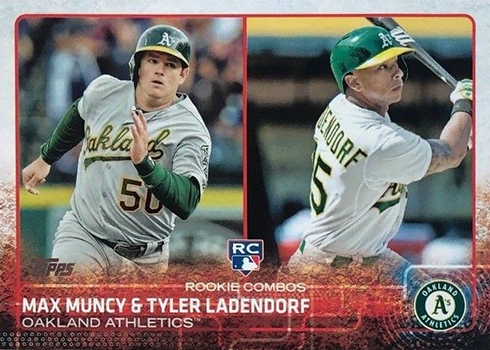 Total Autographs: 20
Of his 58 total cards, 20 are certified autographs from Panini America. All but three of them feature serial numbering. His 2012 Elite Extra Edition AU/782 has been the most popular among collectors and was recently raised to $50. For a non-serial numbered option, his 2013 Panini Prizm Perennial Draft Picks Prospect Signatures is a solid choice at $30. The total value of all his priced autographed cards in the OPG is $520, with an average value of $57.78.
Total Memorabilia: 0
Muncy has yet to have a memorabilia card. Should he continue to put up numbers like this, that's very likely to change in the near future.
This edition of the Beckett Pricing Insider is sponsored by MVP Sports Collectibles.