By the Numbers: AFL MVP Keston Hiura – Beckett Pricing Insider
This edition of the Beckett Pricing Insider is sponsored by MVP Sports Collectibles.
The Arizona Fall League is baseball's premiere off-season sytem. The six teams consist of a "who's who" of baseball's top prospects. Future Hall of Famers Derek Jeter, Albert Pujols, Mike Trout are among the storied list of AFL alumni.
The 2018 Arizona Fall League wrapped up this past weekend with Brewers prospect Keston Hiura besting Rockies prospect Tyler Nevin for league MVP honors. Hiura, the ninth player taken in the 2017 MLB June Amateur Draft, hit .323 with five home runs, 33 RBI and seven stolen bases in 23 AFL games. His RBI total was the second most in AFL history.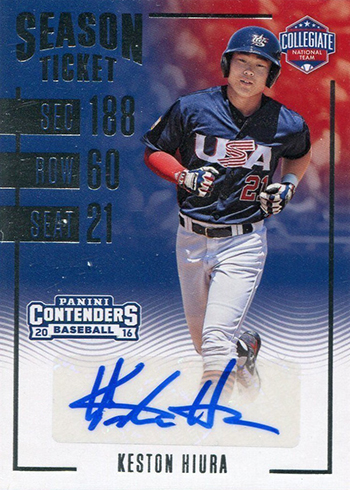 Hiura currently has over 380 cards in the Online Price Guide, dating back to 2016 Elite Extra Edition. A product of the USA Baseball program, he appeared on 26 different USA-themed inserts including memorabilia and autographs.
While he does not year have a Rookie Card yet, Hiura has appeared on over 230 different certified autograph cards and over 40 different memorabilia cards including parallels. His first Brewers cards are in 2017 Bowman Draft. He has a total Price Guide value of $8,793.50 with a strong average of $18.21.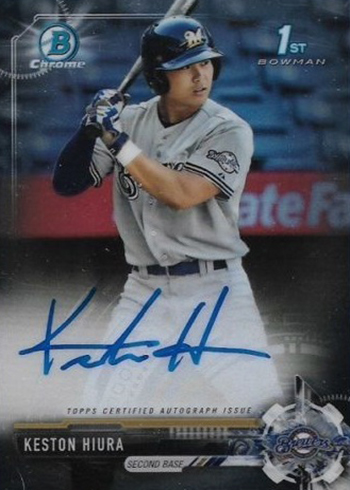 On the heels of his AFL MVP performance, nearly all of Hiura's cards have been given the up-arrow treatment over the past few days. His base cards from 2017 and 2018 have all been bumped up two levels, while a handful of his certified autographs and memorabilia cards have seen increases as well.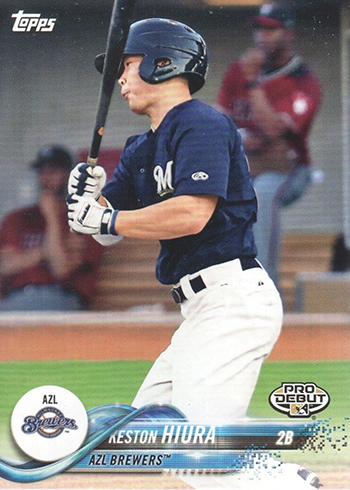 Hiura's 2017 Bowman Chrome Draft Autograph card, now up to $100, has been his most popular card. His USA Baseball autographs from 2016 Elite Extra Edition, 2017 Panini Contenders Draft Picks and 2018 USA Baseball Stars and Stripes have also been selling well.