Buyer beware: I bought a fake card on eBay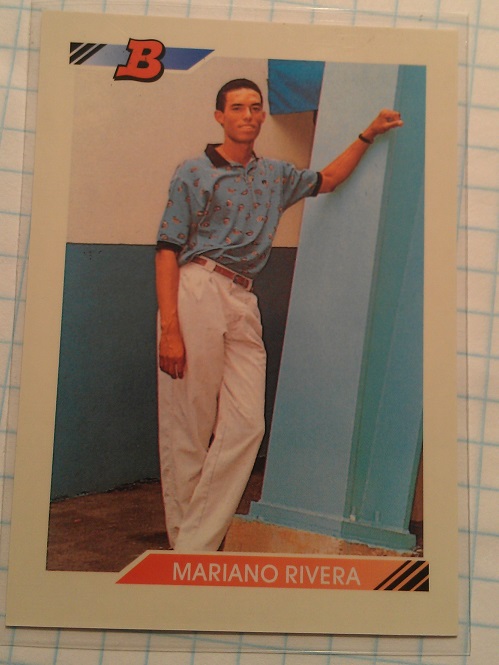 By Susan Lulgjuraj | Beckett Sports Card Monthly Editor | Commentary & Opinion
I had one goal for the National Sports Collectors Convention – purchase a 1992 Bowman Mariano Rivera Rookie Card.
I know. My timing is not good, but it's the only single card I wanted. I found a PSA 9 graded Rivera RC for $100 at the show. After thinking on it and asking collectors' opinions, I figured I would leave it there and get one for cheaper on eBay.
Just a few days after getting home, I won an ungraded Rivera RC for about $44.
I got the card in the mail. It looked great. Centering looked perfect, corners and edges were sharp. There was a small printing defect on the back of the card, but I didn't care. I was just happy to have it on my possession.
Luckily, the White Plains card show was coming up and I could have my card inspected.
The weekend of the White Palins show, I took the 1992 Bowman Mariano Rivera Rookie Card to the Beckett Grading booth. I intended to get a Raw Card Review because I wanted to know the condition of my card. It looked so good to me! Could you imagine I picked a 9 off eBay for that price?
I handed it to one of the graders. He took it out of the top loader and within 10 seconds he made his declaration.
"Fake!"
Ha. Ha. Funny.
"It's a fake. Sorry."
What?!
Another grader handled the card and agreed with the assessment. He looked at it through a loupe and took it out of the penny sleeve.
"This is definitely a fake. It's a good fake, but still a fake."
Oh, a good fake. That really didn't make me feel much better.
Part of me still hoped they this was just a bad joke so I asked how they knew. I got an education on cards that day.
First, the card stock was wrong. It was a plastic-type of card stock; it reminded me more of a playing card, the type you use to play poker. I've handled plenty of poker cards over the years and immediately was able to see that. Second, the gloss was wrong. It was thick and in the light, you can see how it wasn't evenly on the card.
For guys who handle tens of thousands of cards a year, they were easily able to spot the fake in hand. They did concede that if they saw only a scan on eBay, they never would have known it was a fake.
Still, I had faith that maybe they wrong.
The third grader had returned to the booth and had no idea what was going on. I asked him to look at my card without giving him any idea on what to expect.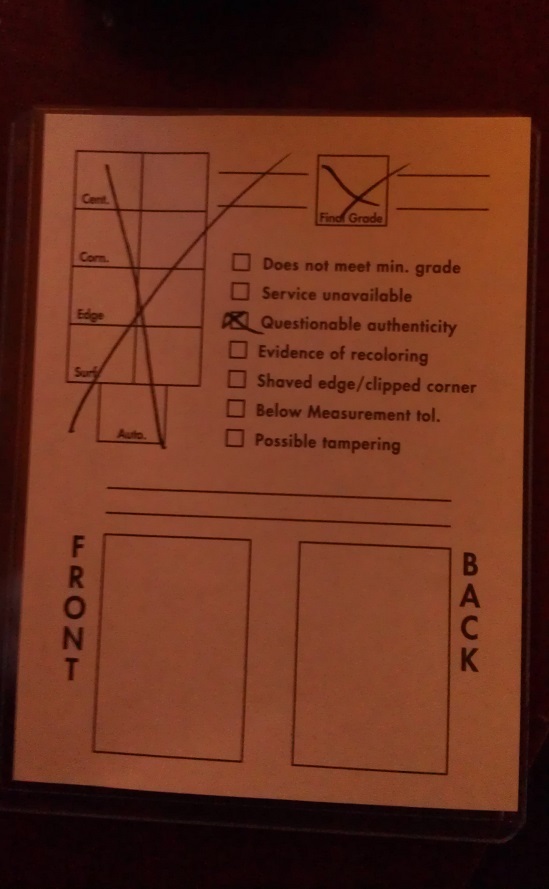 He looked at it under the light and took it out of the top loader. His head dropped and he shook it a little.
"What's wrong?" I knew.
"I got bad news," he said.
No need. I already knew. But at least I learned the other guys weren't playing a bad joke on me. The joke, however, was this guy selling me a fake card.
Does he know he sold me a counterfeit card? I don't know. He had sold six Rivera RCs in each of the last six weeks though, all with the same picture. That's a lot of Mo.
I contacted eBay about my case about two Sundays ago. I escalated the claim to the resolution center on the following Friday when I didn't hear back from him. However, about 10 minutes after I escalated the claim, I got a message from the seller saying if I didn't want the card I could send it back to him for a full refund.
Now you want me to send you back a counterfeit card? Why? So you can sell it to an unsuspecting collector?
EBay did get back to me and sent me a prepaid shipping label to send the card back. Once its returns, I will get my money within three business days. That's all well and good, but what happens to that card? What happens to the seller?
I called eBay and asked them these questions. Essentially, I was told that eBay can't do anything more than refund my money. The people who have already bought a similar card will not be contacted by eBay even though the practices do look rather suspicious.
It's disappointing because I didn't know I had a fake card until the card was examined by people who know a lot more than I do about these things. So what about the other dozen in the last year (yep, there was 12) that have bought Rivera Rookie Cards from this seller? Am I the only the person who got a fake?
I know eBay can't do anything to monitor every auction that goes on its site. It relies on customers to inform them of deceptive practices. However, once it does know, shouldn't it take it a step further to see if there is something worse when the situation is suspicious. EBay said it would not contact the other buyers of this card from that dealer, but if one of them stepped forward, it would intervene.
That's nice. However, I didn't know I had a fake until the card was examined by professionals. And if the White Plains show wasn't that weekend, I probably wouldn't have found out for months. Instead of being reactionary, eBay should be proactive in this case.
That PSA-graded card I left at the National is looking pretty good right now.
Susan Lulgjuraj is an editor at Beckett Media. You can email her here with questions, comments or ideas. Follow her on Twitter here. Follow Beckett Media on Facebook and Twitter.