Buy, sell or hold? Daniel Murphy cards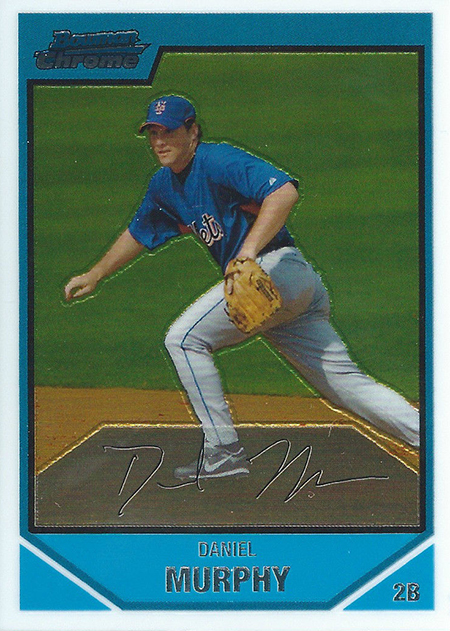 By Ryan Cracknell | Hobby Editor
Daniel Murphy cards are going a little crazy at the moment. Hitting home runs in six consecutive postseason games will do that. Doing it in one of baseball's biggest markets only amplifies it further.
And while the market may be hot for the Mets infielder right now, is it time to be a buyer or a seller?
Even if you only dabble in selling, the goal is to move a card when it's at its peak. It's the same as a stock or even a house. In the last couple of weeks, Daniel Murphy cards have risen exponentially.
At the end of August, a 2009 Topps Triple Threads autographed relic rookie card sold for $22.85 on eBay. Another one that's currently listed is up to $56 with two days to go.
A couple of months ago, you could have bought his 2007 Bowman Chrome Prospect card for under a couple of dollars. Currently, they're going for anywhere from $5 to more than $10.
You can find spikes on virtually all of his cards. That said, there wasn't exactly a lot of demand for his stuff at the start of October. Right now, there definitely is.
Will prices of Daniel Murphy cards go higher?
It's tough to say for certain. Heroes can emerge in the NLCS. Legends are made in the World Series. It'd be unreasonable to expect Murphy to maintain his current clip of a homer per game.
It's possible that Murphy continues his dramatics once the World Series starts. At this point, that's about all that can push the values of his cards any higher. Even that might be a bit of a dice roll. It's more likely that they've already peaked.
Once the postseason wraps up, expect Daniel Murphy cards to drop. He's a solid player but through his first eight season he hasn't been spectacular. Further complicating things is the fact that he's a free agent after the season ends. Murphy could start 2016 with a new team. Seeing as how it's likely Mets fans are the ones driving a lot of the recent sales, they're likely to lose interest.
If you have any notable Daniel Murphy cards hiding away, it's a good time to move them if you're not attached to them. If you were a collector of his stuff before the playoffs, you're probably holding off right now. It's likely that you'll be able to find them at more reasonable prices again before Christmas.