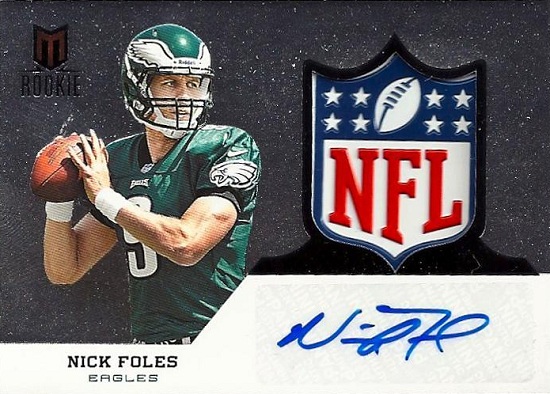 By Susan Lulgjuraj | Beckett Football Editor
Many collectors tend to be buyers and sellers, tracking the hobby marketplace in an effort to build our personal collections to the max.
You pull a good card of a player who you share no personal connection with. But it's a card you know could bring in cash to help you get what you want.
However, the key is knowing when to sell the card for maximum value. Buying and selling is a lot like the stock market. Buy low, sell high, and have a bit of luck on your side.
Collectors sitting on Nick Foles cards are pondering the buy-sell decision right now.
Here are factors to consider.
Pros
1. He's the starting quarterback for the Philadelphia Eagles.
2. Foles led the league this week with 381 passing yards.
3. He has shown potential to be a good NFL quarterback.
Cons
1. Despite constant hype, the Eagles have not been able to get out of a rut.
2. He's been sacked 14 times in five games, which could lead to injury.
3. Potential changes to the Eagles staff in the offseason could affect his development.
When it comes to rookie quarterbacks in the league, Foles isn't higher on the list because of Robert Griffin III, Andrew Luck, Ryan Tannehill, Brandon Weeden and Russell Wilson – first- and second-tier players that brought hype with them.
Foles has been able to fly under the radar for a while, but with the type of week he had in Philadelphia's 23-21 win over Tampa Bay, he was able to get some media attention.
Most of his cards have seemingly doubled in price since the start of the season.
But does that mean it's time to sell his cards?
What do you think? Is it time to sell your Nick Foles cards, or are you buying more for another jump in value?
Susan Lulgjuraj is an editor of Beckett Football. You can email her here with questions, comments or ideas. Follow her on Twitter here.