9 Gold Medal Simone Biles Cards
When you click on links to various merchants on this site, like eBay, and make a purchase, this can result in this site earning a commission.
Simone Biles is the best women's gymnast in the world and she has the Olympic gold medals to prove it. That said, being a gymnast, she isn't likely to enjoy sustained love in the hobby save for pockets of time around major championships. But thanks to Topps' Olympic-themed sets, there are several Simone Biles cards out there. And her success at the Rio games could mean somewhat regular appearances in more products for years to come, even beyond her gymnastics career.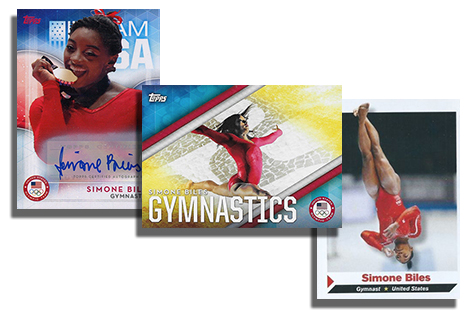 Like a lot of athletes outside of the major sports, the first Simone Biles card was found in an issue of Sports Illustrated for Kids magazine. She was included on a nine-card sheet in the January, 2014 issue alongside Cam Newton, Gareth Bale and others. The sheet is also notable for having the first Marcus Mariota card of any kind.
Currently, the only other place to find Simone Biles cards is in the 2016 Topps U.S. Olympic Team release that came out not long before the Rio games. She's on virtually every part of the set's checklist including plenty of parallels. Beyond her base card, Biles has a variety of autographs, relics and manufactured patch cards.
With her profile at its peak right now, prices are following suit. While Biles has etched her place in Olympic history, many of her cards will likely drop a little once the games are over. However, if you're chasing everything including parallels, there might not be a lot of opportunities for second chances.
Watch Out for Unauthorized Cards
Because of her Olympic success, there are lots of unauthorized cards as well. Some of these may look good but there's nothing official about them. They're essentially custom cards that often cause confusion. As a result, they should be seen as a novelty and not a collectible. Or you could just ignore them entirely.
Here's a full checklist and gallery of Simone Biles cards released as of August, 2016. Where applicable, parallels are also listed.
Simone Biles Cards Checklist and Gallery
2014 Sports Illustrated for Kids Simone Biles #292
Buy on: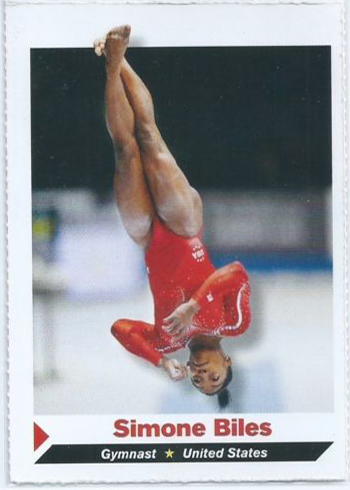 ---
2016 Topps U.S. Olympic Team Simone Biles #38
Parallels: Bronze, Silver, Gold, Gold Rainbow (1/1)
Buy on: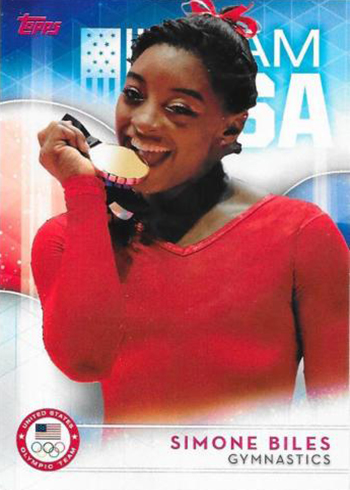 ---
2016 Topps U.S. Olympic Team Autographs Simone Biles #38
Parallels: Bronze (/50), Silver (/30), Gold (/15), Gold Rainbow (1/1)
Buy on: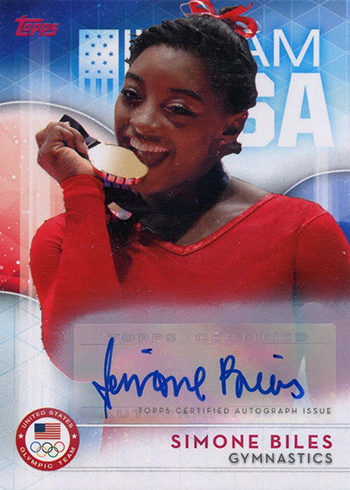 ---
2016 Topps U.S. Olympic Team Relics Simone Biles #USOTRSB
Parallels: Bronze (/75), Silver (/50), Gold (/25), Gold Rainbow (1/1)
Buy on: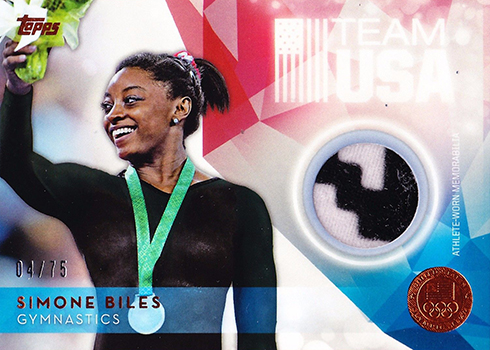 ---
2016 Topps U.S. Olympic Team Autographed Relics Simone Biles #USARSBI /50
Parallels: Bronze (/25), Silver (/5), Gold Rainbow (1/1)
Buy on: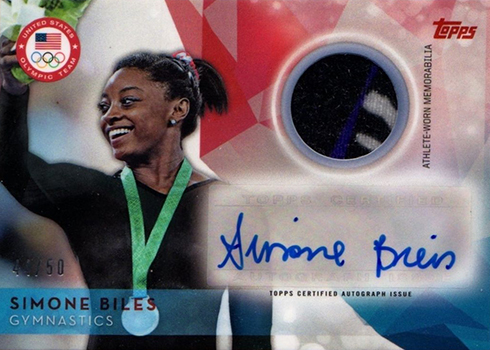 ---
2016 Topps U.S. Olympic Team Crest Patches Simone Biles #USTCSBI /99
Parallels: Red (/25), Gold (1/1)
Buy on: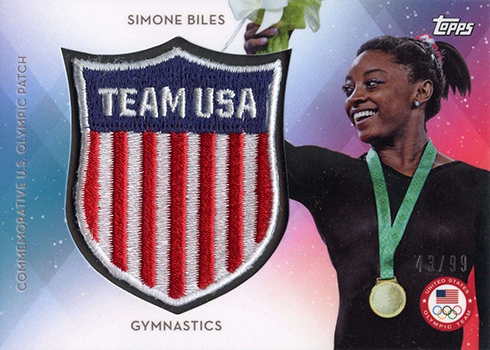 ---
2016 Topps U.S. Olympic Team Patches Simone Biles #USAPSBI /99
Parallels: Red (/25), Gold (1/1)
Buy on: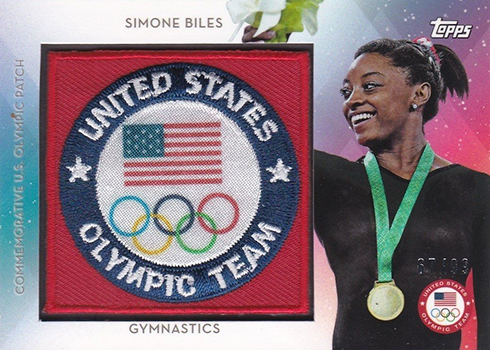 ---
2016 Topps U.S. Olympic Team Olympic Disciplines Simone Biles #OD22
Buy on: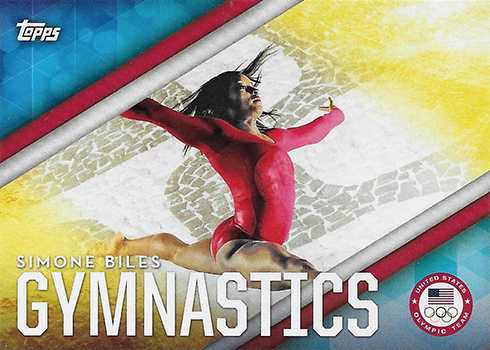 ---
2016 Topps U.S. Olympic Team USA Flag Patch Commemorative Relics Simone Biles #USAFSB /99
Parallels: Red (/25), Gold (1/1)
Buy on: