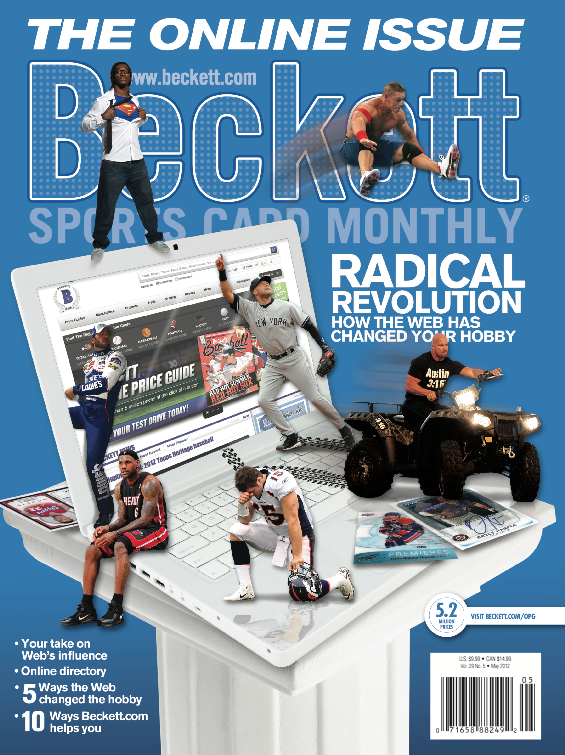 Our next issue of Beckett Sports Card Monthly takes a look at some of what collectors can find online, whether it's what's available here on Beckett.com or a directory of major destinations on the Web.
One feature in the magazine is below, a full taste of what's inside the issue. It's our 10 ways that Beckett.com can help your collection.
—
By Andrew Tolentino | Editor
Under normal circumstances, we try not to toot our own horn.
But considering this issue is all about the hobby in the Internet age and the fact that we're constantly working to make Beckett.com a better place, please allow us to indulge and explain a little.
Imagine a place where all the prices, articles, and more (much, much more) from the magazine you're holding are living in perfect harmony. Imagine a place where your fellow collecting aficionados — hardcore, casual, and recently rejuvenated — are hanging out, sharing information, discussing trends, trading, (and at times commiserating) all at once. Imagine diving into the hobby's past, present and future.
Hold that thought, take out any extraneous fantasy unicorns or talking animals, and you should have a decent idea of what we've already built and what we're striving for on Beckett.com. The following 10 nuggets should explain what you're missing out on if you haven't already signed up for a free account. But if you have your computer handy, feel free to toss this magazine aside and dive right in.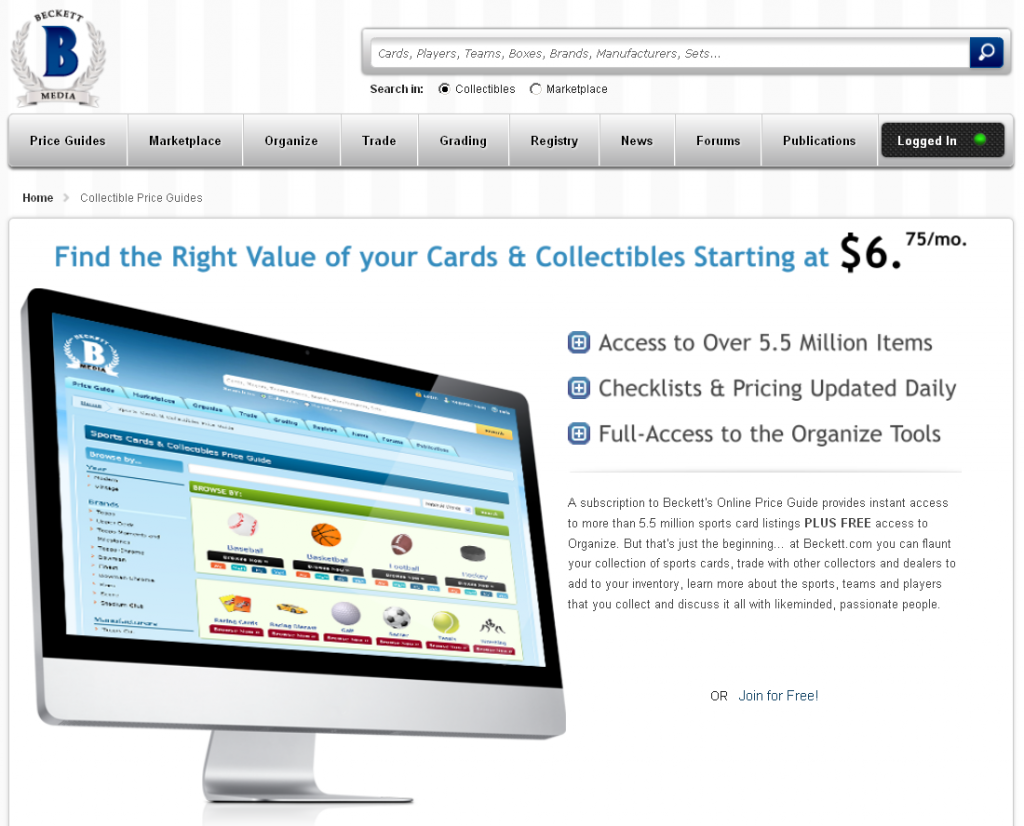 1. Find real-time pricing (click for link to area)
Can't find prices for the card(s) you're looking for in this magazine? You're not alone. We can't squeeze HI and LO values for every single card in every single set ever made in print, but we can do it online. Beckett.com's Online Price Guide has pricing for more than 5 million items and counting. Visit Beckett.com/OPG to learn more about getting the real-time values you need for as little as $9 a month.
—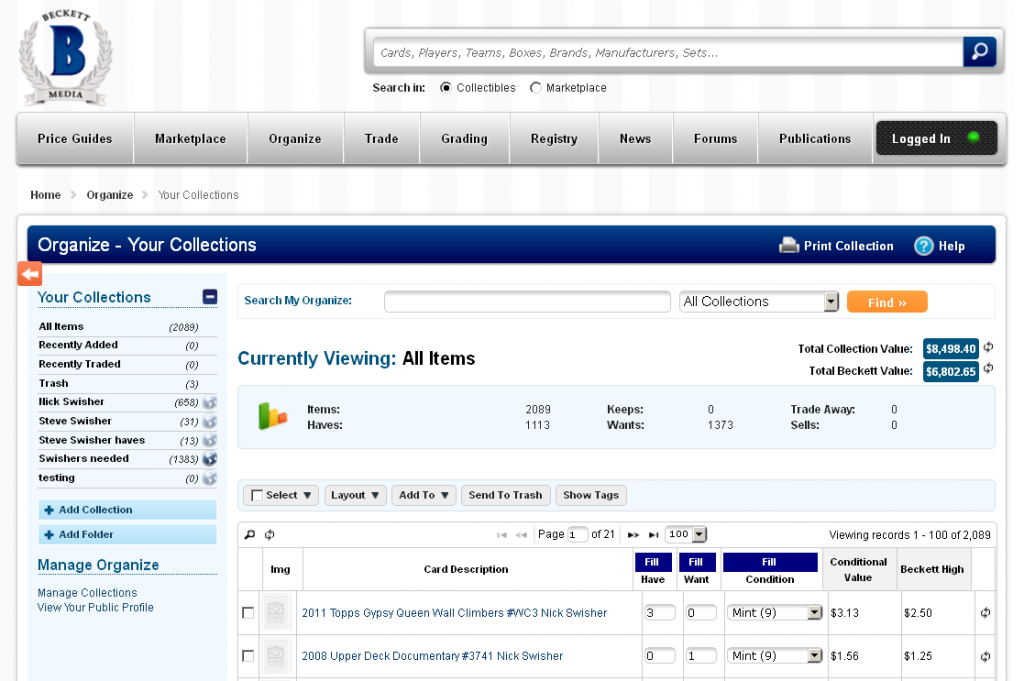 2. Get organized (click to visit; requires log-in)
Beckett.com's Organize tool helps collectors achieve the impossible. Rather than keeping a spreadsheet (or several hundred of them) on your computer, Organize lives up to its name by electronically organizing your cards. Collectors can search for sets and singles that they own, add them to personal inventories, update quantities and conditions, see total pricing and more with our easy-to-use feature. Registered users can access Organize for free with a Total Access Online Price Guide subscription or take a free test drive with as many as 100 items in your account.
—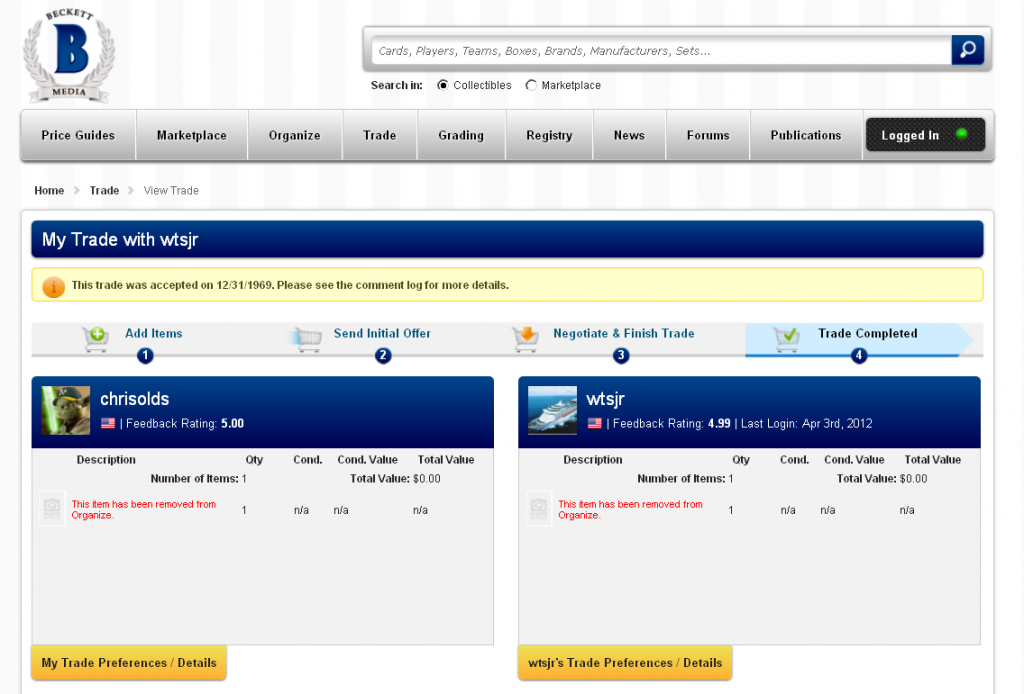 3. Trade with trust (click to log-in)
Those cardboard rectangles with pictures of players, autographs and jersey swatches are called "trading cards" for a reason. Our Trade tool allows collectors to review their personal inventories, set preferences for whom or what they're looking for, and make or accept equitable trade offers with other members. Visit Beckett.com/trade to learn more about customizing your collector-to-collector experience.
—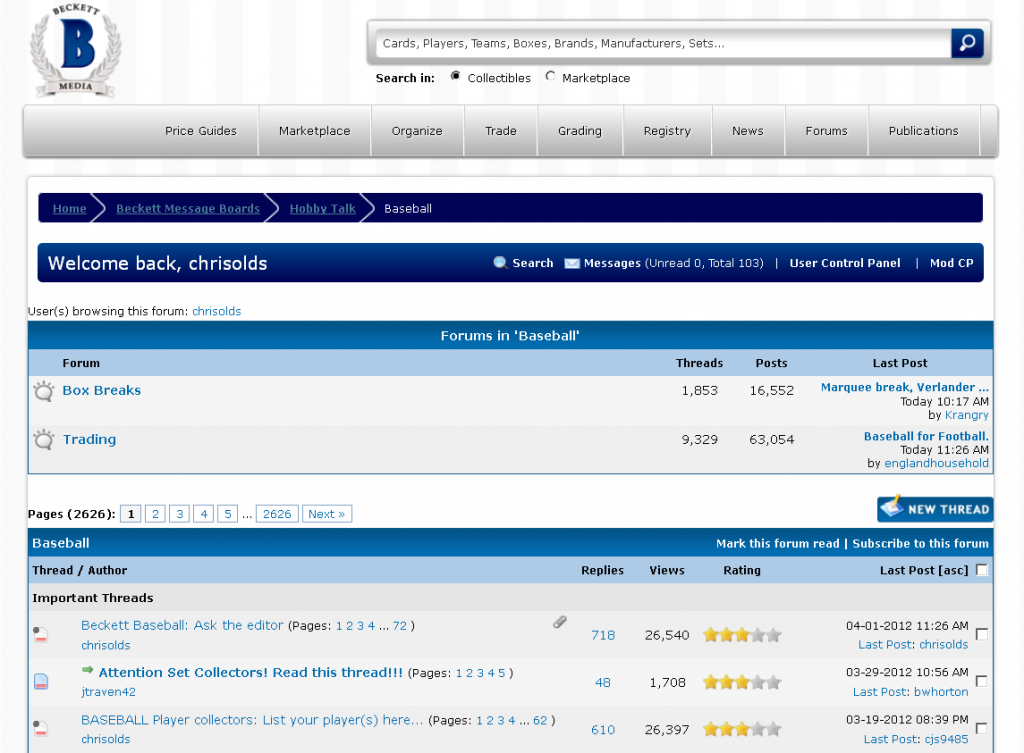 4. Meet, greet & show off (click to visit)
The forums on Beckett.com are a total geek fest … in a good way. Collectors flock to this area of our site to talk about ongoing hobby issues, remember sets from the past, spark conversations, and show off their recent pulls and pick-ups. Discussions are searchable and categorized by individual sports at Beckett.com/forums. Simply put, it's a place where collectors can be collectors — as long as they keep it clean and somewhat civil.
—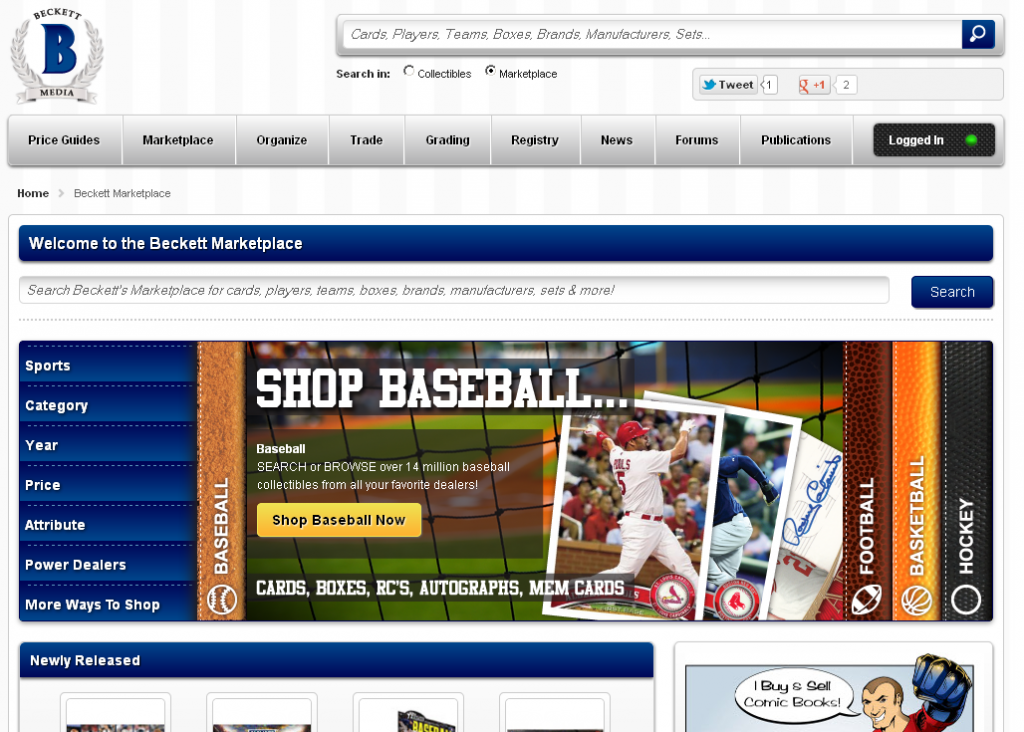 5. Buy with confidence (click to visit Marketplace)
Rather than taking risks with other secondary market options, customers come to the Beckett Marketplace to get the singles, sets, boxes, and other items they want from reputable dealers.  With a wide array of trusted sellers, collectors can easily shop around, compare prices and find new deals every day. Get your fix at any time at marketplace.beckett.com.
—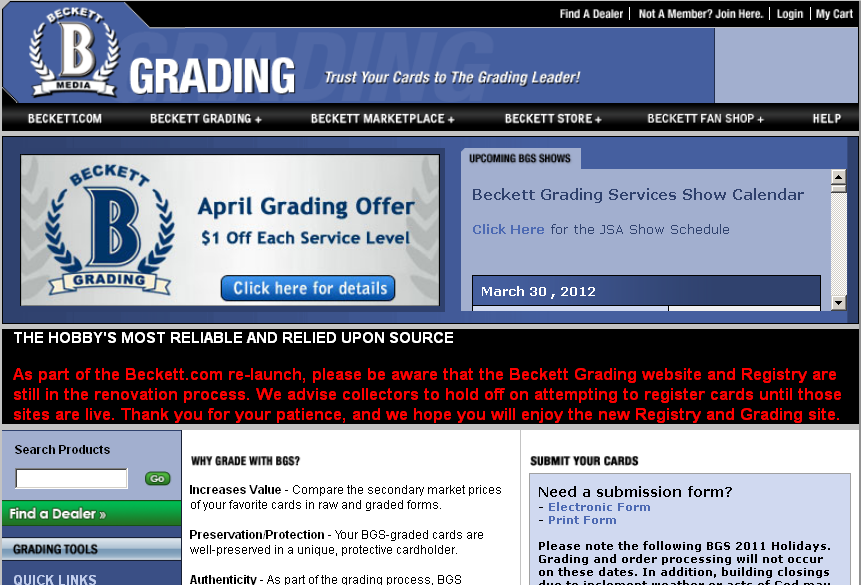 6. Get graded (click to visit)
Short of actually teleporting your grading submissions from your desk to ours, the complete Beckett Grading toolbox is at  your fingertips. The online BGS portal allows customers to download submission forms, check population reports, register their graded pieces, and look up serial-numbers to buy cards with confidence. Beckett.com/grading is currently in the midst of improvements and renovation, but be sure to check out the new bells and whistles as they are added.
—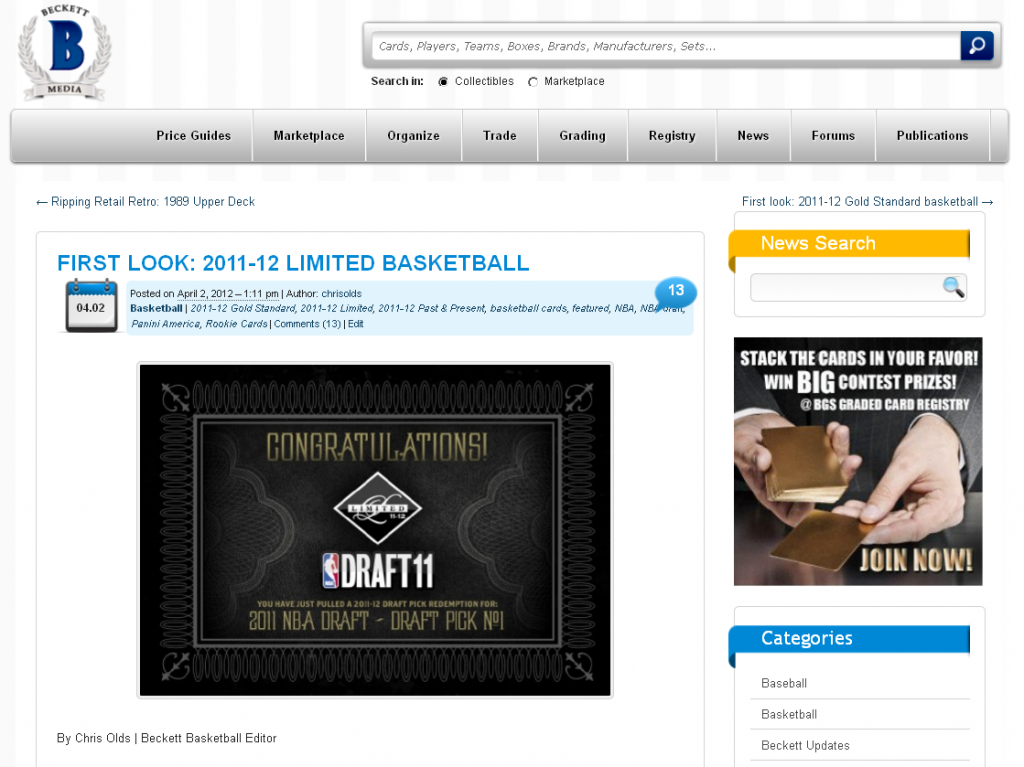 7. Stay in the know with Beckett News (click to visit)
From product previews and Box Busters videos to full-on features and contests, the Beckett News team is devoted to delivering timely industry information. These articles and multimedia stories offer a deeper look at which cards are skyrocketing, which players are tanking, and what the manufacturers are doing within minutes of their announcements. Hit Beckett.com/news to see what's happening in the hobby right now.
—

8. Checklists galore (click to visit)
One of the hobby's most valuable tools is completely free of charge. Just by signing in, collectors can search for specific sets or players and see the basic information. Want to find out how many Rookie Cards Albert Pujols has? Want to know which player is on card No. 78 in 2011 Topps Football? It all begins with visiting Beckett.com and typing a name.
—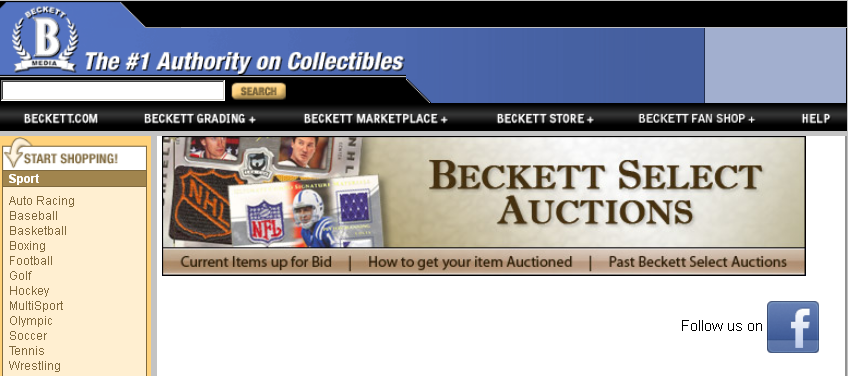 9. Sell with Select (click to visit)
Did you just land the most epic card you've ever pulled in your life? Did your grandmother just realize that she didn't throw out those old tobacco cards? As long as you're willing to part with your pulls in exchange for consistently strong auction results, Beckett Select might be a perfect fit. Long story short, our expert consignment team will do the take the hassle out of putting your big ticket items up for auction and maximize the chance for big sales with Web promotion and Beckett brand recognition. Email dsliepka@beckett.com for commission charges and more information.
—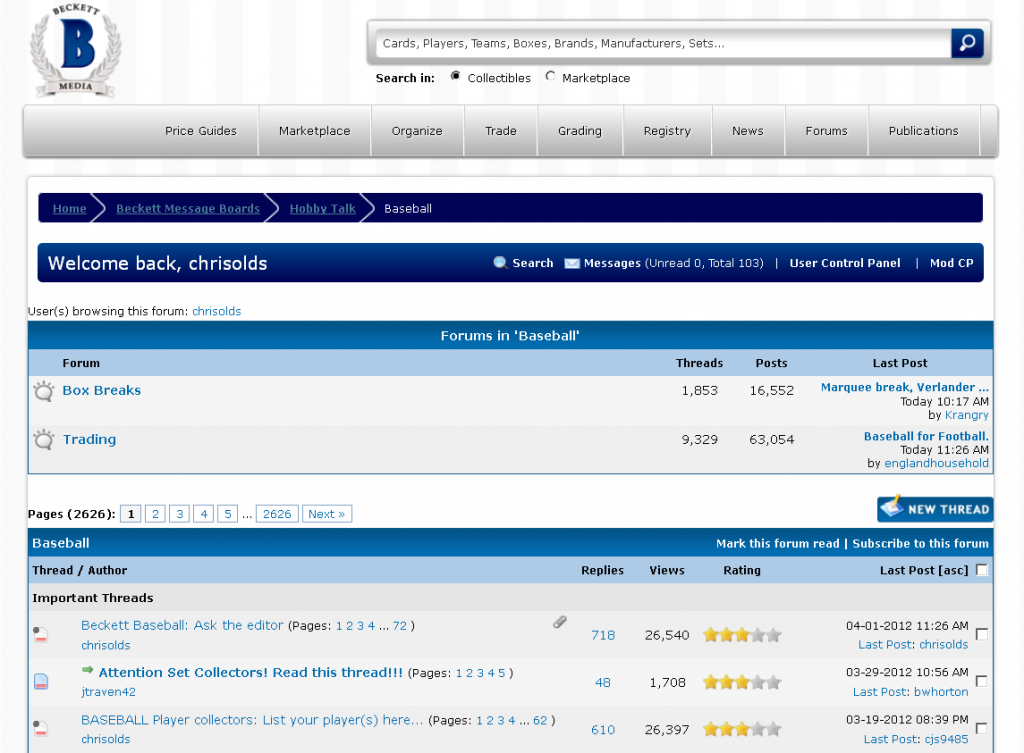 10. Be heard
Whether you're using the forums to voice your opinion, commenting on an article, or you're just looking for an email address to drop us a note, Beckett.com is your portal to our team and your fellow hobbyists. The only way the art of collecting can grow is with the constructive criticism and innovative thoughts of those who collect. We're here to hear you — and everyone else, too.