BSCM Bonus: More game-used memorabilia pieces from inside Panini America's vault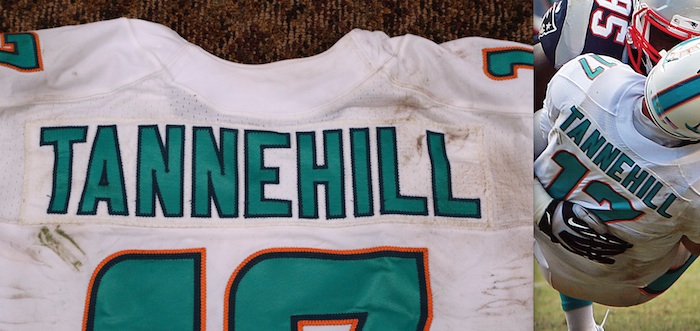 By Chris Olds | Beckett Sports Card Monthly Editor | Commentary
IRVING, Texas | The national treasures that make their way into collectors' hands via Panini America's trading cards or its game-used memorabilia division, Panini Authentic, are locked away behind two massive locked doors at the heart of the company's headquarters.
Inside, you'll find row after row of what has to be one of the world's largest and most-lavish closests. It's a collection that has priceless and memorable items lining racks at every turn. You'll see numerous bats and sticks resting comfortably in bins right alongside shelves that are lined with helmets in one area — and then you'll find countless storage tubs (and also even more racks) lined with clear coded baggies filled with flattened, cut and sorted jersey remnants awaiting their future cardboard homes in another.
But that's not how you can truly experience the authenticity found inside. For that, you just need to check the area for new deliveries. If you ever wanted to know whether a jersey straight from the Miami Dolphins is real, all you'll have to do is find the box and open the sealed bag inside.
Then, you'll simply need your sense of smell.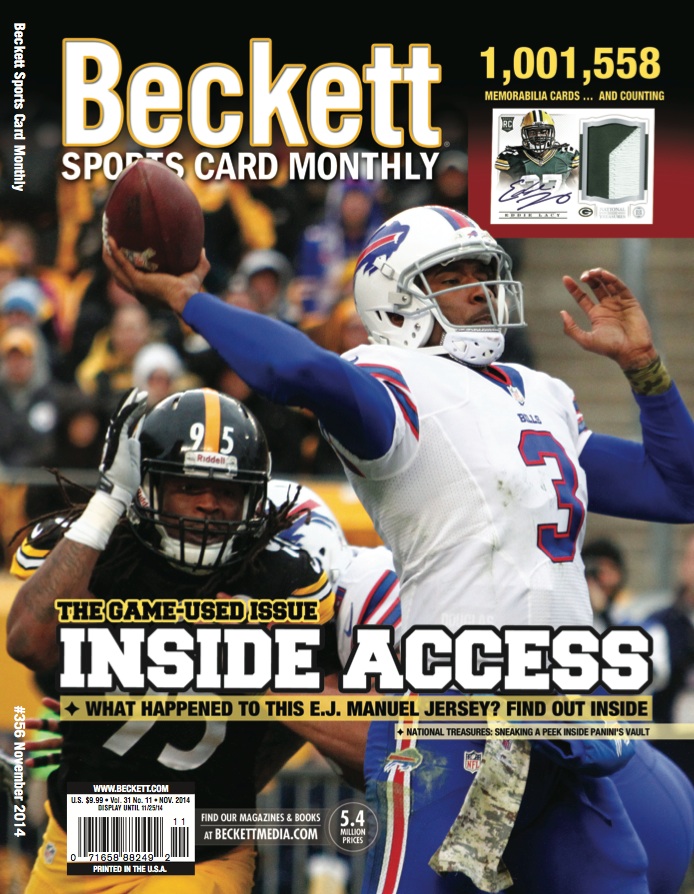 To learn more about The Smell Test when it comes to the Dolphins jerseys (one jersey with its stains matched to an action shot from Week 1 is above), you'll need to pick up the latest issue of Beckett Sports Card Monthly — The Game-used Issue — where we recently caught up with Panini's Vice President of Marketing Jason Howarth and Hobby Marketing Manager Tracy Hackler for an up-close look at some items pulled from the vault.
Here, we present a BSCM Bonus — a look at a few more items from the Panini vault that didn't make the issue.
—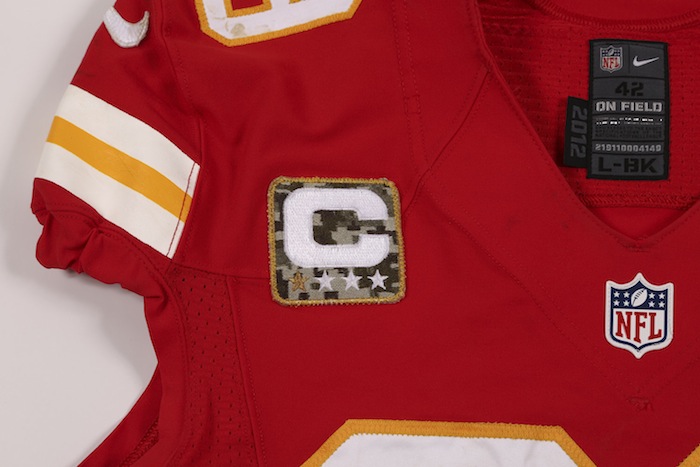 Eric Berry's game-used jersey | Nov. 18, 2012, vs. Cincinnati Bengals
Berry is a fourth-year pro out of Tenneseee, and he's spent his entire career with the Chiefs. The defensive back wore this jersey in a 28-6 loss to the Cincinnati Bengals where he registered a season-high 11 tackles. His jersey shows the remnants of that work along with an extra patch that would make it even easier to document when it came from — without a letter from the team.
"This is cool for a couple reasons," Howarth said. "Obviously similar to the [Wes] Welker one, you know that before you look for anything where it came from. You know it's a November game because of the Salute to Service C patch. It makes a great differentiation."
NFL teams wear the camo patches as part of games played in November as part of its Salute to Service campaign. So, will there be more game-focused memorabilia sets to showcase pieces like these?
"As we refine our approach, working directly with teams, leagues and players, we can highlight specifically and note those. It's something we want to do more," Howarth said. "All the new jerseys that we get, we know what games they are from, so it's just a matter of whether we put it on there."
But there also is a caveat to specific game-dating — approvals and licensing by the league.
"When you're highlighting a player in heroic fashion, the last thing you want to do is highlight that he threw three picks that day," he said. "Pretty sure that's not getting approved [by the NFL]."
But, in short, the answer is that the company is aiming to do more game-specific notations on its cardboard.
"The reality is that we'll take that approach on the higher-end products — where it makes sense on top of the game-dated sets," Howarth said.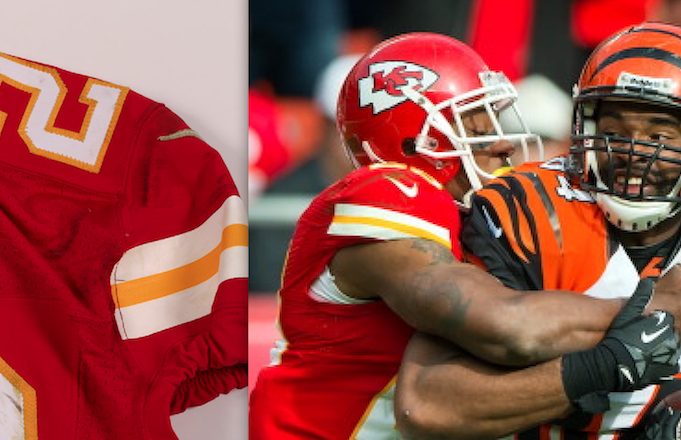 The Details: Photo-matching Berry's jersey to that game wasn't that easy because of too few images available, but you can see a dark line (contact burn) above the white stripe on the shoulder on both images as well as a grass stain across the back half of the Nike swoosh on the right shoulder in this action photo.
—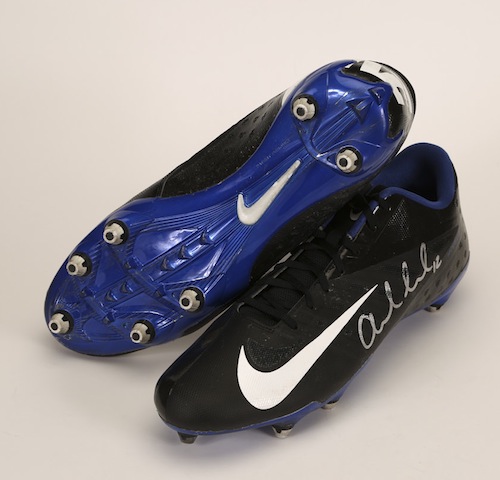 Andrew Luck's game-used cleats | From his 2012 (rookie) season
These Panini Authentic gamers are tagged as item No. 21565 in the program's database, but do not include a specific game date. (Your writer failed to get the date noted in time for the issue if it was available.) They are, however, from the Indianapolis Colts quarterback's rookie season and the tips of his Nike Hyperfuse cleats are scuffed pretty heavily from contact with concrete and artificial turf surfaces.
"Considering the Colts play indoors, you don't see a lot of dirt," said Howarth of this particular pair.
The Details: Examine images from Luck's rookie campaign, particularly at the end, and you will see this familiar model. (No attempt to photo-match was made without a date given.)
—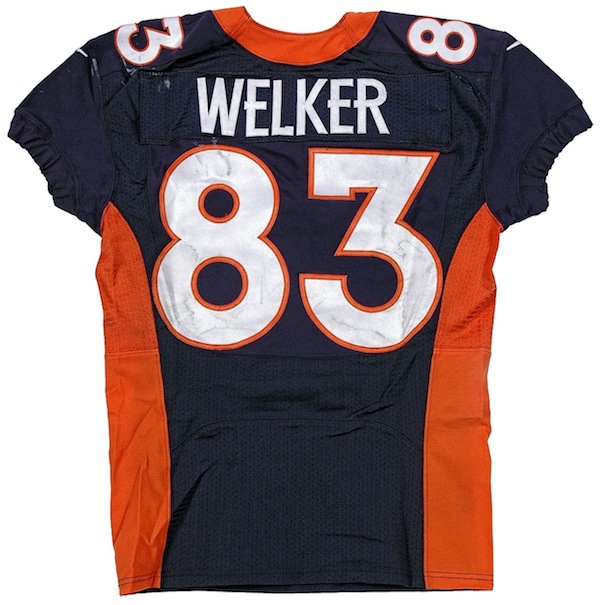 Wes Welker's game-used jersey | Oct. 6, 2013, vs. Dallas Cowboys
Last season when the Broncos visited Dallas, it was a shootout Denver won 51-48 thanks in part to Welker's five catches for 49 yards and a touchdown. His blue Broncos jersey shows a few scuffs here and there but there's another distinguishing feature that also tells you it's from an October game besides the visible sweat and water stains on the patches.
"Even without looking, you can definitely tell it's a game in October with the pink C patch for breast cancer awareness," Howarth said. "There are some that go to Panini Authentic and obviously with our exclusive relationship with the Denver Broncos a good portion of those jerseys that go into trading card products. A handful of them don't."
Welker was only targeted six times by Peyton Manning but that doesn't mean he didn't take a few licks — there was some scuffing and tearing on the left shoulder to prove it.
"Wes obviously likes to take hits in the head instead of his back," joked Howarth, a Patriots fan who knows all about Welker's playing history, when noting the shoulder wear. "He has a smaller body, so it's easier to cover up."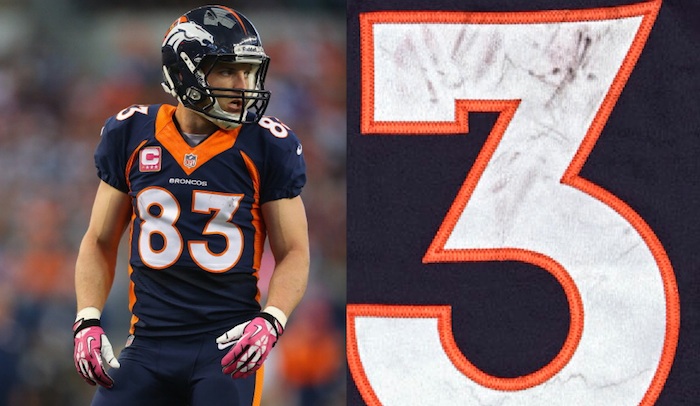 The Details: As for photo-matching this jersey, this single image from the game available to us shows the start of the scuffs and stains beginning to form early in the game from contact — particularly in the upper right portion of the front "3" on the jersey. By the end of the game, it looked like how it does at right.
Howarth said Panini focuses on league, team and player deals before buying items on the secondary market from, say, NFL Auctions. So, does the Broncos deal with Panini Authentic also include projects like the stadium card promotions Panini has done for the team?
"We always look to maximize," he said. "If you're going to go down that path and work with teams, it makes sense to take a holistic approach to the entire process."
Look for much more on game-used and even more treasures from inside the Panini America vault in Beckett Sports Card Monthly.
Chris Olds is the editor of Beckett Baseball and Beckett Sports Card Monthly magazines. Have a comment, question or idea? Send an email to him at colds@beckett.com. Follow him on Twitter by clicking here.
Here's a gallery of images from these items as well as a teaser of a few others found in the issue thanks to Panini photographer Ryan Newton …