Bryce Harper's first team-issued Minor League Baseball card will cost you … $22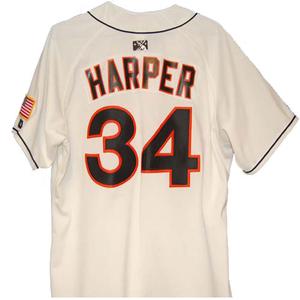 By Chris Olds | Baseball Editor
Bryce Harper carries a .261 average, two home runs and eight RBIs with him after his first 14 games with the Class-A Hagerstown Suns.
Well, all that and the hopes of quite a few card collectors who are heavily invested in the Washington Nationals' top draft pick from last season and the 18-year-old former Sports Illustrated coverboy.
However, Harper's sluggish start apparently hasn't dampened demand for his first pieces of minor-league memorabilia based on prices for Harper's Hagerstown items on the Maryland team's webstore.
The Suns' 2011 team set of baseball cards, which will be made by Multi-Ad Sports, can he pre-ordered now and it'll cost you $22 — that's Harper's first MiLB card since Topps Debut arrives later in pack form and these sets will arrive sometime around May 15. (Oh, and with shipping and tax? Make that about $30 for a set … )
While the pricetag might seem higher than the typical minor league set — often somewhere between $7 to $15 — the quantities made for this card certainly can't be in the ballpark of the Bowman or Pro Debut releases to come later this year. (There should be a healthy number of these sets produced, though — the Suns didn't even have a webstore when Harper was assigned to the squad.)
Also available is a Harper authentic model Suns jersey — his No. 34, of course — for $200, and a $30 Harper jersey T-Shirt for the more casually inclined.
Harper also appears on the team's 2011 souvenir program, which can be had for $7.
Chris Olds is the editor of Beckett Baseball. Have a comment, question or idea? Send an e-mail to him at colds@beckett.com. Follow him on Twitter by clicking here.