Brooklyn Dodgers legend Duke Snider dies at age 84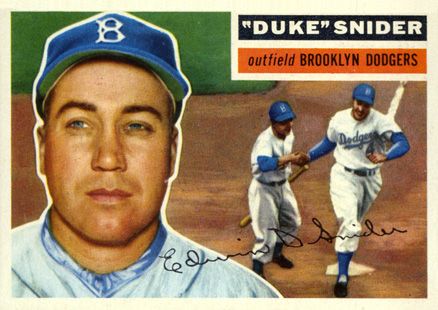 By Chris Olds | Editor
Edwin "Duke" Snider, a Hall of Famer who was once one of the kings of New York when it came to talkin' baseball in the 1950s, died on Sunday. He was 84.
Snider hit 407 home runs during his 18-year big-league career with the Dodgers, Mets and Giants. He played 16 seasons for the Dodgers, making his debut for Brooklyn in 1947. He powered the Dodgers to their only World Series crown in Brooklyn in 1955 — a year in which he hit 42 home runs and drove in a league-leading 136 RBIs — before making the move to Los Angeles where he helped win another Series in 1959.
Snider, an eight-time All-Star, was elected into the Hall of Fame in 1980, the year after Willie Mays and six years after Mickey Mantle. "Willie, Mickey and The Duke" each patrolled center field in New York during the 1950s. Though Snider wasn't a first-ballot Hall of Famer, he did hit 40 or more home runs five consecutive seasons and led all major-leaguers in home runs and RBIs during the 1950s. He finished his career playing a season apiece in New York and San Francisco, ending with a .295 average, 2,116 hits and 1,333 RBIs.
On cardboard, "The Silver Fox" made his debut in the 1949 Bowman set. His lone Rookie Card is one that can fetch as much as $1,000. In all, he appears on just 2,755 cards with a total value of $62,397.66 — an average value of $22.65 per card of those priced in the Beckett.com database. Snider appears on just 999 different certified autograph cards and 1,135 memorabilia cards.
Snider's earliest certified autograph card was made in 1983 by ASA, a card that came with a limited edition set that documented his career. In all, he signed mostly for Donruss/Playoff and Topps in recent years — most of his autograph cards appearing in Topps Sterling (136 different cards) and Topps Triple Threads (92) releases. However, he also has a substantial amount of unique autograph cards to be found in Diamond Kings sets (102).
Snider's RC is not his most valuable card, though, as a pair of rare 1950s food issues battle for that honor. His 1953 Stahl Meyer and his 1953-54 Briggs cards each typically fetch as much as $2,000 apiece.
Hall of Fame broadcaster Vin Scully remembered Snider on Sunday.
"He was an extremely gifted talent, and his defensive abilities were often overlooked because of playing in a small ballpark, Ebbets Field," Scully said in a statement issued by the Dodgers. "When he had a chance to run and move defensively, he had the grace and the abilities of [Joe] DiMaggio and Mays, and of course, he was a World Series hero that will forever be remembered in the borough of Brooklyn.
"Although it's ironic to say it, we have lost a giant."
Chris Olds is the editor of Beckett Baseball. Have a comment, question or idea? Send an e-mail to him at colds@beckett.com. Follow him on Twitter by clicking here.