Bringing camaraderie back to collecting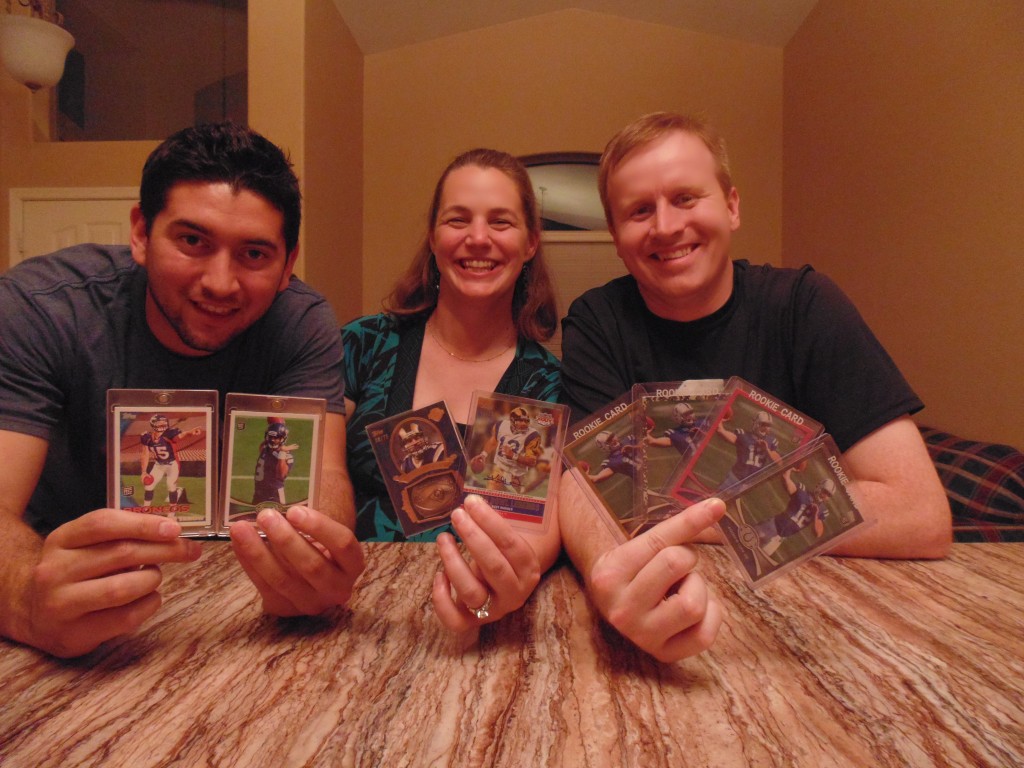 By David Lee | Beckett Football Editor
Collecting football cards today can be a very isolated, almost lonely experience. The individual cards we want to add to our collection are just a few clicks away. Experiencing the hobby with other people is often lost. But Arizona collector Mike Abbott and his friends are bringing the camaraderie back to collecting.
In 2010, several years removed from Mike's collecting days as a kid, Mike and his friend started to dive back into the hobby. They decided to buy some boxes of 2010 Topps football cards. "We had a blast," Mike says. He then set the goal of building a master set, while his friend went after the short prints and various color parallels. The next year, they decided to get an entire case of Topps.
The case break party grew even more in 2012 with the loaded rookie class. By then Mike's wife Kris and his brother-in-law got in on what is now an annual party. The group busted five cases of 2012 Topps together. "The value that the basic Topps brand gives you—with all the inserts, short prints, parallels, autographs—for the price, it's a tremendous amount of fun," Mike says. His brother-in-law even flies in from the east coast for the annual party. "We now look at August as a mid-year Christmas."
Everyone in the group has their favorite players and certain cards and sets they're always after. One of Mike's best pulls was the 2012 Topps Rookie Premiere Autographs Red Ink of Andrew Luck, his favorite player. He also loves going after the Topps Black Parallels. Mike is always looking to create a new challenge from the case break parties. He already has his sights set on completing the Topps Gold Parallel set this summer.
Last season, the group grew the party to 10 cases of Topps. They get their cases from the Phoenix Card Co-op—their local shop, and Mike suggests that anyone looking to get their own case break parties started check with a local dealer who would be willing to set aside cases for a good price. Friends can all go in together and decide before the cases are busted who gets what players, teams, sets, etc. "There are a lot of ways to have fun with it," Mike says.