Boxed Set Boom: Topps Ames Baseball Cards of 1989 and 1990
Remember the boxed set boom of the 1980s and early 1990s?
It was all the fun of baseball card collecting without the hassle of opening packs and wondering who you were going to pull. Alright, so maybe it's not hard to see why they fell by the wayside…
Still, while most of those sets hold little value these days as a result of mass production, they make the perfect oddball addition for single player or team collectors, not to mention the nostalgia factor.
In the coming weeks, I'll be taking a look back at some of the memorable boxed set series of that era, and up next are the Topps Ames sets.
Along with their own Topps flagship, Topps Traded and Topps Major League Debut products, the Topps company also released a number of boxed sets in conjunction with grocery stores and retail chains at the height of the boxed set boom.
In fact, I've already highlighted the K-Mart and Toys 'R Us sets from that era. Now it's time for a closer look at a pair of oddball sets that were sold in Ames Department Stores in 1989 and 1990. 
The chain of discount stores were based in Connecticut, and at their peak, they had more than 700 locations across the country. They went out of business in 2002.
1989 Topps Ames 20/20 Club
Cards: 33
Hall of Famers: 8
The first Ames set has an interesting hook relative to many of the other more generic boxed sets of the era.
Rather than simply highlighting the best players in both leagues, the 1989 Ames set specifically focuses on players with 20/20 seasons—20 home runs and 20 stolen bases—on their resume.
The set focused on active players, though the 20/20 season didn't necessarily need to be recent. For example, Mike Schmidt was included despite his only 20/20 years coming in 1974 (36 HR, 23 SB) and 1975 (38 HR, 29 SB).
Schmidt is joined by Andre Dawson, Rickey Henderson, Kirby Puckett, Ryne Sandberg, Alan Trammell, Dave Winfield and Robin Yount as the eight Hall of Famers among the 33-card checklist.
Some of the more obscure members of the set include Kevin Bass, Scott Bradley, Kal Daniels and Jeffrey Leonard.
Buy on: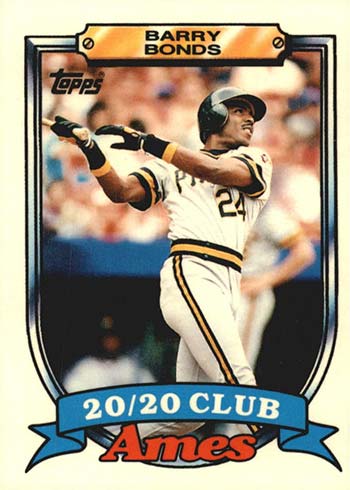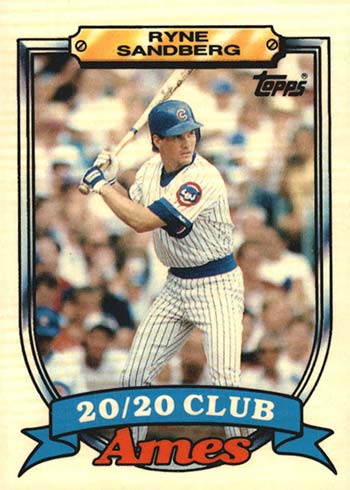 1990 Topps Ames All-Stars
Cards: 33
Hall of Famers: 12
For the follow-up release in 1990, a more general approach was taken to assembling the checklist, though the 33-card set was still made up exclusively of hitters.
Dawson, Henderson, Puckett, Winfield and Yount return from the Hall of Fame contingent included in the 1989 set. They are joined by George Brett, Wade Boggs, Paul Molitor, Eddie Murray, Tim Raines, Jim Rice and Cal Ripken Jr.
Don Mattingly, Jose Canseco, Dale Murphy, Will Clark, Eric Davis and Darryl Strawberry are among the other notable sluggers in the set. Top-to-bottom it is a better collection of stars than the inaugural release.
Young up-and-comers Wally Joyner and Danny Tartabull were the closest thing to an outside-the-box name on the checklist.
Buy on: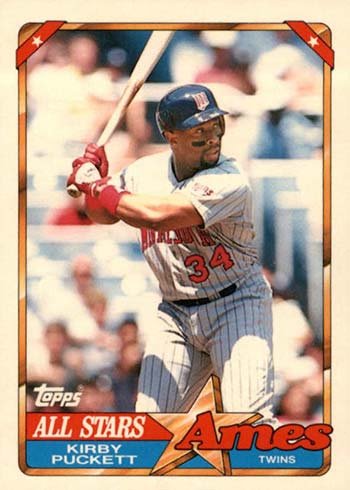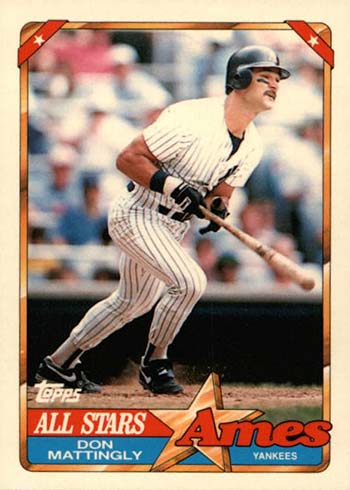 The Ames set was discontinued after two years, though Topps still had its hands full with the Toys 'R Us and Woolworth's sets. More on that second one next time around…