Are you ready to rip into some 2014 Topps and chat about it live?
Join Beckett Baseball's Chris Olds as he rips into hobby boxes of 2014 Topps Heritage baseball cards and chat with you in the latest edition of Box Busters Live.
When? Today, (March 14) at Noon Central
Where? Right here (above). To submit questions, leave a comment below or tweet @beckettmedia on Twitter.
–
What else? We'll be giving away nearly all of the boxes during the event. (At least one we open will be given away in a future issue of Beckett Baseball.)
HOW CAN YOU WIN ONE OF THE BOXES NOW? Leave a comment below telling us what you think of 2014 Topps Heritage and we'll pick a winner from all comments left before April 1.
–
Chris Olds is the editor of Beckett Baseball magazine. Have a comment, question or idea? Send an email to him at colds@beckett.com. Follow him on Twitter by clicking here.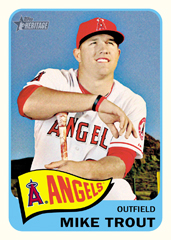 MORE 2014 TOPPS HERITAGE COVERAGE:
Ripping Retail: 2014 Topps Heritage
Card gallery: 2014 Topps Heritage
Heritage checklist includes Hank Aaron, Willie Mays, Betty White, Keith Olbermann and more
UPDATED WITH SIX CONFIRMED: What intentional errors might be in store for 2014 Topps Heritage?