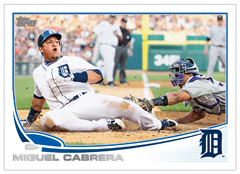 Who: Beckett Media's Chris Olds, Susan Lulgjuraj, Brian Fleischer  — and you.
What: Box Busters Live — an absolutely free live video chat and box-breaking experience where you ask the questions, you get the answers … and you may even get the cards.
When: This Wednesday starting at 1 p.m. Central time. It will run at least two hours or maybe a tad longer to finish ripping. (We'll chat about and rip at least four boxes before they can be yours — maybe more)
Where: The video portal will be in a thread on Beckett.com/news posted on Wednesday morning.  You can join in on the discussions by leaving comments on that morning's Beckett post, chatting via our YouTube channel or commenting to us via Twitter.
The product: The newest baseball card set from Topps, 2013 Topps Series 2.
— Need to see our Series 2 preview story? Click here. —
Also on Wednesday: Head on over to the Beckett Media Facebook Page (facebook.com/beckettmediallc) for the latest Chatter Up live chat session with editor Chris Olds — there will be wax and more up for grabs for active discussions and creative questions.