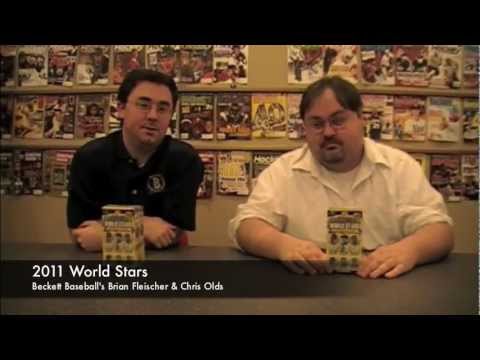 Join Beckett Baseball's Chris Olds and Brian Fleischer as they rip into a pair of 2011 World Stars boxes from Brothers Inc. in Japan in this latest edition of Box Busters.
What will they find inside? Watch and find out. Each box should contain one autographed baseball … maybe more.
Want to see more artballs — and get the lowdown on how to order them if you're not in Japan? It's after the jump.
If your Japanese is good, you can order them by clicking here. If you're like most of us and can't, then you can click here for their international form or contact Brothers Inc. directly via email at brothers@bd.wakwak.com.
The boxes cost $119.99 apiece (price includes express shipping from Japan) with 12-box cases also available — only 720 total boxes were made.
An autographed baseball is found in every box and artballs are found one in every 12. Some of the artball subjects and signers include:  Sadaharu Oh, Hideki Matsui, Stan Musial, Cal Ripken, Hank Aaron, Mike Tyson, Hulk Hogan, Joe Montana, Dan Marino, Aaron Rodgers, Tom Brady and Scottie Pippen. All autographs are certified by TRISTAR, Mounted Memories, PSA or JSA.
Because of its limited nature, many of the artballs are produced in limited quantities — most are 1/1s with some as plentiful as three. Sadaharu Oh is the most plentiful with six.  (See a list of who's in this one by clicking here.)
— Chris Olds