Bowman Chrome Autograph Guide to Baseball America's 2018 Top 100 Prospects
Baseball America has released their list of 2018's top 100 prospects. Digging deep into all levels of the minors, it breaks down the most promising players working their way to the majors.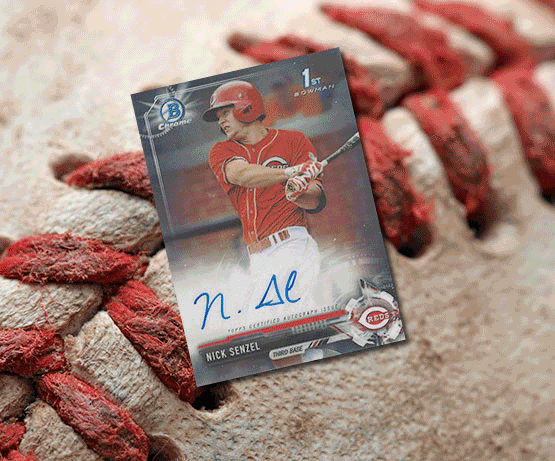 When it comes to prospecting and cards, Bowman Chrome autographs are considered by many to be king. The command the same sort of attention Rookie Cards did through the 1980s and 1990s.
For the vast majority of the players on Baseball America's list, they already have their first Bowman Chrome autographs. Some of these cards are already five-years old or more.
The players near the top of the list are very familiar with prospectors. Their regular Bowman Chrome autographs easily top $100 with Refractors potentially hitting four figures.
With Andrew Benintendi, 2017's number one ranked prospect, now full-time Major Leaguer, Ronald Acuna takes top honors. The 20-year-old outfielder recently became the youngest player ever to be named the MVP of the Arizona Fall League after hitting seven home runs in 23 games.
Coming in at number two is Japanese sensation, Shohei Ohtani, who signed with the Los Angeles Angels in December.
Vladimir Guerrero Jr., Eloy Jimenez and Victor Robles round out the top five.
Ohtani is the only player in the top 25 not to have a Bowman Chrome autograph yet.
In case you're looking to keep tabs on the players that do have Bowman Chrome autographs and what sets to find them in, we've broken down the entire list.
If you want to dig deeper into a prospect's baseball card portfolio or Bowman Chrome autographs aren't your thing, we've also included links to their full card listings from the Beckett Baseball Card Database and Price Guide. If you log in to your free Beckett account, there are plenty of handy filter in the database sidebars so you can refine your search in lots of handy and useful ways.
You can use the tabs to navigate the list quickly and easily.
1-25
26-50
51-75
76-100
Comments? Questions? Contact Ryan Cracknell on Twitter @tradercracks or by email.