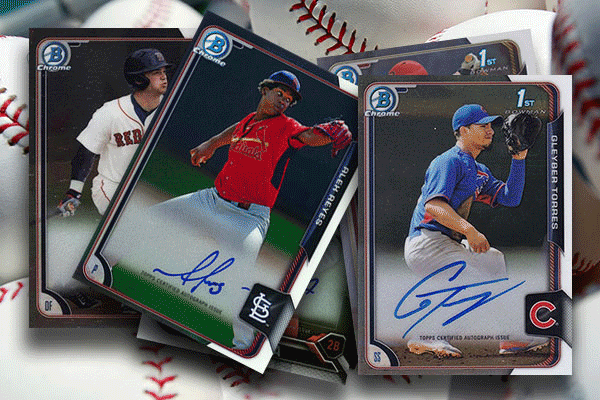 By Ryan Cracknell | Hobby Editor
Collectors have no shortage of resources when it comes to tracking prospects as they make their way to the majors. Depending on the amount of time you want to dedicate, there are sites that dig deep into stats on a daily basis. Others are merely casual prospectors. That's where Baseball America's annual list of the top 100 prospects comes into play. And while the rankings are nice, collectors may want to take the next step and start gathering up some early cards.
Baseball America's  2017 Top 100 Prospects has some names that are already big ones in the hobby like Yoan Moncada, Dansby Swanson and the top-rated prospect, Andrew Benintendi. Some of the names on the deep list might not be quite so well known.
And when it comes to prospecting in the hobby and early baseball cards, few are going to argue again the power of the Bowman Chrome autograph. Other options exist, but in today's collecting world, they're likely to be measured against a players first appearance on a signed Bowman Chrome card. Even if there's autographs from other companies — even other Bowman brands — in earlier years, Chrome is still king.
Of the 100 players, 83 already have Bowman Chrome autographs with the players in MLB uniforms. Many have been traded since their Bowman Chrome autographs were released, so uniforms don't always match their current club.
The products most represented on Baseball America's 2017 Top 100 Prospects list are 2014 Bowman Draft with 14 players and 2016 Bowman Draft with 13. 2015 Bowman Draft has nine players.
Gallery of Bowman Chrome Autographs for Baseball America's 2017 Top 100 Prospects
Looking to collect Baseball America's 2017 Top 100 Prospects? Here's a gallery and list of every player's first Bowman Chrome autograph. For this gallery, we're focusing on MLB Chrome autographs. Some players may have earlier cards in USA-themed sets, or others like AFLACs or Bowman Sterling.
Comments? Questions? Contact Ryan Cracknell on Twitter @tradercracks.