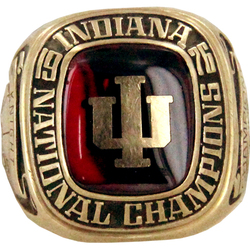 By Susan Lulgjuraj | Beckett Sports Card Monthly Editor
Steiner Sports is including memorabilia from one of college basketball's most legendary  figures in its Perfect 25 Anniversary Auction, which opened today.
Steiner has procured items from college basketball coach Bob Knight's career, including championship rings and an Olympic gold medal.
The headline item of the auction is former New York Yankee Don Larsen's uniform from the World Series perfect game.
But collectors will be able to find items from across all sports, including key items from Knight's career.
Up for grabs from Knight, who coached at Indiana, Army and Texas Tech, are his championship rings from 1976, 1981 and 1987. Knight is one college basketball's most successful and innovative coaches. He has a 902-371 (.709) career win-loss record.
The 1975-76 season is special because the Hoosiers never lost. They finished the season 32-0 and are the last NCAA Division I men's basketball team to go undefeated.
Included in the auction from Knight's collection are his 1984 Olympic and Hall of Fame rings, 1984 Olympic gold medal and 1988 Coach of the Year award.
Fans could also win a sports coat from Knight's collection and a 1984 USA Olympic warm-up jacket.
Knight discussed his reasons for selling his personal items with the Associated Press.
"(Celtics legend) John Havlicek and I were just talking one day about all the stuff we had accumulated over the years," Knight said. "As we talked we decided the money could be very useful to put our grandchildren through college."
Larsen decided to auction his perfect game uniform for similar reasons — he wants to make sure his grandsons receive a proper education. Larsen might also take a "little trip" with his family, he said at a June press conference.
Other items in the auction include:
– Mickey Mantle autographed magazine
– Hand-written pages from Joe DiMaggio's diaries
– Signed baseball by Yankees long-time owner George Steinbrenner
– A Gatorade cooler signed by the 1986 Super Bowl champion New York Giants
– Signed Joe Frazier Everlast speed bag
– A Madison Square Garden VIP seat from the Knicks 1973 NBA Championship season.
The auction closes December 5.
Susan Lulgjuraj is an editor of Beckett Sports Card Monthly. You can email her here with questions, comments or ideas. Follow her on Twitter here.