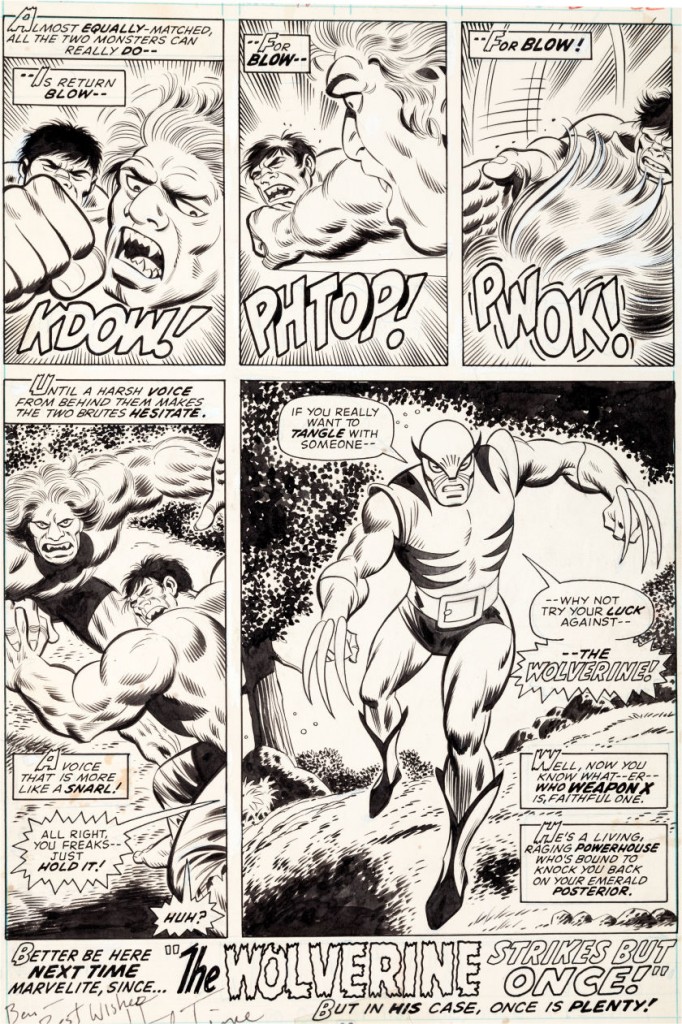 By Chris Olds | Beckett Sports Card Monthly Editor
Snikt, snikt — Wolverine's debut has a new home.
The original comic book art for the first appearance of the Marvel Comics character Wolverine sold for a record-tying $657,250 last week via Heritage Auctions and its buyer was someone that sports card collectors might know a bit about.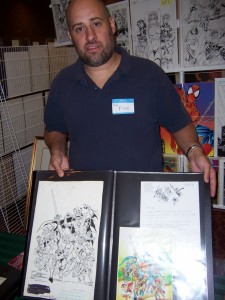 It was Thomas Fish, the owner of BlowoutCards.com, who is a heavy collector of original comic book art and key graded issues from the past. The page is the final one from issue No. 180 of The Incredible Hulk from November 1974. It features art by by Herb Trimpe. Trimpe gave the page to the previous owner back in 1983.
"Wolverine is one of the most popular comic heroes today," Fish said. "Having the opportunity to purchase this historically significant piece of art was one I could not pass on."
Fish noted that one piece that could be as interesting has a special home.
"The Spider-Man art from Amazing Fantasy No. 15, Spidey's first appearance, is located in the Library of Congress," he said. "This Wolverine piece is certainly museum-quality."
The piece had been estimated to sell for more than $200,000 but demand for the debut of the character brought to the big screen by actor Hugh Jackman exceeded expectations. And that's a good thing for one group. According to Heritage, the majority of the proceeds from the sale is being donated by the previous owner to the Hero Initiative, which is a not-for-profit group helping comic book creators in need.
"I did know that part of the proceeds go to Hero Initiative — I think that is wonderful," Fish said, "and I didnt mind going an extra bid or two to support that worthy cause."
This piece is both a landmark collection item for Fish as well as an investment — and he sees comic art as a market with plenty of potential.
"I believe the first published image of Wolverine represents a fantastic investment opportunity," he said. "Comic book characters such as Spider-Man, Superman, Batman and Wolverine are billion-dollar franchises. Comic book sales have already topped $1 million, and it's only a matter of time that comic art sales reach seven-figures. Comic art is used in the production of those comic books and they are one of a kind."
It's also something he's exploring on the business side.
"The marketplace is very much in its infancy, and I do look forward to watching it mature," he said. "Comicbookjunkie.com is something that I started on BlowoutCards.com it is an extremely popular comic book forum and it has experienced tremendous growth during the past 12 months. We will be promoting Blowout Cards' foray into the comic book business in the future."
Fish is no stranger to key pieces of comic book art from the recent past or even further back. He owned and sold the original art for the cover of The Amazing Spider-Man No. 300 by noted artist and baseball collector Todd McFarlane, who is a favorite artist of his. A $16,000 past purchase recently became a $125,000 sale.
Fish also owns the first appearance of Ghost Rider, the complete issue of the 1991 relaunch of the X-Men series with art by Jim Lee — one of the top-selling comic books of all time — as well as the debut of Mary Jane Watson from the Spider-Man world and the cover of the debut issue of X-Force with art by Rob Liefeld. 
But he said this new piece trumps them all.
"My un-questioned favorite piece," he said. "That is like asking a parent who his/her favorite child is. It is certainly the most historically important [piece] in comic books."
Chris Olds is the editor of Beckett Baseball and Beckett Sports Card Monthly magazines. Have a comment, question or idea? Send an email to him at colds@beckett.com. Follow him on Twitter by clicking here.