Blake Griffin's Rookie of Year award adds to allure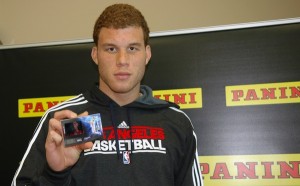 By Susan Lulgjuraj | Contributing Editor
In one of the least-surprising postseason award votes, Los Angeles Clippers' Blake Griffin won this year's NBA Rookie of the Year. It almost seemed as though he was a lock for the award after his first game in the league.
From that point, Griffin only got better and filled up highlight reels with electrifying dunks just about every night. He became the first unanimous Rookie of the Year in 21 years.
Will adding a piece of hardware change anything with Griffin?
Probably not.
Griffin was already a talent that has caught the attention of every type of NBA fan from the most casual to the hardcore.
For most NBA observers, fans and collectors alike, Blake winning Rookie of the Year honors was a foregone conclusion, so yesterday's official announcement likely won't change how those folks view him," said Panini spokesperson Tracy Hackler. "He's a superstar of the highest magnitude and will be a must-see attraction for years to come."
That also means there will be plenty more trading cards of Griffin for years to come as well. In Panini's products this year, he was one of the most sought after players.
Collectors rejoiced when they pulled his cards from packs.
But will change will be the type of cards you from Panini in the future when it comes from Griffin.
"His official designation as a Rookie of the Year winner adds to his overall allure and affords us the opportunity to create ROY-themed cards in our NBA trading card products and special ROY-signed memorabilia in our Panini Authentic line," Hackler said. "To be sure, he's a rare talent; a unique and transcendent combination of athleticism, charisma and beastly strength. Obviously, we're thrilled that he's a member of the Panini family."
Griffin was the over No. 1 pick in 2009, but broke his kneecap in a Clippers preseason game and missed the entire season.
This year, he led all rookies in scoring (22.5 points a game), and rebounding (12.1), which was fourth best in the league.
Susan Lulgjuraj is a contributing editor for Beckett Media. You can email Susan here. Follow her on Twitter here.