Clippers star Blake Griffin: Panini's HRX video cards will be 'game-changing'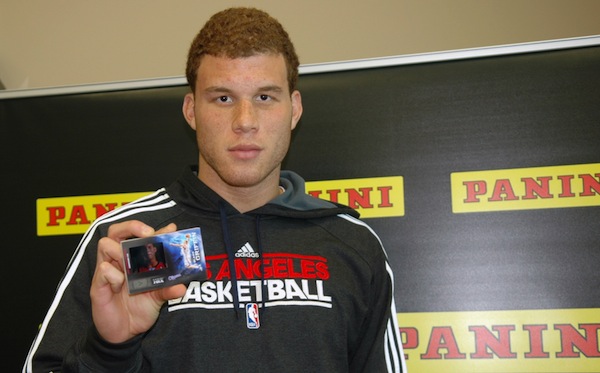 By Chris Olds | Basketball Editor
As part of his first day on the job as Panini America's newest spokesman, Los Angeles Clippers star Blake Griffin signed many an autograph — and then he got treated like a rookie.
Perhaps it was a bit of hazing … err, maybe not. What was his new role?
They made him work the phones.
"Panini America, this is Blake. How may I help you?" he said as he took a call Thursday afternoon from Panini HQ in Dallas.
After the pleasantries and introductions were exchanged, though, Griffin sounded like a pro, a real veteran — well, at least until he started talking about the forthcoming Panini HRX video cards. Then, he sounded even more excited. You see, one of the perks of the job was being one of the first people in the world — well, besides a few other Panini America employees — to get his hands on one of the video cards.
"It's unbelievable, man. I just got to see it," said the 6-foot-10 former University of Oklahoma standout. "It's crazy. You never think something like that is going to happen and then to actually see it … it's going to be game-changing."
So, what did he think after he hit the play button?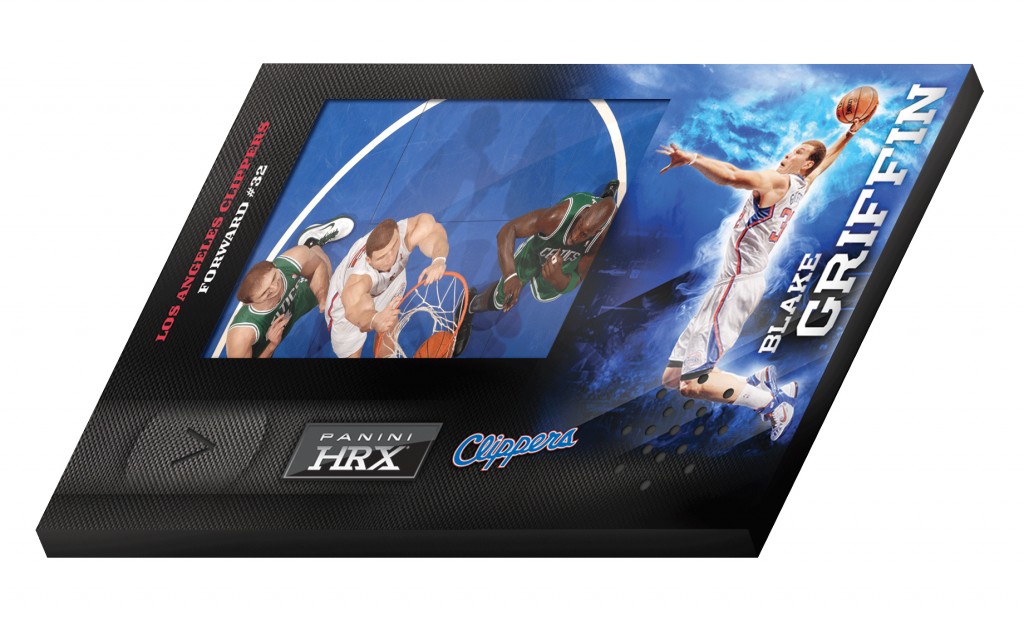 "Man, to be honest, it kind of takes you back a little bit at the beginning just because you're not expecting to watch a video on a trading card," Griffin said. "But it's unbelievable, and it kinda takes me back to when I was trading cards as a kid and it was just a little cardboard card — but now they have videos playing."
As one of just four spokesmen for Panini, Griffin is in select company as one of the first players who will appear on HRX cards. That wasn't lost on the guy who has set the NBA ablaze averaging 22.5 points and 12.2 rebounds a game … as a rookie.
"It's really cool to be part of the first group of guys like Kobe [Bryant] and Kevin Durant, John Wall," he said. "It's really cool."
Panini's video cards will be limited edition releases that are autographed — a feature that impresses even the guy who can provide plenty of autographs. They'll first be found in the company's 2010-11 Totally Certified set, which arrives in June.
"I'll sign all the cards and they'll be videoing it, and the video of that will actually be on the card," Griffin explained. "So you'll see me actually signing the card that you own."
That's pretty crazy isn't it?
"Yeah it is," he said. "I think that's one of the best parts because you know its actually know that it's one of the players signing it, and it's not just a fake or a fraud or anything like that."
As part of his exclusive first look at the cards, Griffin got to watch his own highlight reel. Were there any highlights that the dunk machine particularly wanted to see?  After all, he's provided many a drool-worthy moment, more than a few SportsCenter Specials, this season …
"There's not just one that i can think of," he said, "just probably some of the dunks this season."
I was thinking of a certain highlight with four wheels attached … and I told him that. After all, the rookie's dunk over a Kia Optima in the NBA All-Star Weekend Slam Dunk Contest has been played countless times on both highlight reels — and super slow-mo car commercials.
[youtube]http://www.youtube.com/watch?v=u97BUFRyxjQ[/youtube]
Griffin laughed for a second or two before answering.
"Yeah, that would be a good one I think. I'll have to put in a good word around here."
After the technological discussions were over, we got Griffin talking about who he looked up to when he was younger. The answers from the 21-year-old just might make some collectors feel, well, old.
"Growing up I always patterned my game after a lot of different guys, whoever the best was," Griffin said. "Obviously, I watched guys like Michael Jordan. And then when I got older, Vince [Carter] and then guys like LeBron and Carmelo when they first came into the league, then Amar'e [Stoudemire] all these guys. I just liked to watch the best players because there's a reason why they're the best, and you can learn something from them."
Then, Griffin was presented some statistics about his basketball cards from the Beckett.com database — numbers that he marveled at.
"That's crazy, man. It blows my mind," he said. "You don't expect something like that to happen, but it's definitely cool. It's humbling to hear something like that."
Griffin was first introduced to the business side of the hobby at the National Sports Collectors Convention a couple of years ago in Cleveland, Ohio, where he signed autographs along with fellow draft pick Tyler Hansbrough at the Panini booth. Now, he's one of the company's spokesmen — and he'll be even more involved with the hobby-slash-business that really has impressed him.
"It's definitely in-depth and there's so many different kinds of cards you can collect — and so many different types of whatever it is you're into" he said. "It's definitely a lot more broad than I thought."
The NBA Rookie of the Year (we'll say it … he's a lock) then realized he had to run to take another call. Turns out, he briefly talked on the phone with four collectors who were winners of a Twitter-based contest that Panini held on Wednesday. (We're told three of them knew precisely who they were talking to … but to one caller it might have been a mystery.)
But we got in one last question before our time was up, and it was one question Griffin answered without missing a beat: "Is there one player you would want to appear on a basketball card with?"
"Definitely Michael Jordan."
Chris Olds is the editor of Beckett Basketball. Have a comment, question or idea? Send an e-mail to him at colds@beckett.com. Follow him on Twitter by clicking here.