In hobby, Black Friday isn't just about prices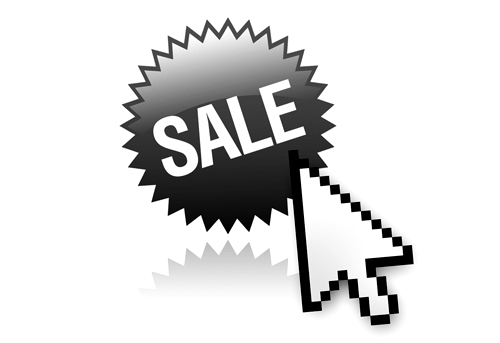 By Chris Olds | Beckett Baseball Editor | Commentary
Black Friday is one of those days that collectors mark on their calendars because they know deals can be had.
You know, just like anyone else.
But the difference for collectors comes in that some online retailers — those known for low prices and high volume — will make the No. 1 sales day of the year not only one about door-busting deals — but also one about luck and added promotion. That's, for example, where BlowoutCards.com's Thomas Fish comes in as he's always been considered one of the most promotion-savvy dealers around.
"It's always our main goal to offer items to our customers at the best possible prices all year long, not just on Black Friday," Fish said. "We utilize the Black Friday promotion as our special way to thank each and every one of our customers for their loyalty and support throughout the year.
"Like most online retailers, Black Friday is our single largest sales day of the year, [but] we use the Black Friday platform as our No. 1 customer appreciation day of the year as well."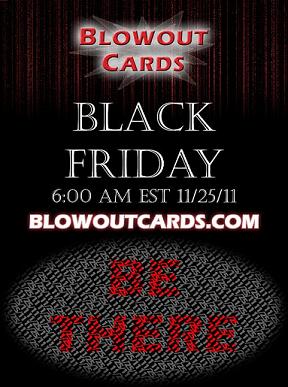 Fish said that running an online storefront is obviously different than the traditional hobby shop, but it will utilize other online streams — ones that any company can use.
"We'll be running interactive Facebook and Twitter Contests all day," he said, noting one possible example to be "the first random person to email a picture of a turkey gets a subscription to Beckett."
While Black Friday is the one day of the year where shopping seemingly takes over part of the national consciousness, it's really not unlike preparing for a large card show — it takes work.
"A tremendous amount of planning is involved in making sure that this is the most successful promotion/sale for Blowout Cards each year," he said. "This year, we will be rolling out our brand new Super Black Friday Deals in addition to our regular Black Friday Sales.  A select number of these Super Deals will go out each hour during Black Friday. Although these will have a strict one per customer limit on them, we'll also increase the total volume of boxes available so everyone has a healthy chance to take advantage of these deals."
Having a buying base with quick trigger fingers is one thing — sometimes managing the mania can be tough, too.
"The biggest challenge is discounting below our already low prices and making sure as many customers as possible can participate in the event," Fish said. "We realize that there are so many different types of collectors out there. To satisfy everyone, we offer a real good mix of both high- and low-end items on Black Friday. Both do equally well and we have tremendously successful in the past with all Black Friday price-points. I will tell you one thing though, our Super Black Friday deals this year aren't just amazing … they're going to be historic."
While Blowout is one high-profile example, it is not alone.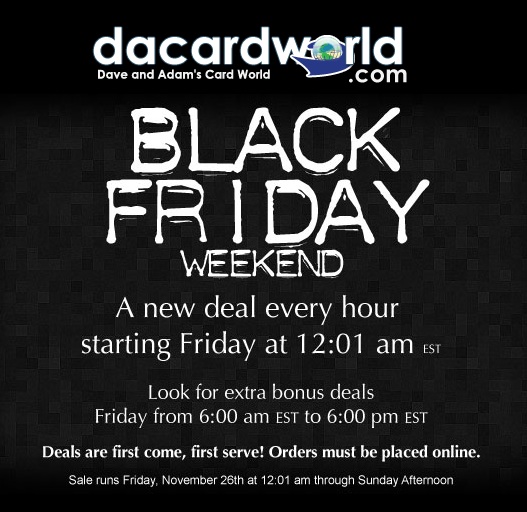 Adam Martin of Dave & Adam's Card World agreed that there are challenges in having a Black Friday that wows a dollar-minded customer base but doesn't instantly drain inventory.
"It is extremely challenging," he said. "You want to be able to offer great deals, but at the same time you don't want to anger the manufacturers or distributors by being too low on something. Fortunately we have over 500,000 unopened boxes in stock so we have plenty of items to choose from."
And making those choices begins much earlier than one might think.
"We start planning Black Friday in mid-September for online sales, but we start planning it in May for our four retail stores," Martin said. "All total, it takes several hundred man-hours worth of brainstorming, marketing and organizing to pull off."
Dave & Adam's, like many, aims to make it a sales-minded weekend — not just a single-day event — and, of course, the aim is to build and expand upon the customer base.
"For us, Black Friday is more of a three-day weekend event, but yes, it is our top sales period," Martin said. "We certainly try not to sell anything at a loss, but overall sales margins for that weekend are very small. We hope that people who visit our site for the sale come back in the future."
And, like Fish, Martin said that products of all types seem to appeal to, well, collectors of all types on the big shopping day.
"This may seem like a cop-out but everything sells over Black Friday weekend," he said. "We do our best to put together a nice mix of low-end and high-end products across every sport and major gaming title. There is definitely something for everyone during this sale."
—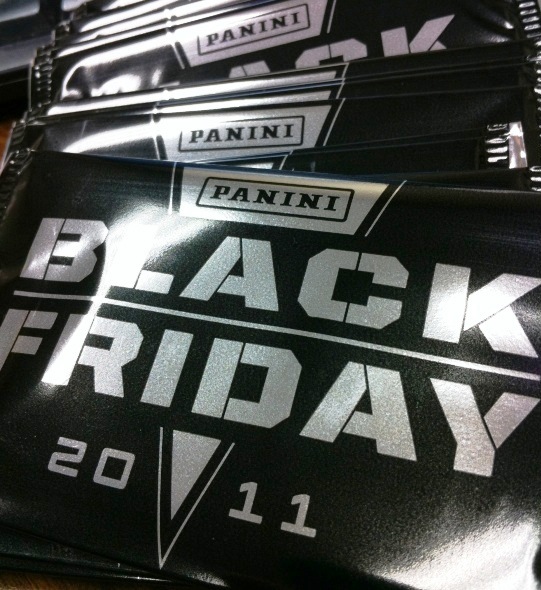 Manufacturers get in on action …

Panini America is helping bring some of the online promotions work of Black Friday into hobby shops as it has made cards specifically as bonuses to those who buy its products in participating hobby shops. For certain amounts of product purchased, collectors will receive a Black Friday pack with exclusive and other big cards inside. These packs will mark the debut of the company's first MLBPA-approved baseball cards and also include the likes of Tim Tebow autographs and Super Bowl-used pylon cards made just for this promotion.
For those without a participating hobby shop, the company is making packs available for those who purchase selected hobby products from its online store, iCollectPanini.com.
—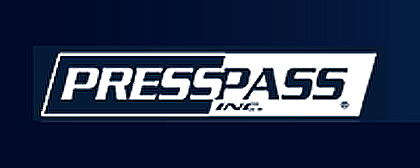 Press Pass has a pair of Black Friday promotions already running — one for retail buyers and one for those who can frequent a hobby shop. Anyone who purchases $40 in 2011 products at retail from Walmart or Target will receive a package of cards with a minimum retail value of $20. The hobby event is a bit simpler — a collector must submit a photo of them holding a hobby box of the new 2012 Press Pass cards in front of their hobby shop. One randomly selected grand prize winner will receive a half-case of 2011 Main Event racing cards. For specific information, click here.
—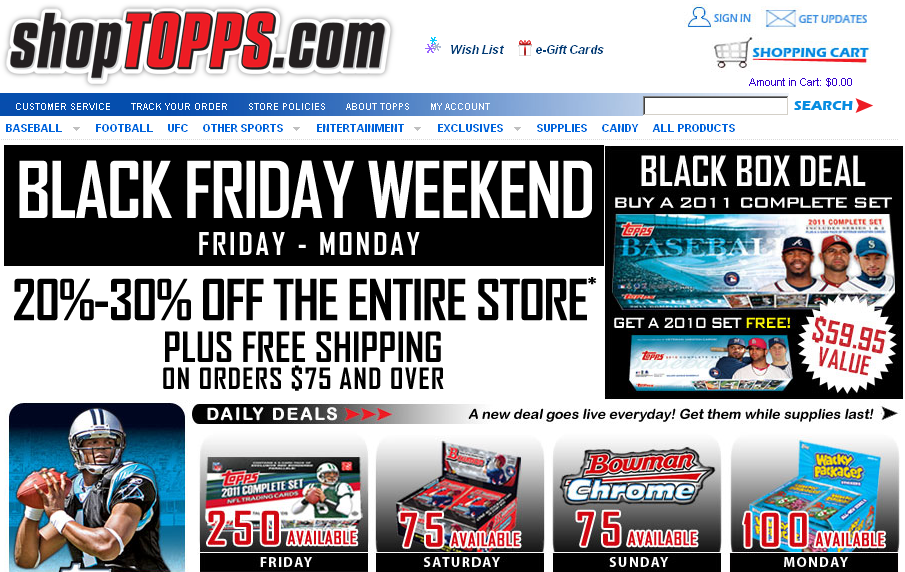 Topps is keeping things a bit more simple with discounts on its online store, ShopTopps.com, where buyers of a 2011 factory set will get a 2010 baseball set free and various products will be found with varying discounts through the weekend.
—
Upper Deck, In The Game and Leaf have not yet announced any promotions on their websites if they are planned.
Do you know of other sweet deals that will help collectors maximize their holiday bucks? Let us know in the comments below …
Chris Olds is the editor of Beckett Baseball magazine. Have a comment, question or idea? Send an email to him at colds@beckett.com. Follow him on Twitter by clicking here.