Black & White surprise in 2012-13 O-Pee-Chee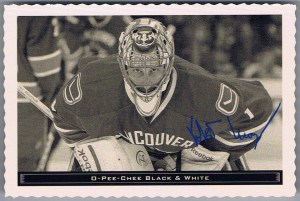 By Susan Lulgjuraj | Beckett Hockey Editor
Upper Deck included a surprise insert in 2012-13 O-Pee-Chee NHL that wasn't on the checklist.
The insert set is called O-Pee-Chee Black & White. As the name suggests all the picture are black and white, in addition to a deckled edge with a facsimile autograph on the front of the card. There are no real autographs version of these cards, according to Upper Deck.
The cards are tough to grab, and prices on eBay are certainly indicating the scarcity.
In hobby packs, the black and white cards fall at a rate of 1 in 960 packs. On the retail side, they fall at a rate of 1 in 1,920 packs.
The checklist includes 36 popular players (see the below), including Alexander Ovechkin, Bobby Orr, Jordan Eberle and Jonathan Toews.
Just how well are these cards doing right now?
A black and white Ryan Nugent–Hopkins sold for $249.93, Roberto Luongo went for $99.99 and an Ovechkin sold for $91.
However, these cards are only gaining in popularity right now. Two current auctions of Wayne Gretzky on eBay (one has a day left, the other four days) are both more than $150.
1 Alexander Ovechkin
2 Alexandre Burrows
3 Antti Niemi
4 Bobby Orr
5 Brett Hull
6 Carey Price
7 Claude Giroux
8 Curtis Joseph
9 Daniel Alfredsson
10 Drew Doughty
11 Eric Lindros
12 Erik Karlsson
13 Henrik Lundqvist
14 Ilya Kovalchuk
15 Jaromir Jagr
16 Jason Spezza
17 Joe Sakic
18 John Tavares
19 Jonathan Toews
20 Jordan Eberle
21 Mario Lemieux
22 Martin Brodeur
23 MilanLucic
24 Nicklas Lidstrom
25 Ondrej Pavelec
26 P.K. Subban
27 Patrick Roy
28 Patrick Sharp
29 Pavel Datsyuk
30 Pelle Lindbergh
31 Roberto Luongo
32 Ryan Nugent-Hopkins
33 Sidney Crosby
34 Teemu Selanne
35 Wayne Gretzky
36 Wendel Clark
Susan Lulgjuraj is the editor of Beckett Hockey magazine. You can email Susan here with ideas, comments and questions. Follow her on Twitter here.