Birthday Brothers: Brian Anderson and Victor Robles – Beckett Pricing Insider
Both Brian Anderson and Victor Robles are considered future building blocks of their respective franchises. They also share a birthday today so I thought we should take a look at some of their cards.
Anderson is older so I'll start with him.
Brian Anderson
Born in 1993, Anderson turns 26 today. Overshadowed by fellow NL East rookies Ronald Acuna and Juan Soto, Anderson had an outstanding rookie season for the Miami Marlins and finished fourth in voting for the 2018 NL Rookie of the Year Award.
I am a little biased since Anderson was born and raised just down the street from me in Edmond, Oklahoma, but there's no doubt he is one of the few bright spots on the worst team in baseball.
Anderson graduated from Deer Creek High School in 2011 alongside the future 2016 AL Rookie of the Year Award, Michael Fulmer. Originally selected in the 20th round of the 2011 Draft, Anderson chose to attend the University of Arkansas and after his junior year he was selected in the 3rd round of the 2014 Draft.
After three years in the minors, Anderson was a September call-up at the end of the 2017 season and in 2018, he played in 156 games and put up a .273/.357/.400 line with 11 home runs.
Anderson has just over 800 cards in the Beckett Online Price Guide, with more than 200 autographed cards, here's a few notable sales:
Inserted in boxes of Panini's high-end National Treasures, this one goes back to Anderson's college days at Arkansas. This one-of-one has an on-card autograph and a patch from a Razorbacks jersey and is one of just a handful of cards with Anderson in his Arkansas gear.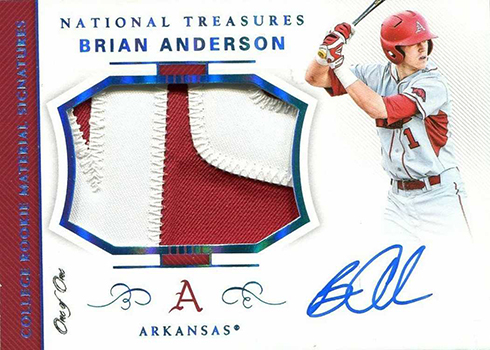 A fan favorite every year, 2018 Topps Heritage pay homage to the 1969 Topps set. Their vintage look and feel brings out a feeling of nostalgia for many collectors. Heritage's Real One Autographs insert set uses that old-school feeling and adds in a modern twist with an on-card autograph. This one was inserted in boxes of 2018 Topps Heritage High Number and is a part of the Red Ink parallel.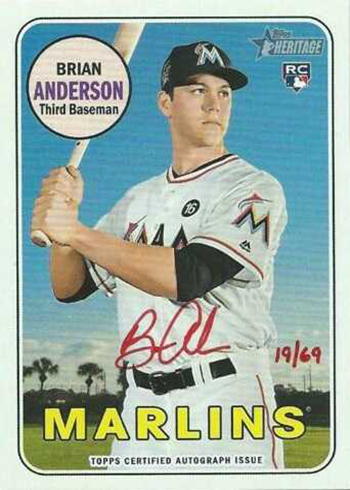 Coming from another one of Panini's higher-end products, this jumbo patch from Immaculate is hard to top.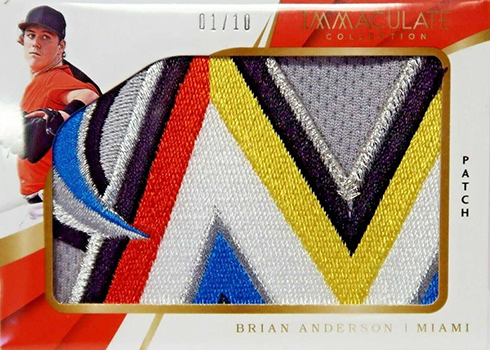 Victor Robles
Born four years after Anderson, Robles is turning just 22 today. Born in Santa Domingo of the Dominican Republic, he signed with the Washington Nationals in 2013 as a 16-year-old.
Similar to Anderson, Robles was a September call-up at the end of the 2017 season. In 2018, Robles was invited to spring training with the big-league club but struggled and was sent to Tirple-A to start the season before going down with an injury early in the season that would force him to miss most of the year.
This was a big setback for Robles because it allowed teammate and fellow prospect Juan Soto jump him. Robles was actually the better prospect and was ranked as the number one Nationals prospect by both Baseball America and MLB Pipeline for the 2017 and 2018 seasons. He remained in that spot to start the 2019 season and started in center field for the Nationals on Opening Day.
The five-tool player is one of the early favorites for NL Rookie of the Year and his upside is tremendous. It's going to be fun seeing him and Soto develop together as two of the most exciting players in baseball.
Robles has quite a few more cards than Anderson, with over 2000 cards, more than 700 of which are autographs. Here are a few:
As with most top prospects, Bowman Chrome is king. Robles is no different as the majority of his higher sales are of his Bowman Chrome Prospect Autographs or its many variations. This Red Shimmer parallel is one of the rarest variations with just ten copies.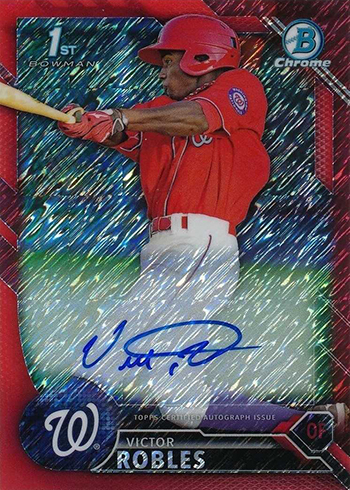 Coming from the same Heritage High Number boxes as Anderson's, this Red Ink parallel of Robles is also graded a 9.5 with a 10 autograph by Beckett Grading Services. This is Robles' second autograph in this set after having one inserted in boxes of regular 2018 Topps Heritage.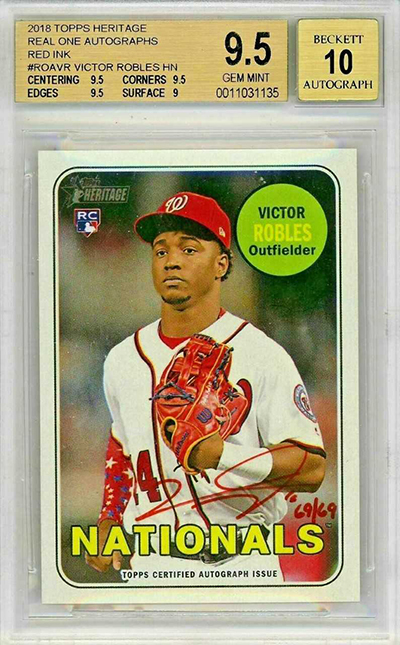 One of the hardest to find parallels of Robles base Topps rookie card is the Topps Clear parallel. A partial parallel with just 200 total cards, these cards use an acetate card stock and create a card you can see through. Numbered to just 10 and unlike any other parallels, these are some collectors' favorites to hunt.