Bin Laden card to be in Horrors of War II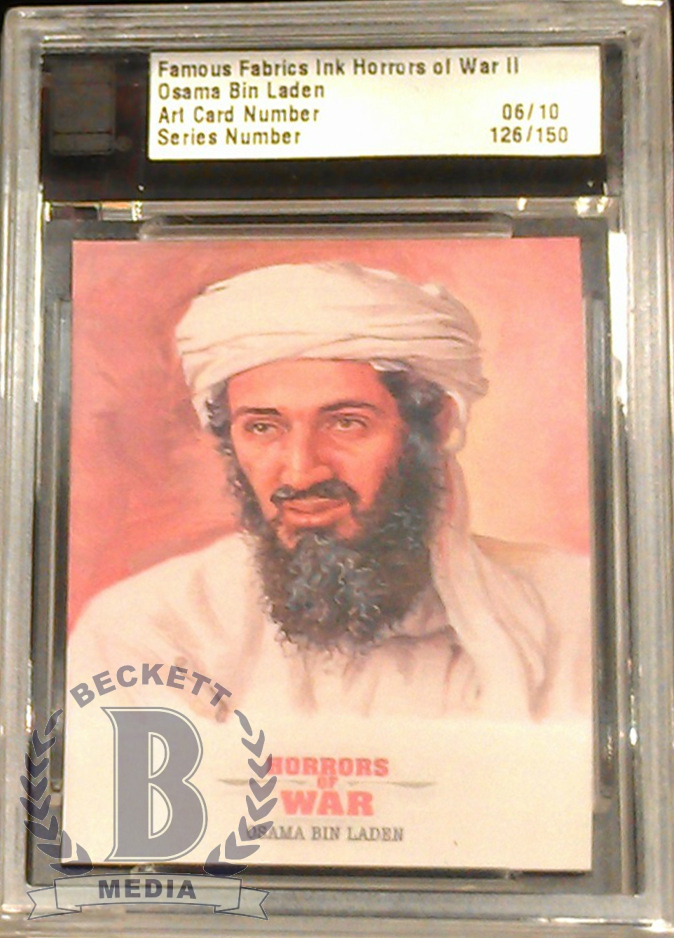 By Susan Lulgjuraj | Beckett Sports Card Monthly Editor
As people walked the floor of the Industry Summit earlier this month, many stopped at the Famous Fabrics booth looking at what the company has on the schedule.
Then they paused.
Some were taken aback by one card in the showcase – an artistic portrait of Osama Bin Laden, a card that will be included in Horrors of Wars II, due out in late June.
It's not the first time Bin Laden has been depicted on a trading card. About three weeks before the first Horrors of War was to be released, Bin Laden was killed by American troops. Famous Fabrics stopped printing and added card No. 48 "Obama announces Bin Laden's Death" to be included with the other case toppers, which included No. 44 "Osama Bin Laden."
"The big thing is we didn't create Horrors of War," said Famous Fabrics product manager Dan Hurst, referring to the original set from the 1930s. "We looked at the history of those cards and they were used as talking aids. There was a lot of controversial stuff about those cards too with the subject matter, but also the images on some of them are graphic."
The Bin Laden card is part of the insert "Hand-Painted Cards" along with other subjects such as Benito Mussolini, Winston Churchill, Joseph Stalin, Adolf Hitler and General Dwight D. Eisenhower.
The first series of Horrors of War from Famous Fabrics also raised eyebrows when a cut signature of Hitler's was included in the set.
"It was divisive," Hurst said. "People made the choice to collect the set or not to collect it. There were base cards that featured Nazi signs and things like that, but those were some of the cards where the prices were among the highest. People were angry and people were vocal. But there seemed to be as much people for it as there was against it."
The first Horrors of War series sold out from the factory quickly after release.
One thing Hurst points out about the base cards is that they do more than highlight terrible actions. The card backs also highlight the heroic sacrifices made to take down some of the subjects depicted.
"You also learn from them, you learn about the people who made incredible sacrifices," he said. "It's part of history."
Each box of Horrors of War II will contain three cards: a base card, a 1-of-1 cut signature card and a special card. The special cards can be a Military Relic card, Military Patch card, Hand-Painted Art cards or original 1933 Horror of War buybacks.
Susan Lulgjuraj is an editor of Beckett Sports Card Monthly. You can email her here with questions, comments or ideas. Follow her on Twitter here. Follow Beckett Media on Facebook and Twitter.