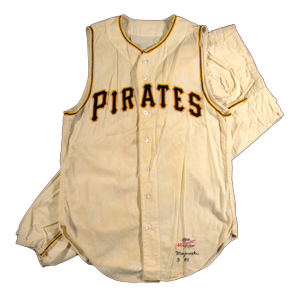 By Susan Lulgjuraj | Beckett Sports Card Monthly Editor
Bill Mazeroski's most famous baseball items are going to auction.
The uniform he wore during Game 7 of the 1960 World Series when he a hit a winning home run will be sold through Hunt Auctions at the Louisville Slugger Museum and Factory in Kentucky on Nov. 9.
Along with the uniform, Mazeroski is auctioning a bronzed bat and cleats from Game 7, six of his eight Gold Glove Awards, a 1960 Babe Ruth Award and a bat given to him by Roberto Clemente.
But not everything is going to auction.
"I'm keeping a lot of stuff, too. I won't sell my rings or anything like that," Mazeroski said at a press conference on Wednesday. "I lived all these moments for 50-something years. Tell you the truth, I had that jersey and uniform in a safe place and I saw it once in 53 years."
David Hunt, president of the Hunt Auctions, expects the uniform, which still has champagne stains on it, to sell in the six figures. Mazeroski was a seven-time All-Star and inducted into the Hall of Fame in 2001. His 1960 World Series home run will go down as one of the greatest moments in Pirates history.
However, the idea of Mazeroski's items – specifically his uniform – ending up in a basement doesn't appeal to some. SB Nation's Rob Neyer is hoping the Pirates win the jersey and put it some place where fans can appreciate it.
Neyer wrote:
I like rich guys with big basements — well, some rich guys anyway — but this really doesn't belong in some rich guy's basement. It belongs in Cooperstown or in Pittsburgh, where everyone can see it.
It could be worse. A card company could win this jersey and cut it up into little pieces. A rich guy's basement seems so much more appealing now.
Susan Lulgjuraj is an editor at Beckett Media. You can email her here with questions, comments or ideas. Follow her on Twitter here. Follow Beckett Media on Facebook and Twitter.