Biggio, Clemens bring family experience to Classic event and Topps signings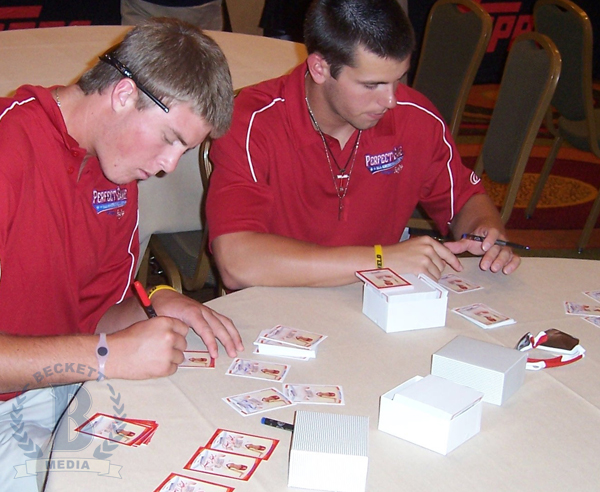 By Theo Chen | Contributing Writer
SAN DIEGO | The Perfect Game All-American Classic was similar to previous years when it was held this past weekend, but it had three interesting distinctions.
Only two were noticeable by the collectors and fans who attended the game. First, the roster was expanded from 46 last year to 48 players this year — the largest ever. Second, this year's invitees included for the first time, sons of potential future Hall of Famers — and not just one but two of them. Cavan Biggio and Kacey Clemens, offspring of Craig and Roger, are friends who grew up playing youth baseball in the Houston area and spending time around major league clubhouses with their famous fathers.
Of course, Cavan and Kacey are not the first sons of former major leaguers to play in the All-American Classic, just the most prominent by far. Previous second generation players include Jack Armstrong Jr. (2007), Cameron Bedrosian (son of Steve, 2009), Connor Narron  (son of Jery, 2009), Shawon Dunston Jr. (2010) and Lance McCullers Jr. (2011).

For card collectors, the third distinction may be the most important … eventually. For the first time this year, Topps had the players sign a Red parallel version of their cards. These Red cards will be numbered out of 10 and eventually randomly inserted in packs along with their regular autograph cards once the players have signed pro contracts, which could be as soon as next year — or a few years down the road. Unsigned regular cards were distributed at the game, but the Red cards were produced only for distribution in packs.
The Red cards won't see the light of day for at least a year, but just seeing yourself on a baseball card for the first time was a thrill for the players — even the ones whose fathers are on thousands of cards.
"It's weird to finally see my face on a card after collecting cards when I was younger," Clemens said. "It's something you dream of when you're a kid."
After finishing putting his name to 265 cards, Biggio now knows a little more about what his dad experienced as a someone whose signature was always in demand.
"It's cool to see your name on cards," he said, "at least until you see how many you have to sign!"
Biggio and his brother, Conor, collected cards casually as kids, but Cavan stopped when he was a teenager.
Kacey was more serious about it, even branching out to basketball and football.
"I still have them in my room," he said.
So, did Kacey collect his father's cards?
"I had a few of my dad's cards. But those were always around the the house so they didn't seem too special to me. My favorite card was a Lou Gehrig. I put that one in the front of my binder."
Any Other favorite cards?
"I got a Nolan Ryan card signed in person. A Bobby Bonds card. I wouldn't mind owning a [T206] Honus Wagner!"
Growing up as baseball playing kids of famous fathers was an interesting experience for Cavan and Kacey.
"At tournaments, because my last name was always on the back of my jersey, kids my own age sometimes asked for my autograph," Biggio said. "That was kind of weird."
"Sometimes a fan would ask for my autograph along with my brother's and my dad's," Clemens said. "I liked that. But sometimes a fan or collector would nudge us out of the way to ask my dad for an autograph."
As far as advice from dad, Craig told Cavan something simple: "Stay humble and always respect the game, no one is bigger than the game."
As for Kacey, he said, "I've seen how [he] deals with the media and fans and I've learned by watching."